JERUSALEM — Pepper spray is flying off stores shelves and Israelis are stocking up on guns amid a wave of random "lone wolf" stabbing attacks by Palestinians.
"It's scary," Jerusalem resident Ben Zucher told NBC News not long after leaving a weapons shop. "When you walk down the streets you need to look around and make sure you know what's going on around you."
A spate of stabbings and clashes between Palestinians and Israeli security forces have left seven Israelis and 33 Palestinians dead since the beginning of October.
While security has been stepped up and troops have been deployed in Jerusalem, knife attacks are almost impossible to predict and potential assailants difficult to identify. Suspects have been aged as young as 13.
Some stores have sold out of pepper spray.
Shulamit Cohen, a jewelry shop employee in Jerusalem, said the incidents had left her on edge and nervous everywhere she goes.
"We look over our shoulders," Cohen said. "I bought pepper spray, if someone comes to me I will spray him and hope nothing happens. It's in my pocket all the time."
Jerusalem resident Nadi Cherna showed off a "gun that shoots tear gas."
She added: "I bought this because terrorists are in this area and we need to protect ourselves."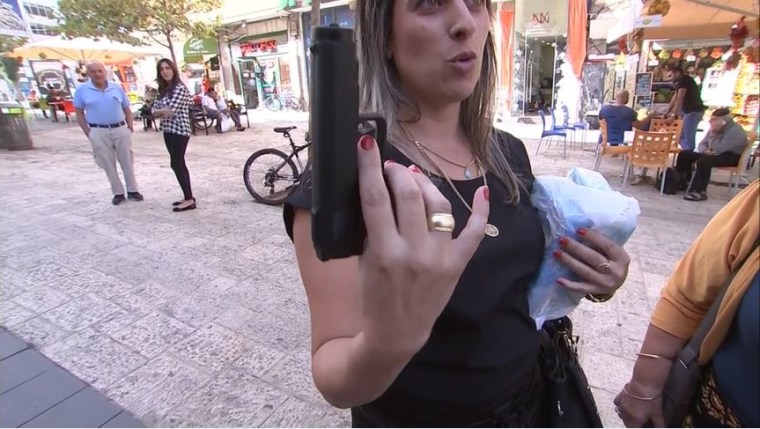 Many streets in the city were quieter than usual on Thursday as many Arab and Jewish residents stayed home and avoided public transport amid fears of potential attacks.
"Arabs are afraid from the police, Jews are afraid to go out because they are worried not only for their own life but for their parents and kids," said Nathaniel Yosifun, a local businessman.
Jeffry Max, a busker on the street in central Jerusalem, insisted he is not afraid.
"I carry this thing around just in case I can help someone," Max said, displaying a pistol.
Israel announced a relaxation of the nation's gun laws on Wednesday, widening civilian access to weapons permits. Teachers in Jerusalem's Jewish orthodox community, for example, could be eligible for a special permit to possess a weapon under the new rules.
Some concerned civilians visited the Mitvach Adumim gun range in Ma'ale Adumim — a Jewish settlement outside Jerusalem — where manager Gabi Efrat-Begin said business was "very good."
"Everybody come and buy everything for their protection," Efrat-Begin said. "They are looking about guns ... they buy pepper spray, whatever they can get."
In a statement on his Facebook page, the Public Security Minister Gilad Erdan said that armed civilians were playing an important role in responding to "lone wolf" attacks.
"Many civilians assisted the police in neutralizing terrorists who carried out attacks," Erdan said. "Citizens trained in operating the weapons are a force multiplier in the fight against terrorism. I thank the citizens again for the courage and determination and mutual assistance."
Israel's Magen David emergency medical response unit also distributed a video on social media earlier this week explaining how to treat stabbing victims while waiting for paramedics to arrive.
Meanwhile, Palestinians entered the Joseph's Tomb compound in the West Bank town of Nablus late Thursday and set it on fire, severely damaging the Jewish holy site in what Israel called a "despicable" act.