TEL AVIV — Israel's government has unraveled, sending the nation on a crash course toward an early election which analysts say will double as a barometer of American-Israeli relations on what is sure to be an ugly ballot.
Prime Minister Benjamin Netanyahu's government finally came apart in recent days, brought to its knees by a parade of issues which have stymied political progress over the government's 22-month existence. On Tuesday, Netanyahu called for elections two years ahead of schedule and sacked two Cabinet ministers. On Wednesday, Israeli lawmakers voted 83-0 to dissolve in a preliminary move to help usher in an early vote for March 17.
Debates over next year's budget as well as a proposed law to establish Israel as a Jewish state amplified divisions within the government and helped sound its death knell. But with Israeli-American relations at a low over Iran's nuclear program and the state of Israeli-Palestinian peace talks, analysts say U.S. issues will also feature heavily in voters' minds when they take to the polls in March.
"For Israelis, having good relations with America is a big factor when they go to the ballots," said Shimon Shiffer, an author and analyst who contributes to Israel's Yedioth Ahronoth newspaper. "A real bulk of Israelis blame Netanyahu for the bad relations with the U.S. and will punish Netanyahu for this."
When the prime minister was elected in March 2013, Netanyahu declared that political parties were "putting our differences aside and working together" as he formed his government.
"There are excellent people here, talented, experienced and fresh. The only way for us to succeed is by cooperating with one another and showing unity," he said at the time.
Fast forward to today, and it is clear unity was the last thing Netanyahu accomplished. In Jerusalem, both sides of the political spectrum now, too, are slinging blame over who caused what many are billing an unnecessary election.
Before his sacking as finance minister on Tuesday, Yair Lapid lambasted Netanyahu for what he said was "national irresponsibility" and not keeping "his promises to the public." On the other side, Danny Danon, central committee chairman of Netanyahu's Likud party, called the finance minister "amateurish" and accused him of "leading Israel to unnecessary and expensive elections."
"This is going to be a very ugly election process," said Shiffer. "And at the end, I don't think Netanyahu will form the next government."
By calling early elections, Netanyahu's government has garnered the unfortunate label of Israel's shortest-lived in a decade. Many analysts suggest part of its downfall was because Netanyahu lost the support of centrists and was perceived to be too heavily swayed by Israel's extreme right.
"The extreme right wingers from the settlements [in the occupied West Bank] took over Netanyahu's party," explained Shiffer, who predicted that this radical swing would cost the party the votes of moderate Israelis in the future election.
It is the same right-wing element which has attempted to heap pressure over any Iran nuclear deal and the Palestine-Israel peace talks — and which, according to Oded Eran at the Tel Aviv-based Institute for National Security Studies — will be keeping a close watch on any U.S. foreign policy moves during the election cycle.
"The relations with the U.S are seen and perceived as a key element," according to Eran, who said that any moves the U.S. takes could have an influence on election results.
Foreign policy action "could be used for example by the right in Israel as saying that the U.S and others are involved in an attempt to influence the results of the elections," he added.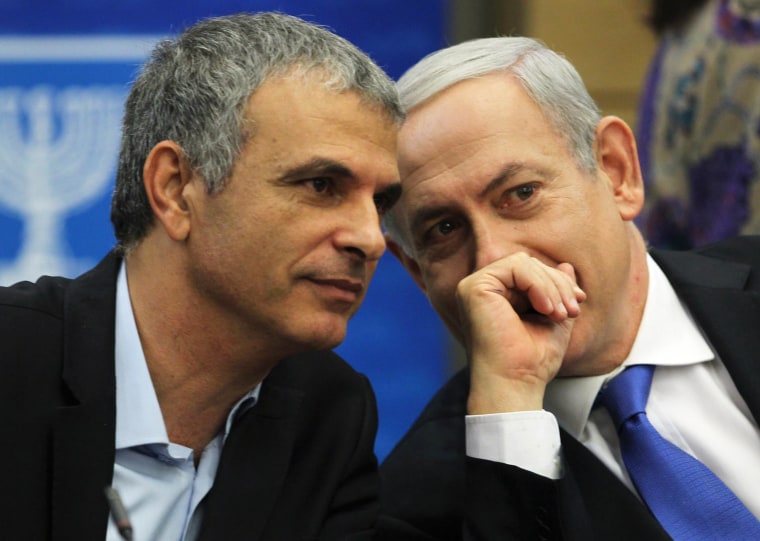 A recent poll conducted by the liberal newspaper Haaretz indicated Netanyahu's approval rating is on a decline, with just 35 percent of respondents finding him a suitable prime minister.
Many foresee Moshe Kahlon, who served in Netanyahu's government as the minister for communications, as a potential big winner in an early election. While Kahlon recently resigned his post, he is considered a young and fresh face to many in the Israeli public who saw success in efforts to improve cellular coverage in the country.
"For Israelis, Kahlon represents a person that can do the job," Shiffer added.