TEL AVIV — With relations between the U.S. and Israel at rock bottom over the issue of settlements, those living on either side of the fences have entrenched views about their future and the prospects for peace.
For decades, Israel has pursued a policy of building Jewish settlements on occupied territory that Palestinians seek for a state.
Most countries view the settlements as an obstacle to peace but many in Israel disagree, citing a biblical, historical and political connection to the land as well as security interests.
'Our Homeland'
Inside a settlement at Beit El, near the West Bank city of Ramallah, Chaim Silberstein lives with his wife and seven children against a backdrop of tension and high security.
Beit El has been his home for three decades after he was drawn to the area by its biblical connections.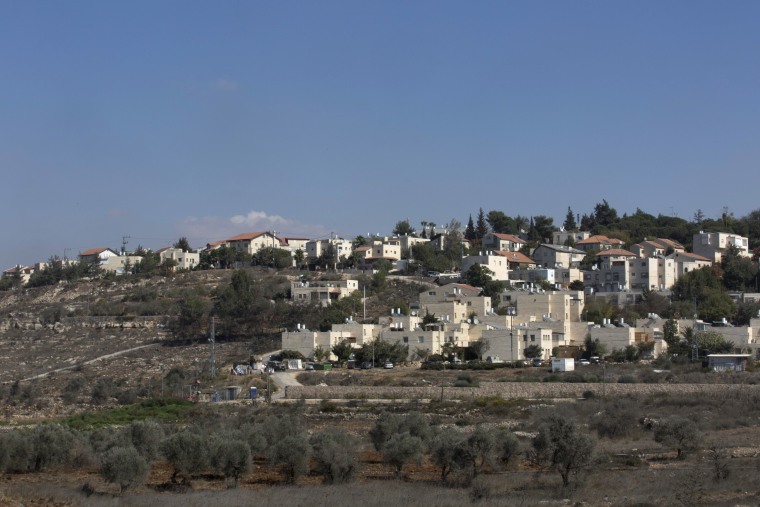 "This place, Beit El, is the site that Jacob had his dream on his way out of Israel over 4,000 years ago … and so the romance and the history attracted me to this place, as well as the pioneering spirit that existed in this place when I came here," he told NBC News.
Since the settlement's creation in the mid-1980s, it has grown from 150 families to 1,200.
"It has become a thriving community, it's a wonderful place to live," Silberstein said. "People with high values, strong ideology, caring, helpful … It's a privilege to live here."
Related: Israeli Settlements Explained — and Why it Matters
So what it like as an Israeli settler residing a stone's throw from the Palestinian city of Ramallah?
"Literally, a stone's throw," he remarks. "Our priority was not to stick it to the Ramallah people … our priority was to be on the side of Jacob's dream, and that's where Beit El is. It's an amazing feeling that you are connected to the deepest roots of your nation, of your land. It so happened that Beit El is next to Ramallah."
Before the first Intifada, which erupted in 1987, he and his neighbors lived in "peaceful co-existence with the Arabs," according to Silberstein. "I used to shop in Ramallah and I drove through there every day. After the Intifada started, Palestinians … began violence against the Israelis and lost a lot of economic benefits, and... the idea of coexistence and so it's not easy today to live next door to people that you know are hostile towards you, but we are strong and we are steadfast in our ideas."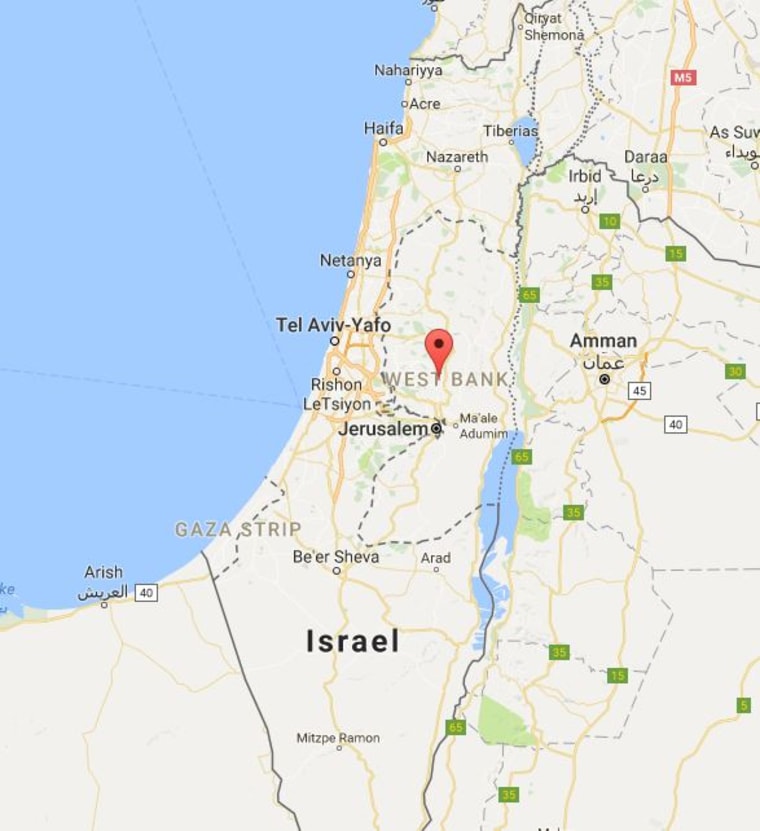 He added: "We believe that we have the rights and the historic, the moral, the legal rights to live here, and we seek peace, we're not looking to expel them, we are not looking to oppress them, we want to live here in our homeland."
Silberstein, who is "cautiously optimistic" about President-elect Donald Trump, said residents on both sides of the fences now live with everyday security measures and the near-constant fear of violence.
"Just last week my wife was in the park over here," he says, pointing at a nearby wall. "A car drove past that wall and shot into Beit El … with an automatic rifle and came within about 100 yards of my wife so that was quite a scary incident."
He reflects that life is often difficult — "whenever you are on the road, you're worrying if somebody is going to lay ambush to you or throw stones or worse" — but settlers are determined to stay.
"Beit El is the very cradle of Jewish and Israeli civilization, and we have don't have rights to live in Beit El, we have rights to live nowhere."
'We Will Resist'
The views are just as entrenched on the other side of the settlement fence, where Palestinians say their families have been on the land for generations and they have no intention of leaving.
Mustafa Barghouti, a Palestinian activist, likens Israel's expansion of settlements to "apartheid" but believes international opinion is falling behind Palestinian rights.
"On the ground things went backwards because of Israeli settlement policies, because of Israeli violations of international law … but internationally, we moved forward," he told NBC News. "The whole world is with us … look at the resolution of the United Nations Security Council. Israel is isolated, the policy of the Israeli government is isolated because it is aggressive, because it is for occupation."
He added: "That proves what Nelson Mandela said once, that the Palestinian issue has become the most important moral issue of humanity."
Trump is in danger of violating international principles if he listens to his current advisers, according to Barghouti. "I hope that President Trump will be different from candidate Trump. I hope he will understand that being president of a country like the United States requires more responsible actions, and more responsible positions."
Unconditional support for Israel could "put the United States in an awkward position … because this will deprive the United States from … having any positive role in future peace process," he said. "He needs to learn a lot about …. how important it is to respect International law, because if you violate that, you violate the whole stability of the world."
He believes Israel may have underestimated the determination of Palestinians to succeed in protecting their land.
"They think that, each time they annex a piece of land, we will just get frustrated and give up," he said. "No. We, the Palestinians, will never ever accept [being] slaves of occupation or apartheid, we will resist that until we get our freedom."
Editor's note: An earlier version of this article misspelled Chaim Silberstein's last name. We regret the error.