Turkey remains the biggest jailer of journalists for the second year in a row, the Committee to Protect Journalists said Wednesday in reporting that the number of journalists jailed around the world hit a record high in 2017.
The organization, a nonprofit, nonpartisan activist group based in New York, said it had confirmed that 262 people were in government custody for reasons directly related to their work as journalists as of Dec. 1. That's three more that the previous record, set last year.
The author of the report, Elana Beiser, editorial director of the Committee to Protect Journalists, or CPJ, said the trend "reflects a dismal failure by the international community to address a global crisis in freedom of the press."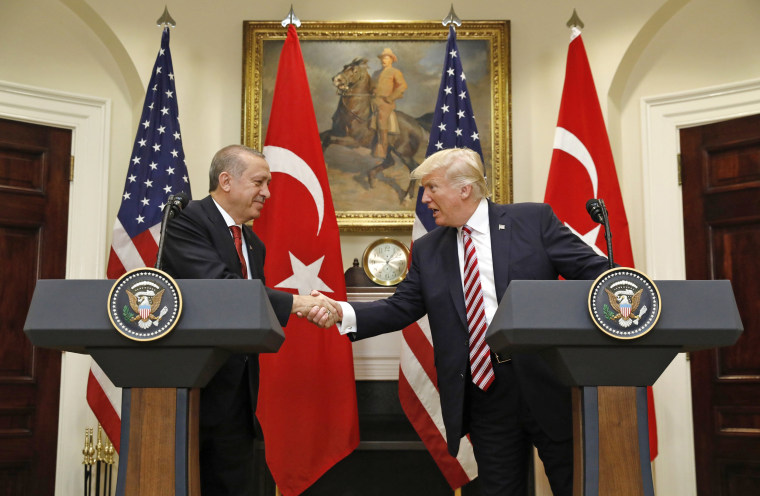 More than half of the journalists listed are jailed in just three countries: Turkey, China and Egypt. Turkey accounts for 73 of them, or more than a quarter of all of the world's imprisoned journalists, according to CPJ.
CPJ specifically blamed what it called U.S. President Donald Trump's "nationalistic rhetoric, fixation on Islamic extremism and insistence on labeling critical media 'fake news'" for reinforcing crackdowns on the news media by Turkish President Recep Tayyip Erdogan, Chinese President Xi Jinping and others.
Sen. John McCain, R-Ariz., noted the report and said on Twitter that Trump "must understand his harmful rhetoric only empowers repressive regimes to jail reporters & silence the truth."
Because the data are a snapshot from a census conducted on Dec. 1, CPJ's database doesn't include two Reuters journalists who were arrested this week in Myanmar and could face 14 years in prison for allegedly having violated the country's Official Secrets Act.
The Information Ministry confirmed the arrests in a statement accompanied by a photo of the two journalists, Wa Lone and Kyaw Soe Oo, in handcuffs. Reuters said the men were covering Myanmar's military crackdown on the Rohingya Muslim minority in Rahkine state when they disappeared on Tuesday.
More from CPJ's data:
Local journalists made up 97 percent of those in jail on Dec. 1.
Twenty-two, or 8 percent, were women.
The overwhelming majority, 87 percent, covered political issues, leading CPJ to called politics "by far the most dangerous beat" in the world.
CPJ said it defined "journalists" as people who cover the news or comment on public affairs in print, photographs, radio or television or online.