Coverage on this live blog has ended. Follow the latest updates here.
Secretary of State Antony Blinken today held a surprise meeting in the occupied West Bank with Palestinian President Mahmoud Abbas, who called for an immediate cease-fire as pressure grows on Israel.
Blinken held meetings with heads of state and diplomats across the Middle East, many impromptu, in a tour designed to contain the war and seed a solution.
In a meeting with King Abdullah II of Jordan on Sunday, he expressed concern about increasing violence in the West Bank and reiterated support for humanitarian aid to residents of Gaza, Miller said.
Blinken also went to Baghdad, where he met with Iraqi Prime Minister Mohammed Shia' Al Sudani and urged him to hold accountable those responsible for continuing attacks on U.S. personnel in Iraq.
In Gaza, there has been a third, near-total telecommunications blackout after an intense aerial bombardment. The death toll in the densely populated enclave rose to nearly 10,000, with outrage growing at the civilian suffering as Israel advanced in its ground offensive.
Democrats criticize Rep. Rashida Tlaib for her pro-Palestinian comments
Rep. Rashida Tlaib is facing backlash from some of her fellow Democrats, including in her home state of Michigan, over her recent remarks about Palestinians amid the ongoing war between Israel and Hamas.
Tlaib, who is Palestinian American and one of just three Muslim members of Congress, posted a video to the social media site X on Friday featuring footage of pro-Palestinian protests from across the country, as well as remarks from President Joe Biden expressing his support for Israel. The video ended with Tlaib saying, "We will remember in 2024," followed by the text: "Joe Biden supported the genocide of the Palestinian people."
In another tweet, Tlaib wrote: "From the river to the sea is an aspirational call for freedom, human rights, and peaceful coexistence, not death, destruction, or hate. My work and advocacy is always centered in justice and dignity for all people no matter faith or ethnicity."
Democrats took issue with Tlaib's remarks over the weekend.
U.N. agencies and humanitarian organizations call for cease-fire
UNITED NATIONS — The heads of 11 U.N. agencies and six humanitarian organizations issued a joint plea for an immediate humanitarian cease-fire in Gaza, the protection of civilians and the swift entry to Gaza of food, water, medicine and fuel.
In a statement tonight, they called Hamas' surprise Oct. 7 attacks in Israel "horrific."
"However, the horrific killings of even more civilians in Gaza is an outrage, as is cutting off 2.2 million Palestinians from food, water, medicine, electricity and fuel," the heads of the Inter-Agency Standing Committee on the situation in Israel and the Occupied Palestinian Territory said.
The U.N. and humanitarian organizations said that more than 23,000 injured people need immediate treatment and that hospitals are overstretched.
"An entire population is besieged and under attack, denied access to the essentials for survival, bombed in their homes, shelters, hospitals and places of worship," the joint statement said.The U.N. and aid organization leaders said over a hundred attacks against health care operations have been reported and dozens of staff members from the U.N. agency for Palestinian refugees, UNRWA, have been reported killed.
ADANA, Turkey — Turkish police used tear gas and water cannons as hundreds of people at a pro-Palestinian rally today tried to storm an air base that houses U.S. troops, hours before Blinken was due in Ankara for talks on Gaza.
Turkey, which has stepped up its criticism of Israel as the humanitarian crisis in Gaza has worsened, supports a two-state solution while hosting members of the Palestinian militant group Hamas. Since the Israel-Hamas war started, protests have erupted across the country.
The IHH Humanitarian Relief Foundation, an Islamist Turkish aid agency, organized a convoy last week to travel to the Incirlik air base in Adana province in southern Turkey to protest Israeli attacks on Gaza and U.S. support for Israel.
Incirlik, which has been used to support the international coalition fighting the Islamic State in Syria and Iraq, also houses U.S. troops. IHH's protest called for Incirlik to be closed.
Video from the protests showed police firing tear gas and using water cannons to disperse crowds chanting slogans and waving Turkish and Palestinian flags. Protesters toppled barricades and clashed with police in riot gear.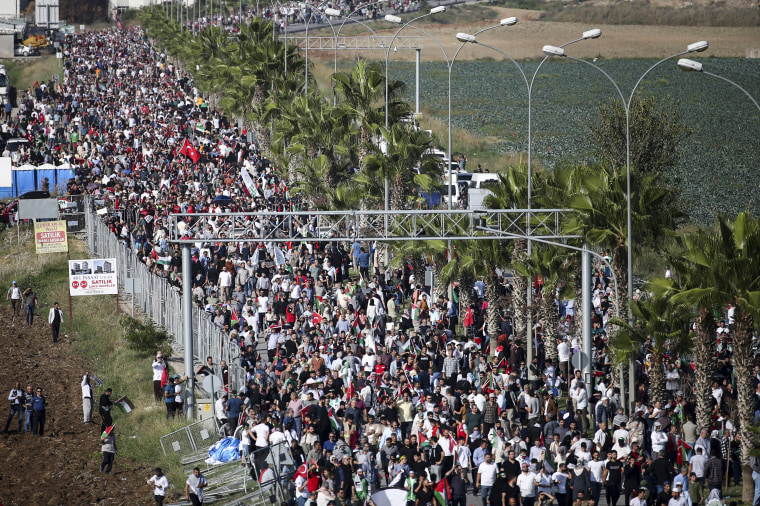 Protesters were also seen hurling plastic chairs, rocks and other items at police, who fired smoke bombs at crowds. Scuffles broke out between the crowds and security forces.
IHH President Bulent Yildirim addressed crowds in Adana and urged them to refrain from attacking police.
"Friends, it is wrong to throw rocks or do similar things, because both the police and soldiers would want to go to Gaza and fight, and they will go when the time comes," he said. "Our rage is huge. We cannot hold it in. But Turkey is doing what it can."
IHH ended its rally earlier than planned because of the clashes with police.
Crowds worked to try to save people from the rubble after an Israeli airstrike yesterday that hit al-Maghazi refugee camp in the Gaza Strip. At least 47 people were killed, according to the Gaza Health Ministry.
"Look at what we are using to get the bodies out. We have no tools or equipment," a man said, holding up a knife. "We are hitting the rubble with knives to get children's bodies out."
IDF says it paused attacks to allow civilians to leave northern Gaza
Israeli forces paused attacks in northern Gaza for a few hours yesterday and today, said the Israel Defense Forces' international spokesperson, Lt. Col. Jonathan Conricus.
Conricus, speaking on CNN today, said that the pauses in the most active part of the battlefield in northern Gaza were scheduled from 10 a.m. to 2 p.m. and that civilians in the area were forewarned and urged to flee south.
For at least one of the two days, however, the pause was cut short because Hamas militants fired on "humanitarian convoys" heading out of the area, he told CNN.
"We stopped firing in certain areas of northern Gaza, which is the main combat area, and we called on Palestinians to move south," Conricus said on CNN. "Many did. Not enough."
Refugees and residents in parts of the south of Gaza have also faced peril, with the Palestine Red Crescent Society saying attacks by Israeli forces in the vicinity of the Al Quds hospital there injured dozens.
After the U.S. rejected a U.N. resolution calling for humanitarian pauses to get aid and supplies to Gaza, the Biden administration's language shifted, and Secretary of State Anthony Blinken called for a pause in shelling for the safe passage of hostages and humanitarian supplies on Oct. 24.
An U.S. official told NBC News last month that the U.S. also favored pauses to facilitate the safe passage of Palestinian civilians from Gaza's war-torn north.
But it appeared Israel had outright rejected the idea, with Prime Minister Netanyahu saying in a statement Friday that Israel "refuses a temporary cease-fire that doesn't include a return of our hostages."
Though Blinken met Netanyahu and other leaders in the region in recent days — some pressured the U.S. and Israel for pauses in the war — it wasn't clear exactly why Israel appeared to relent.
Nuclear bomb comment shows Israeli government's extremism: Egyptian official
After an Israeli Cabinet minister said dropping a nuclear bomb on the Gaza Strip was "an option," an official in Egypt condemned the remark and said it represents extremism in Israel's politics.
Ambassador Ahmed Abu Zeid, spokesperson for Egypt's Foreign Affairs Ministry, responded on the social platform X.
"An Israeli minister demanding to drop a nuclear bomb on the Gaza Strip is evidence of the extent of the deviation and extremism that has befallen a number of decision-makers in the Israeli government," he said, according to an NBC News translation. 
He urged other nations to decry the remark, noting that world leaders are "talking about nuclear disarmament and its dangers," not proliferation and nuclear warfare.
Prime Minister Netanyahu has suspended Heritage Minister Amichai Eliyahu, who made the nuclear bomb comment, from Cabinet meetings.
Medical aid airdropped to Gaza hospital, King Abdullah II of Jordan says
CIA director to meet Middle East leaders about Israel-Hamas
CIA Director William Burns arrived in Israel today on a trip that focuses on talks with political leaders and intelligence counterparts across the Middle East, a U.S. official said.
"They will discuss issues of mutual concern, including the situation in Gaza, support for hostage negotiations and the U.S. commitment to continuing to deter state and nonstate actors from widening the conflict between Israel and Hamas," the official said.
He "will reinforce our commitment to intelligence cooperation, especially in areas such as counterterrorism and security," the official said. 
The CIA declined to comment.
The trip comes as Secretary of State Antony Blinken made a surprise visit to the occupied West Bank, where he met with Palestinian Authority President Mahmoud Abbas. Blinken said Palestinians should not be forcibly displaced. 
Gaza enters its third telecom blackout since invasion began
Telecommunications in Gaza have entered their third near-total blackout since the invasion began, according to a connectivity expert and a Gazan who works in the industry.
Husam Mekdad, a telecommunications expert in Gaza, told NBC News this afternoon that internet and other communications had been cut. He was forced to use an Israeli SIM card to communicate the message, he said.
Doug Madory, the director of internet analysis at Kintic, a company that tracks internet connectivity, said his company had noticed a major outage.
Paltel, one of the largest telecommunication companies serving Gaza, also announced an outage on its Facebook page.
Former President Obama says all sides in conflict are 'complicit to some degree'
Former President Barack Obama says "nobody's hands are clean" in the Israel-Hamas war and acknowledged that he has questioned in recent days whether his administration could have done more to push for a durable peace when he was in power.
"If you want to solve the problem, then you have to take in the whole truth," Obama said in an interview with "Pod Save America." "And you then have to admit nobody's hands are clean. That all of us are complicit to some degree." He went on to tell his interviewers, Obama administration alumni Dan Pfieffer and Tommy Vietor, that he has asked himself since the start of the war, "Was there something else I could have done?"
Obama did make an attempt at peace between Israel and Palestinians during his second term, but months of talks collapsed in 2014 amid disagreements over Israeli settlements, the release of Palestinian prisoners and other issues.
"I look at this and I think back what could I have done during my presidency to move this forward — as hard as I tried, I've got the scars to prove it," Obama said in excerpts of the interview released on X, the social media platform formerly known as Twitter.
The entire interview is scheduled to be released Tuesday.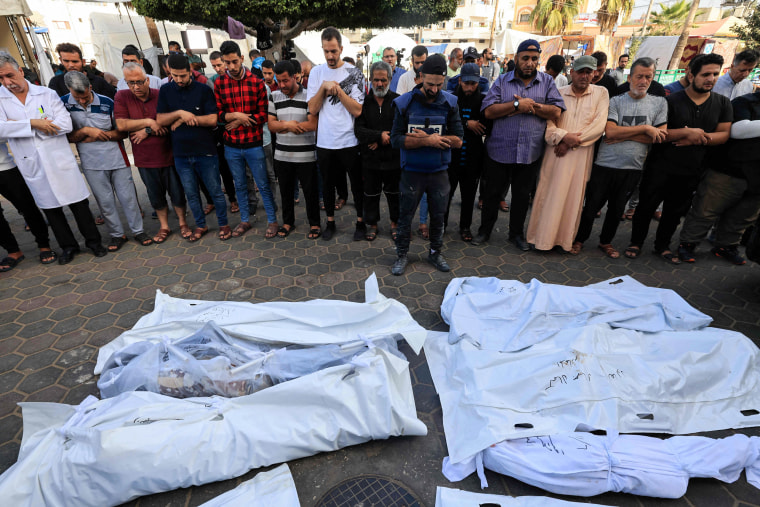 An Israeli strike on the Al-Maghazi refugee camp in the Gaza Strip killed at least 47 people and wounded dozens of others, according to the Gaza health ministry.
Sirens and loud blasts ring out in Tel Aviv
TEL AVIV — Sirens and loud blasts rang out in Tel Aviv just now — an increasingly common occurrence over the past month.
People could be seen making their way to shelters as the sirens sounded, with multiple blasts ringing out shortly after.
Photos: A Palestinian journalist mourns the death of his family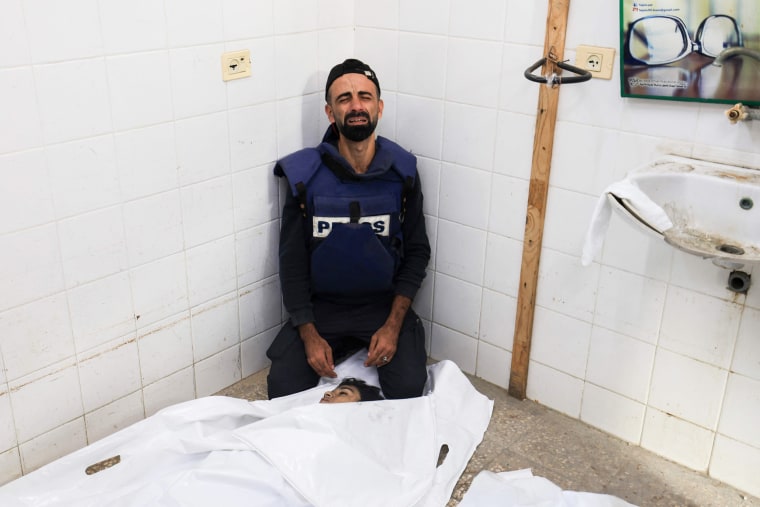 Mohammed Alaloul, a cameraman for Anadolu Agency, mourned the deaths of his 13-year-old and 4-year-old sons today, as well as his brother. They were killed in a strike on the Al-Maghazi refugee camp.
Alaloul helped carry the bodies inside the Al Quds hospital, parts of which have been damaged in the ongoing conflict. Al Quds is in the southern part of Gaza, where Israeli officials told Palestinians to go for their own safety.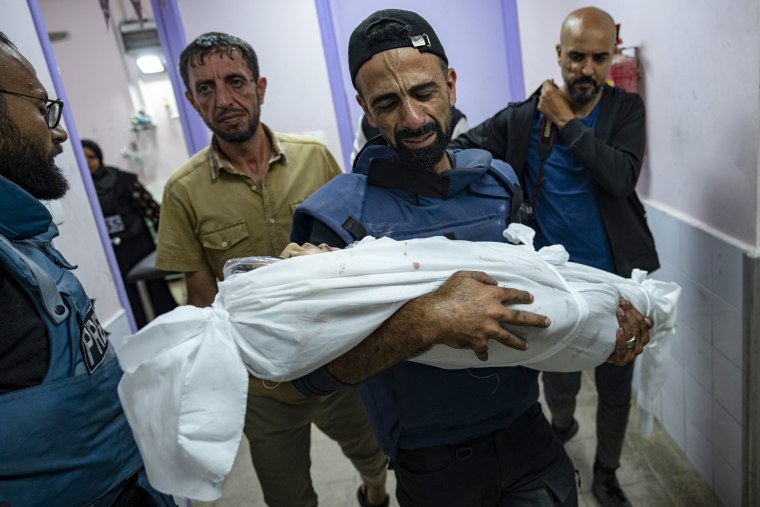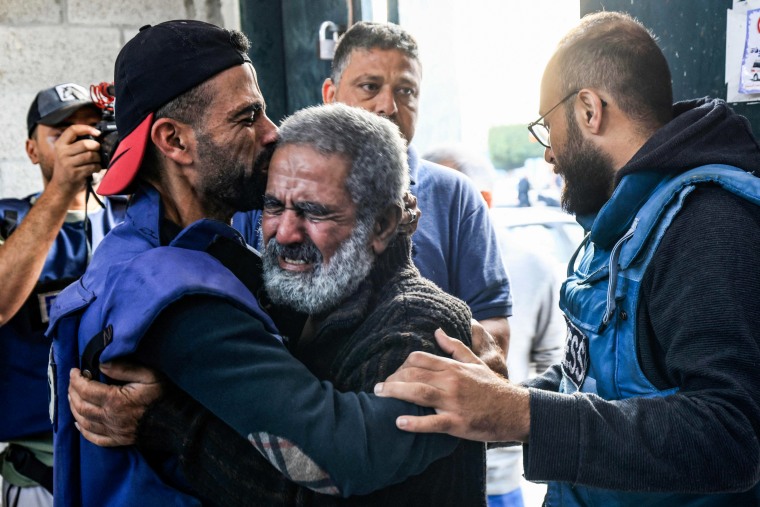 Secretary of State Antony Blinken makes unannounced trip to Baghdad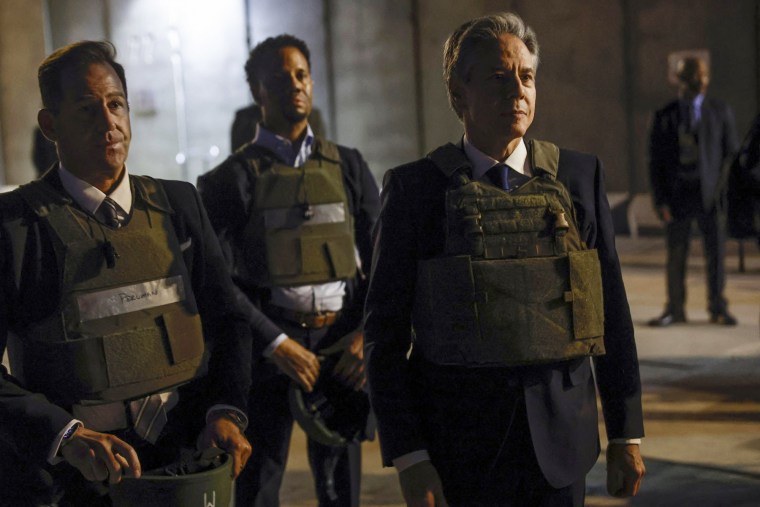 Secretary of State Antony Blinken made an unannounced trip to Baghdad today to meet with Iraqi Prime Minister Mohammed Shia' Al Sudani.
Blinken landed in Baghdad on a C-17 at 9:32 a.m. E.T., or 5:32 p.m. local time, and met with Al Sudani at his office in the International Zone for over an hour.
Blinken and the prime minister discussed the conflict between Israel and Hamas and the need to prevent the conflict from spreading, including in Iraq. 
Blinken also mentioned the need to ensure that Palestinians are not forcibly displaced outside of Gaza throughout the ongoing war. 
The Secretary urged the Prime Minister to hold accountable those responsible for continuing attacks on U.S. personnel in Iraq and fulfill Iraq's commitments to protect all installations hosting U.S. personnel at the invitation of the Iraqi government," the Department of State said in a statement. "Secretary Blinken made clear that the U.S. will defend its interests and personnel."
5 U.N. aid workers killed in 48 hours in Gaza
Five more staffers with the United Nations Relief and Works Agency for Palestine Refugees (UNRWA) have been killed in Gaza in the last 48 hours, the agency announced.
"UNRWA also received confirmation of the death of two staff members who were killed on 24 October," the agency said in a statement. "In total 79 colleagues have been killed and at least 24 injured since 7 October."
A UNRWA school in the Jabalia refugee camp was hit by Israeli airstrikes yesterday, killing 15 people and injuring 70, the agency said — including internally displaced people who were sheltering in the school.
A total of 48 UNRWA locations or installations have been damaged in the month since the war began.
Communications and internet down in Gaza, Palestine telecommunications company reports
Palestinian telecommunications company Paltel reported "a complete interruption of all communications and internet services in the Gaza Strip."
This interruption is "due to the main routes that were previously reconnected being cut off again from the Israeli side," according to a statement from the company.
IDF says it has hit 2,500 targets since beginning of ground invasion
The Israel Defense Forces have hit 2,500 targets in the Gaza Strip since the beginning of the ground invasion, according to a post on X by IDF spokesperson Daniel Hagari.
Hagari said the military was engaging in "face-to-face battles" in Gaza, as well as using aerial bombardment to destroy what it considers to be "terrorist infrastructure," weapons warehouses and outposts.
At least 9,700 people are estimated to have been killed in Gaza since the outbreak of war on Oct. 7, according to Gaza's Health Ministry. Over 2,100 of those deaths have occurred since Israeli troops began conducting operations on the ground last week.
'We are suffering': People in Gaza struggle to get food
People in Gaza face extreme challenges in accessing basic food and supplies.
"There is no drinking water, no wheat flour, nearly all bakeries are closed," one man said. Others complained they could not find any fresh vegetables.
IDF says over 800 failed missiles have been launched by Hamas and killed civilians in Gaza — a claim Hamas disputes
Israel Defense Forces spokesperson Daniel Hagari alleged in a briefing that over 800 missiles launched by Hamas toward Israel have landed in Gaza and killed civilians.
However, NBC News has not independently verified that claim, and Hamas issued a statement denying it, calling Hagari's comments "fallacies and unfounded lies."
Hamas' statement also said that Israel's strikes on hospitals reveals the IDF's "intention to commit more massacres against the hospitals in the Gaza Strip, which houses tens of thousands of wounded and sick people, and shelters hundreds of thousands of displaced persons."
Hagari, meanwhile, claimed once again that Israel has evidence that Hamas operates from and under the Al Shifa hospital.
Families of hostages condemn Israeli minister's statement about nuclear bomb
A campaign group for the families of Israelis held hostage by Hamas has condemned a far-right Israeli minister who said that dropping a nuclear bomb on the Gaza Strip was "an option."
Prime Minister Benjamin Netanyahu on Sunday suspended Heritage Minister Amichai Eliyahu from cabinet meetings.
Eliyahu's statement was "reckless and cruel" and "should never have been made," the families' group, called Bring Them Home Now, said in a statement on X.
"International law, along with fundamental principles of human morality and common sense, strictly prohibits the use of mass destruction weapons," Shelly Aviv Yeini said in the statement, adding that Israel's priority in Gaza must be securing the hostages' release.
Family of Scotland's first minister arrive back in U.K. from Gaza
The family of Scotland's First Minister Humza Yousaf have arrived in the U.K. after being trapped in the Gaza Strip for four weeks.
In a post on the social media platform X, Yousaf said that he and his wife, Nadia El-Nakla, were "elated" to be reunited with his in-laws Elizabeth and Maged El-Nakla after what he called a "traumatic" few weeks.
"Our thoughts remain with those who can't leave and are trapped in a war zone," he added.
Yousaf said in a post last week that his parents-in-law had run out of fresh drinking water and that contact with them was severely limited.
A rare look inside northern Gaza
NORTHERN GAZA — NBC News got a rare look inside northern Gaza on Sunday, accompanying a combat engineering unit in the Israel Defense Forces that has been tasked with finding and destroying Hamas' vast tunnel network.
The group entered a devastated area north of Gaza City via the border fence that Hamas terrorists burst through on Oct. 7. The few buildings still standing were pockmarked with bullet holes.
But the IDF unit was less interested in what's above ground than what's below: miles of concrete tunnels that the Israeli military says Hamas fighters are using to launch ambush attacks with rockets and machine guns.
From the wreckage of a vacation resort that had already been cleared by Israeli troops, three Hamas fighters burst out of a tunnel yesterday to launch an ambush, the Israeli military said. In the IDF's view, the incident is evidence of the scale of the tunnel network — and how no area can be considered secure until the tunnels below it are destroyed. As NBC News watched, one tunnel entrance was blasted with heavy explosives.
Maayan, a major in the unit whose last name the IDF said cannot be published for security reasons, said searches of the tunnels have so far yielded no sign of the hostages.
NBC News accompanied the IDF into Gaza under certain conditions. Stay tuned for a full report.
49 people injured in attacks near Al Quds hospital, according to Palestine Red Crescent
JERUSALEM — "Relentless and severe" attacks by Israeli forces in the vicinity of the Al Quds hospital in the southern Gaza strip this week have injured 49 people, the Palestine Red Crescent Society said Sunday.
Heavy artillery and aerial bombardment injured 12 people inside the hospital, two in the intensive care unit and 35 displaced people living in the hospital's vicinity, the statement said. Four are in critical condition due to injuries from shrapnel and shattered glass.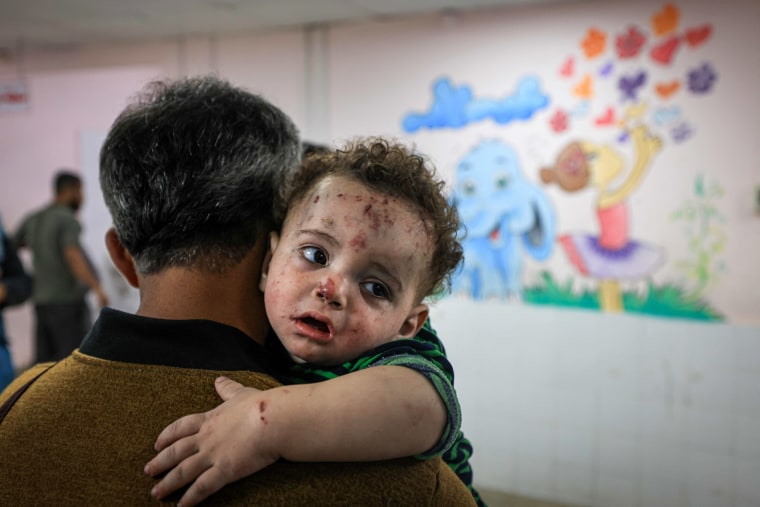 The hospital, which is in the area of Gaza where residents were told to go for their own safety, has also sustained damage to two floors, its critical care unit and water supply lines. Hospital vehicles owned by the Palestine Red Crescent were damaged, as well.
The organization said that shelling in the hospital's vicinity has become "almost continuous, day and night" and described fears of a direct attack on the hospital building, which is holding 500 patients for treatment and sheltering more than 14,000 internally displaced Gaza residents.
Pope pleads for an end to the conflict 'in the name of God'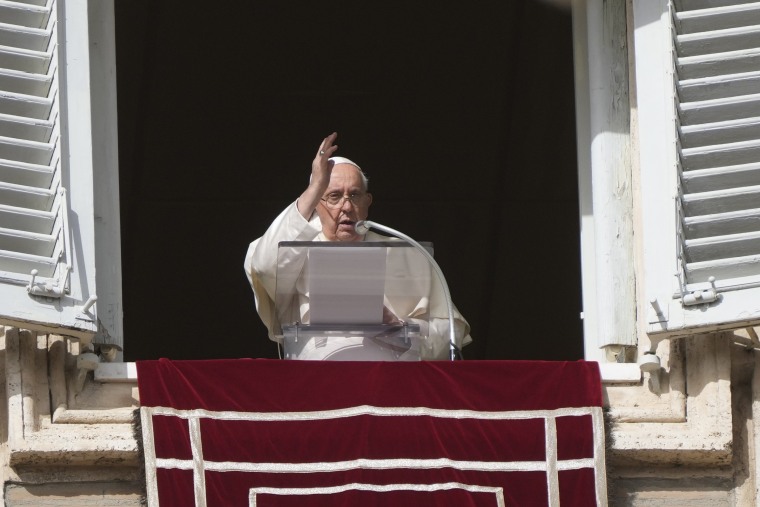 Pope Francis reiterated his calls for a cease-fire in the Israel-Hamas conflict during his weekly address on St. Peter's Square in Vatican City on Sunday. "I pray you to stop in the name of God," he said, "cease the fire."
The pontiff described the humanitarian situation in Gaza as "very grave" and urged the rescue of the injured and an increase in humanitarian aid. He focused particularly on the plight of children in his address, saying that children taken hostage by Hamas on Oct. 7 "must return to their families."
"Let's think about the children, all the children involved in this war. Like in Ukraine and in other conflicts, their future is being killed," he added.
World Food Programme calls for increased humanitarian access to ease 'nightmare' of life in Gaza
Food and water shortages in Gaza are contributing to the "horrific nightmare" of life in the strip, according to U.N. World Food Programme Executive Director Cindy McCain.
The current level of aid allowed to enter Gaza is not enough to meet survival needs, she said, warning that "conflict will spread" if humanitarians are not able to deliver food and water safely to the strip.
A total of 43 WFP trucks had been allowed to enter by Thursday, McCain said. Prior to Oct. 7, Gaza, which imports the vast majority of its food given Israeli restrictions on fishing and agriculture, received 400 trucks per day.
"We are suffering, every day we are suffering" said Norhan Ziadeh, a Gaza resident speaking from the city of Khan Younis. "Tomatoes, cucumbers, potatoes have all been erased from our lives completely. We only have bread and water to quiet the kids so they sleep at night."
Death toll in Gaza climbs past 9,700
In the last 24 hours alone, 243 people have been killed in Gaza, according to a health ministry spokesperson, bringing the death toll to at least 9,770. Another 24,808 people are injured and 2,660 are missing, the spokesperson said.
Of those killed, more than 4,000 were children, spokesperson Ashraf Al-Qudra added.
In Israel, officials say 1,400 people have been killed, mainly on Oct. 7, the day of Hamas' terror attacks.
Photo: Aftermath of an Israeli attack on the Al-Maghazi refugee camp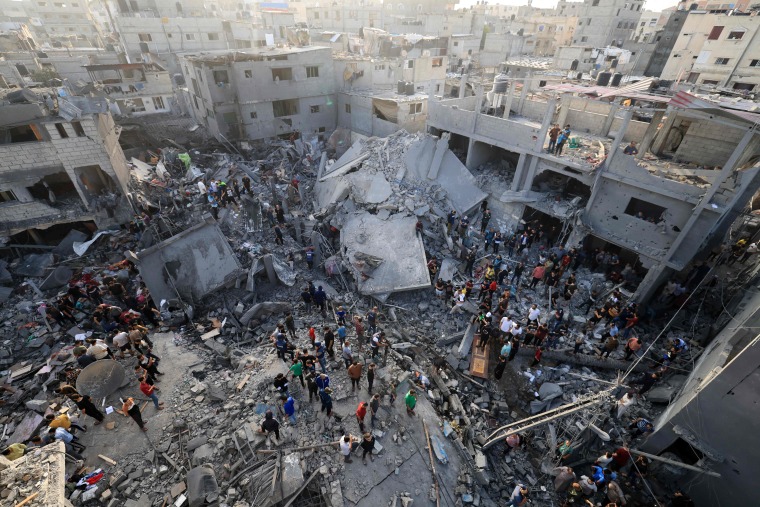 This was the scene after a strike on the refugee camp in central Gaza late yesterday, which Palestinian officials said killed at least 47 and injured more than 100. The attack came after multiple strikes on the Jabalia and Bureij refugee camps that have drawn criticism against Israel for targeting civilians.
Hospital workers face an 'impossible' task in northern Gaza
TEL AVIV — An aid worker at Al Quds hospital in Gaza City has described the increasingly "miserable" conditions at the medical facility, where thousands of people sheltering have faced repeated calls from the Israeli military to move south — an order he said is "impossible" to fulfill.
With ongoing bombings in the vicinity of the hospital, "the infrastructure is totally devastated along with the roads," Muhammad Abu Musabih, the director of ambulance and emergency services and a spokesperson for the Palestine Red Crescent Society, told NBC News.
Trying to transfer delicate ICU patients on ventilators along with children and pregnant women, Abu Musabih said, would be challenging, as is rescuing those injured in Israel's strikes. He said paramedics were being killed and injured as they were "doing their job while wearing their uniforms."
"The situation in Gaza now is very complex in terms of reaching the injured and delivering them to the hospitals," he said.
Palestinian president calls for immediate cease-fire in Gaza
Palestinian President Mahmoud Abbas told Secretary of State Anthony Blinken there should be an immediate cease-fire and that aid should be allowed into Gaza, his spokesperson Nabil Abu Rudeineh said today.
Abbas' Palestinian Authority exercises limited self-rule in the Israeli-occupied West Bank but it has seen its popularity shrivel amid allegations of graft, incompetence and widely hated security cooperation arrangements with Israel.
Blinken meets with Palestinian Authority president
RAMALLAH, West Bank — Secretary of State Antony Blinken reaffirmed America's commitment "to the delivery of life-saving humanitarian assistance and resumption of essential services in Gaza," in a meeting with Palestinian President Mahmoud Abbas today.
Blinken, on a surprise visit to the occupied West Bank, made it clear that "Palestinians must not be forcibly displaced," State Department spokesperson Matthew Miller said in a readout.
Miller added that the pair also "discussed efforts to restore calm and stability in the West Bank, including the need to stop extremist violence against Palestinians and hold those accountable responsible."
Blinken "also expressed the commitment of the United States to working toward the realization of the Palestinians' legitimate aspirations for the establishment of a Palestinian state," Miller said.
Israeli minister who suggested dropping a nuclear bomb on Gaza is suspended
An Israeli minister has been suspended by Prime Minister Benjamin Netanyahu over comments made on the Kol Beramah radio show today suggesting that dropping a nuclear bomb on the Gaza Strip was an option.
The comment made by Amichai Eliyahu, Israel's minister of Jewish heritage, and a member of the far-right Otzma Yehudit ("Jewish Power") party was met with immediate criticism within Israel. The leader of Israel's opposition called it "shocking and crazy," and Defense Minister Yoav Gallant said, "It's a good thing that people like this are not in charge of Israel's security."
Eliyahu later walked back his comments, saying he was speaking "metaphorically."
In a post on X, Netanyahu's office said Eliyahu's comments were "not based in reality" and that the IDF was "operating in accordance with the highest standards of international law."
The IDF has struck 2,500 targets in the Gaza Strip since the beginning of its ground invasion on Oct. 28, where the death toll is estimated at over 9,400.
Blinken makes surprise visit to occupied West Bank
RAMALLAH, West Bank — Secretary of State Anthony Blinken made a surprise visit to the occupied West Bank today where he met with Palestinian Authority President Mahmoud Abbas. Neither commented on the visit.
Blinken's trip follows fraught meetings with Arab leaders in the Jordanian capital Amman, where he was pressed repeatedly to call for a cease-fire in Gaza by Egyptian, Jordanian, Saudi, Qatari and Emirati diplomats and a senior Palestinian official.
After his stop in the West Bank, Blinken will move on to Ankara early next week to meet with Turkish President Recep Tayyip Erdoğan, another late addition to his tour.
Erdoğan, who initially pitched himself as a potential mediator in the Israel-Hamas war, recalled Turkish ambassadors to Tel Aviv on Saturday and released a statement severing ties with Israeli Prime Minister Benjamin Netanyahu, who he said was the "main person to blame" for the ongoing bombardment of Gaza.
Hamas says 60 hostages have been killed as a result of Israeli bombardment
Sixty hostages have been killed by Israeli airstrikes in Gaza, Abu Obaida, spokesperson for Hamas' military wing, said in a statement on Telegram.
He added that the bodies of 23 Israeli hostages remain buried under rubble, "and it seems that we will never be able to reach them due to the continued brutal aggression of the occupation against Gaza."
NBC News was unable to independently verify those numbers, and the Israel Defense Forces did not immediately respond to a request for comment about the Hamas statement.
Hamas took more than 240 hostages, at least 33 of them children, during its terror attack on Israel on Oct. 7, according to the Israeli government. Four have been released, and one has been rescued.
Obstetric care in Gaza collapsing, mothers and newborns disproportionately impacted
Israeli strikes on health-care infrastructure and the reduced capacity of health facilities in Gaza are disproportionately impacting new and expecting mothers and newborn babies, a group of humanitarian agencies said.
In a joint statement, the World Health Organization, UNICEF, the U.N. Relief and Works Agency for Palestine Refugees and the U.N.'s sexual and reproductive health agency warned that bombardments and collapsing water and electricity supplies are severely disrupting maternal and child health services in Gaza.
An estimated 180 women give birth per day in the Gaza Strip, according to the statement. But recently, women have had to deliver in emergency shelters and on the street among rubble, and clean water and sanitation services are severely limited, the agencies said. That has caused medical complications and infections associated with childbearing to rise.
As hospitals run out of fuel and are unable to provide emergency obstetric services, that also threatens the lives of 130 premature babies currently relying on intensive care services and medical equipment in hospitals, such as incubators, the statement said.
An estimated 3,800 children and 2,400 women have been killed in the Gaza Strip since Oct. 7, according to the Palestinian Ministry of Health in Gaza. That's a majority of the war's casualties in the enclave.
Blinken meets with Jordanian king
AMMAN, Jordan — In a meeting with King Abdullah II of Jordan on Sunday, Secretary of State Antony Blinken reiterated the U.S.' commitment to seeing essential services resumed in Gaza and humanitarian assistance delivered.
As he continued his tour of the Middle East, Blinken "emphasized the U.S. commitment to working with partners towards a durable and sustainable peace in the region," State Department spokesperson Matthew Miller said in a statement.
Blinken also expressed "concern regarding the increasing violence in the West Bank," Miller said.
The United States' refusal to call for a cease-fire in the Israel-Hamas conflict has put it at odds with leaders across the Arab World. King Abdullah II has recalled Jordan's ambassador to Israel over the country's approach to the conflict, and told Israel's envoy not to return to Jordan until the Gaza crisis is over.
Photo: Red handprints on gateposts in front of White House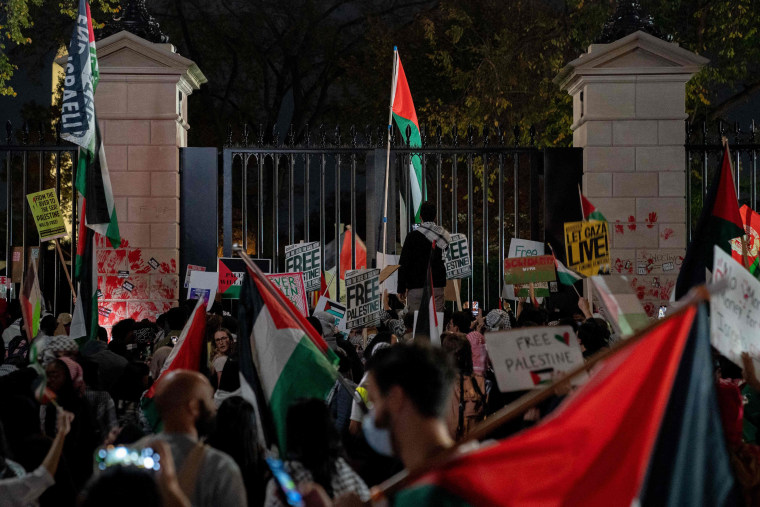 Photos show painted red handprints left on a fence in front of the White House, where protesters had gathered, some holding Palestinian flags. Demonstrators marched in Washington on Saturday, some calling for a cease-fire in the Israel-Hamas war.
In a statement, U.S. Secret Service spokesperson Anthony Guglielmi said there had been an attempted gate trespass earlier, which was "handled without incident" by the Secret Service and others.
He said demonstrators were beginning to leave the area.
"As of now, no arrests have been made by Secret Service personnel," Guglielmi said.
Families and supporters of hostages call for their release at Tel Aviv demonstration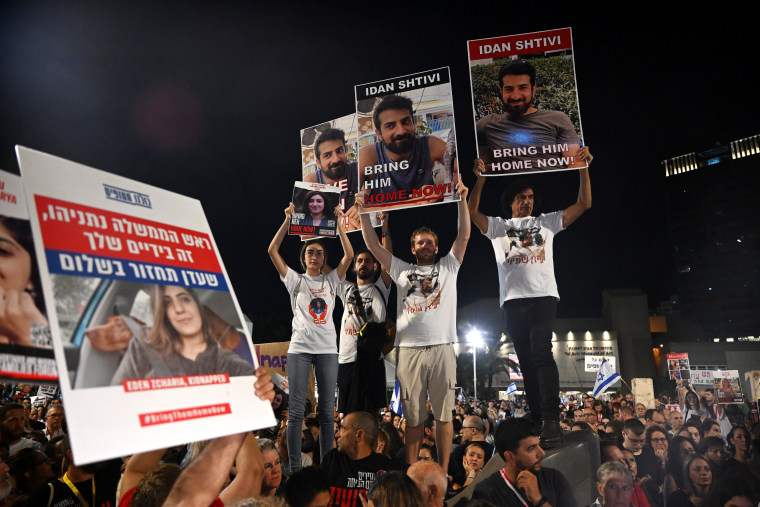 Thousands of people joined a demonstration in Tel Aviv organized by families of the 241 hostages held in the Gaza Strip.
"Now!" the crowd chanted repeatedly, calling for the hostages to be freed without delay. Many held pictures of the hostages, some of them children and older people, who have spent nearly a month in captivity.
Hamas militants abducted the hostages in the Oct. 7 terror attack that triggered the war. The plight of the hostages and their families has captured the world's attention.
Hadas Kalderon of Kibbutz Nir Oz, whose two children — ages 16 and 12 — were kidnapped, called for a cease-fire in exchange for the hostages' return. Ella Ben-Ami, a 23-year-old Israeli whose parents were abducted, said she holds Prime Minister Benjamin Netanyahu responsible. She called for a halt in all humanitarian aid to Gaza until the hostages are freed.
Israel Defense Forces work to navigate and destroy Hamas tunnels in Gaza
Tunnel warfare expert Daphne Richemond-Barak spoke to MSNBC's Alex Witt about Israel's efforts to locate and destroy Hamas' vast tunnel network under Gaza.
"It's very difficult to know where Hamas is, where the hostages might be inside the tunnel network," Richemond-Barak said, "and then try to get intelligence about that. But again, your traditional intelligence gathering techniques do not work when it comes to the underground."
Dozens killed by Israeli strike on refugee camp, Hamas says
An Israeli attack on the Al-Maghazi refugee camp in the central Gaza Strip has killed 33 people and injured 100 more, Hamas said in a statement.
The militant group said that the majority of the dead were women and children, and that homes had been directly targeted in the camp.
The camp is located in a built-up residential area in central Gaza, within the evacuation zone where Israel's military had urged Palestinian civilians to seek refuge as it focuses its military offensive in northern areas.
The Palestinian WAFA news agency previously reported that 51 people had been killed in the strike on the Al-Maghazi camp. NBC News could not independently verify the number of deaths and has contacted the Israel Defense Forces for comment.