SEOUL, South Korea — North Korea fired "several rounds of cruise missiles" early Saturday, South Korea's military said, as the secretive communist state remained silent on the fate of a U.S. soldier it has taken into custody.
South Korea's Joint Chiefs of Staff said in a statement that the launches were fired into the Yellow Sea from 4 a.m. Saturday (3 p.m Friday ET). It did not say how many missiles were fired or how far they'd flown. 
"The intelligence officers of South Korea and the U.S. are undergoing a detailed analysis for more information," the statement said.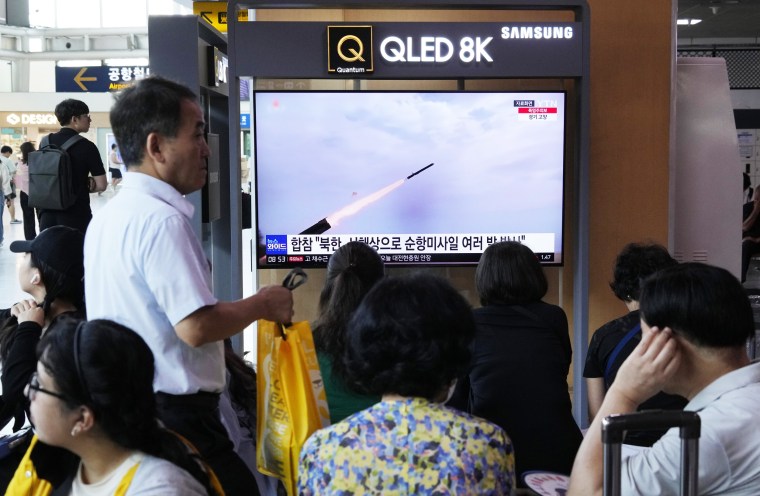 The firing came after an American soldier, Pvt. 2nd Class Travis King, 23, fled across the border during a tour of the joint security area, a U.N.-administered location between the North and the South, on Tuesday.
North Korea has so far remained silent on King's status.
Defense Department spokesperson Sabrina Singh said Wednesday that the U.S. had been in contact with Sweden, through which Washington maintains embassy-level relations with North Korea, to get information on King's whereabouts and well-being but had not received a response.
Before he bolted into the North, King had spent 48 days in a prison in Cheonan, a city about 50 miles south of the South Korean capital, Seoul, after he failed to pay a $4,000 fine on charges that included damaging public property.
However, Saturday's missile barrage, which appeared to be a protest against the deployment of a U.S. nuclear-armed submarine to South Korea on Tuesday, come at a crisis point in relations between North Korea and its American-allied neighbors.
On Thursday, while staying quiet about King, North Korea's Defense Minister Kang Sun Nam issued a veiled threat suggesting the docking of the USS Kentucky could be grounds for a nuclear attack by the North.
The deployment of the Kentucky off the coast of Busan was the first visit by an American nuclear-armed submarine since the 1980s, according to the South Korean Defense Ministry.
The pariah state also fired two missiles from its opposite coast toward Japan on Thursday and last week tested its latest Hwasong-18 intercontinental ballistic missile, as leader Kim Jong Un promised to enhance his nation's nuclear deterrent capabilities.
The isolated communist nation has long threatened to launch intercontinental ballistic missiles in self-defense at what it calls active plans by the West to launch an attack on it.
At an April meeting between President Joe Biden and South Korean President Yoon Suk Yeol, Biden warned "a nuclear attack by North Korea against the United States or its allies and partners is unacceptable, and will result in the end of whatever regime were to take such an action."
Biden and Yoon are scheduled to meet again at Camp David next month, along with Japanese Prime Minister Fumio Kishida.
Stella Kim reported from Seoul and Leila Sackur from London.