DUMA, West Bank — Israel's prime minister made a rare call to the Palestinian Authority's chairman on Friday following the death of an 18-month-old Palestinian boy who was killed in a house fire suspected to have been set by Jewish extremists.
Benjamin Netanyahu spoke to Mahmoud Abbas to say "everyone in Israel was shocked by the reprehensible terrorism," according to a statement issued by his office.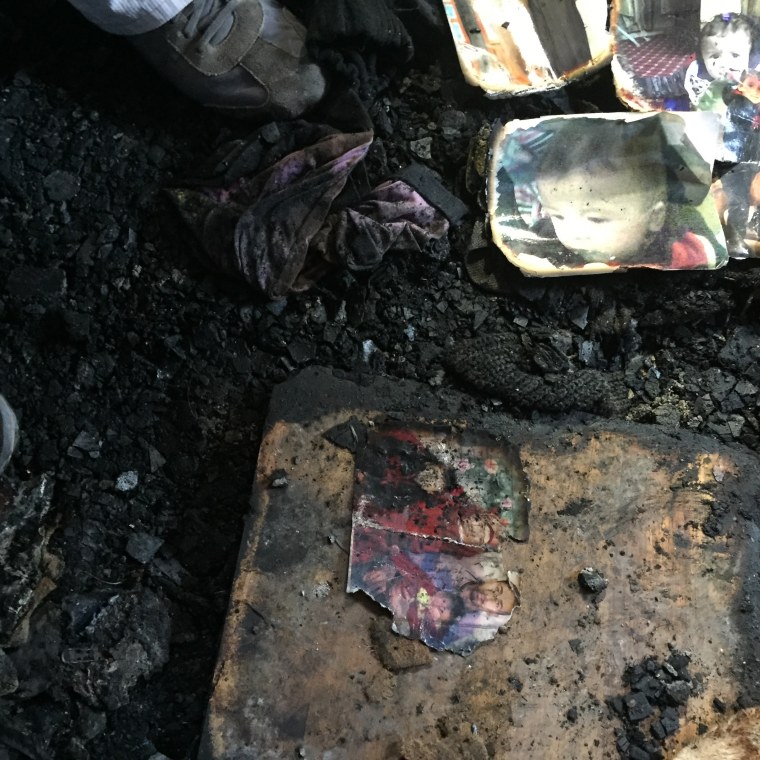 "We must fight terrorism together regardless of which side it comes from," Netanyahu said, according to the statement. Israeli security forces had been ordered to use "all measures to locate the murderers," it added.
The mother of the slain child was being treated for burns on 90 percent of her body, hospital officials told NBC News earlier. Israeli officials named the slain child as Ali Dawabsheh and said his four-year-old brother was in intensive care. His father was also reported to have been injured.
Police spokeswoman Luba Samri said the "Price Tag" slogan used in the past by extremist Israelis was daubed on the walls of the family home that had been torched in the village of Duma, which is located near the West Bank city of Nablus.
"This is a suspected attack with nationalist motives," Samri said. It was the worst attack by Israeli extremists since a Palestinian teen was burned to death in a retribution slaying for three Israelis killed by abductors a year ago.
Speaking on Army Radio, Internal Security Minister Gilad Erdan said: "A nation who had children burned in the Holocaust should do soul-searching if from the same nation people come out and burn other people."
Dan Shapiro, the U.S. ambassador to Israel, also highlighted Thursday's knife attack at a gay pride parade in Jerusalem.
"Two days, two terrible acts of violence and hate," he wrote on his Facebook page. "I join with so many Israeli leaders and citizens who have condemned the hateful stabbing attacks at the Jerusalem Pride March and the murderous terrorist arson in Duma."
An investigation was underway to bring the "terrorists" to justice, Israel Defense Forces spokesman Lt. Col. Peter Lerner said in a statement.
The "Price Tag" group has been blamed for a string of mosque torchings in the West Bank in the past few years, often in retribution for Israeli actions against illegally built settlements.
Israel tore down two illegal structures in the Beit El settlement earlier this week.
Palestinian Prime Minister Romi Hamdallah accused Israeli politicians of "incitement," adding: "We hold the Israeli government responsible for the attack."