BEIJING — Tough-talking Philippines president Rodrigo Duterte arrived in China Tuesday for a high-profile visit that could further strain ties with longstanding ally, the United States.
The combative leader — who earlier this month told told Obama "you can go to hell" — has made clear that China's claim over much of the South China Sea, which has angered Washington, won't stop him doing business with Beijing.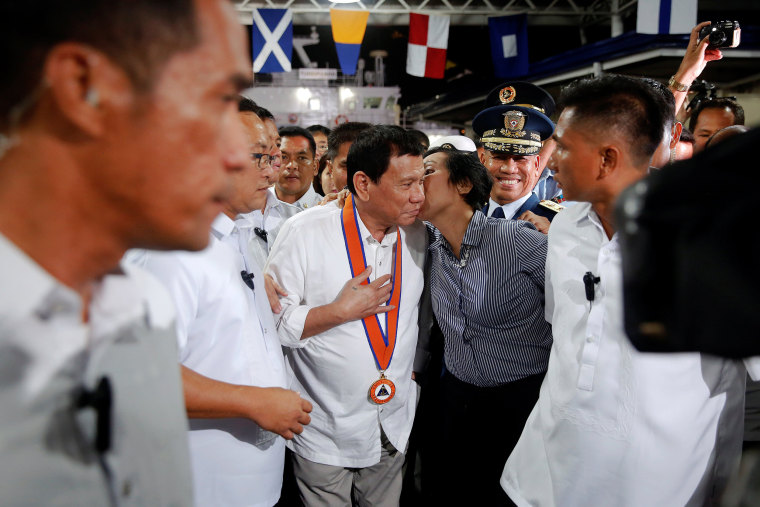 "There is no sense in going to war. There is no sense fighting over a body of water," the 71-year-old leader said in an interview with China's state-run Xinhua News Agency published on the eve of his China visit. "We want to talk about cooperation, and most of all, we want to talk about business."
The four-day visit, which includes a 400-strong entourage, will clarify just how much Duterte is prepared to reshape the Philippines' 65-year alliance with the U.S., and leaves President Barack Obama's vaunted "pivot east" hanging in the balance.
Duterte has unleashed several tirades against foreign leaders such as Obama and Pope Francis since becoming president in June.
In an Oct. 4 speech, he told Obama "you can go to hell" after the U.S. criticized the Philippine government's deadly anti-drug campaign that has left an estimated 3,000 alleged drug dealers and pushers dead.
Angered by U.S. criticism, Duterte also said he could scale back the activities of visiting U.S. troops in the country. He said he wanted the U.S. military out of southern Philippines, saying its presence has inflamed minority Muslims and complicated efforts to forge a peace accord with insurgents.
Duterte said the joint U.S.-Philippine combat exercises held earlier in October — the first of his presidency — would be the last of his tenure.
Still, the Philippines president has said he will not turn his back on a 1951 Mutual Defense Treaty with the U.S. and will maintain the alliance with Washington, one of his country's largest trading partners and provider of development and military aid and defense equipment.
Related: Duterte Apologizes to Jewish Community for 'Hitler' Comments
In spite of his undiplomatic comments, Duterte is known for his pragmatism, said Manila-based political analyst Bobby Tuazon. This will prove useful as he steers his engagement with China in support of "sweeping economic reforms, massive investments in infrastructure, rebuilding industries and balanced trade," he said.
Duterte's obvious priority of encouraging Chinese aid and investment makes sense while the Philippine economy is languishing and more than a quarter of the country's 100 million people live below the poverty line.
"I have a good feeling they [China] really want to help us in a big way. If I get something big, I promise you I will build hospitals and schools," Duterte said in an Oct. 10 speech. "If there is anything left, I will use it to help you build a power plant."
Expectations are running high that the China visit will yield as much as $3 billion in assistance — both in loans and grants — the Philippine Star newspapers quoted trade secretary Ramon Lopez as saying.
The Transportation Department alone has a $20 billion pipeline of train projects and, combined with other potential deals, there's a prospect of "investment bonanza for Chinese companies," the Philippine Inquirer reported on Sunday.
Related: What's Next for Beijing After Tribunal's Rebuke?
However, the dispute over the South China Seas will hang over the visit.
Duterte has already promised not to bargain away July's ruling by an international arbitration panel upholding Manila's territorial position against China's expansive claims in the area. But in a break with longstanding policy, the president has said he wants to pursue direct talks with Beijing instead of negotiating the dispute as part of a regional coalition in conjunction with the U.S.
Li Kaisheng, international relations researcher of the Shanghai Academy of Social Sciences told NBC News, said Duterte's bet on Chinese economic help will likely pay off.
"I think there is no question that Duterte will be able to go back home with lots of economic benefits from his China trip," he told NBC News.
The departing U.S. Ambassador in Manila, Philip Goldberg, told local media on Oct. 15 that he is hopeful the two countries will be able to "work through" whatever difficulties exist. Both Goldberg and Obama were target of expletives from the Filipino leader.
"There is no irreparable damage to the US-Philippine alliance — yet," said Ernest Bower, a senior adviser on Southeast Asia at the Center for Strategic and International Studies and CEO of business consultancy BowerGroupAsia.
"While Duterte's anti-U.S. rhetoric is good politics in the Philippines, if he moves from words to actions to undercut ties with the U.S. and the alliance, he will find Filipinos turning against him quickly," he warned.
Related: Rodrigo Duterte Runs on Rape Jokes, Violent Promises
So in spite of Duterte's outbursts and often heated language lies cold calculation, according to Chen Xiangmiao, an analyst of the National Institute of South China Sea Studies.
"The main issue is which country, the U.S. or China, can offer more benefits," he said. "For the Philippines, it's easier to cooperate with China."