Philippine President Rodrigo Duterte told his U.S. ally Barack Obama "you can go to hell" in a speech Tuesday that was his latest tirade against the U.S. over its criticism of his deadly anti-drug campaign.
Duterte, who took office in June, has been hypersensitive to criticism over his crackdown, which has left more than an estimated 3,000 suspected drug dealers and pushers dead in just three months, alarming the United Nations, the E.U., the U.S. and human rights watchdogs.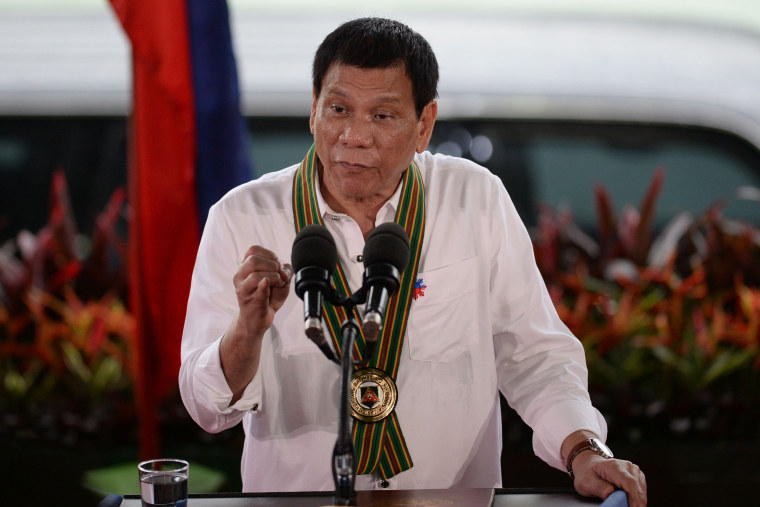 The tough-talking former city mayor, who describes himself as a left-leaning leader, has had an uneasy relationship with the U.S. and with Obama and has declared intentions to bolster relations with China and Russia as he revamps the country's foreign policy that has long leaned on Washington.
In a speech before a local convention attended by officials and business executives, Duterte outlined his disappointments with the U.S., which has asked his government to stop the widespread killings under his anti-drug campaign and has questioned whether human rights are being violated. He also described Washington as an unreliable ally, saying Filipino forces have not benefited from joint combat exercises with U.S. troops.
Related: Obama Cancels Meeting After Duterte Threatens to Curse at Him
"Instead of helping us, the first to criticize is this State Department, so you can go to hell, Mr. Obama, you can go to hell," Duterte said.
Angered by U.S. criticism, Duterte has made a series of public pronouncements that he could scale back the activities and presence of visiting U.S. troops in the country. He said he wanted them out of the volatile south, saying their presence has inflamed restiveness among minority Muslims, which could complicate efforts to forge a peace accord with Muslim insurgents.
Duterte has announced he will not allow the Philippine navy to conduct joint patrols with the U.S. military in the disputed South China Sea because it could spark an armed conflict in Philippine territory.
Still, Duterte has said he will not abrogate a 1951 Mutual Defense Treaty with the U.S. and will maintain the long alliance with America, one of his country's largest trading partners and provider of development and military aid and defense equipment.
Related: Duterte Apologizes to Jewish Community for 'Hitler' Remarks
Last week, Duterte said the joint U.S.-Philippine combat exercises to be held this week, the first of his presidency, would also be the last of his tenure. The exercises, centering on amphibious landing drills, started Tuesday under some uncertainty because of those remarks.
U.S. Embassy officials said Washington has not been formally notified by the Philippine government of any move to scrap other planned drills. Such a move by the Philippines would impede Washington's plans to expand the footprint of U.S. forces in Southeast Asia to counter China.