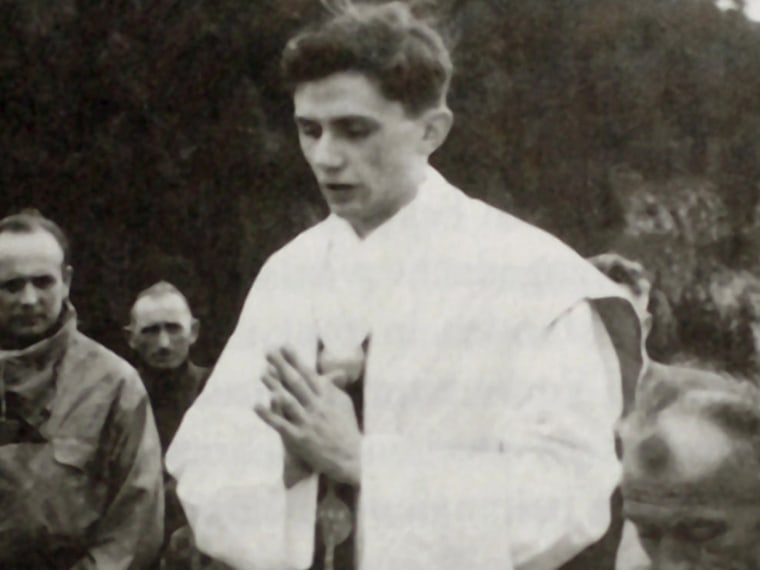 The life of Joseph Ratzinger, Pope Benedict XVI
Updated at 10:51 a.m. ET:
April 16, 1927: Joseph Ratzinger is born in Marktl Inn, Bavaria.
1939: Enters the minor seminary in Traunstein, Germany.
1943: At the age of 16, he and members of his seminary class are drafted into the German anti-aircraft corps.
1945: Deserts the army and returns to Traunstein. He is briefly held by American forces in a prisoner of war camp. After his release, he re-enters the seminary.
1951: Ordained into the priesthood by Cardinal Faulhaber of Munich.
1953: Receives his doctorate in theology from the University of Munich with a thesis entitled "The People and House of God in St. Augustine's Doctrine of the Church."
1959: Begins lecturing as a professor of fundamental theology at the University of Bonn.
1962-1965: Participates in all four sessions of the Second Vatican Council as theological adviser to Cardinal Joseph Frings of Cologne, Germany.
1972: Becomes one of the co-founders of Catholic theology journal Communio.
1977: Named Archbishop of Munich and Freising in March and elevated to Cardinal of Munich in June by Pope Paul VI.
1981: Named Prefect of the Congregation for the Doctrine of the Faith by Pope John Paul II.
1998: Named Vice-Dean of the College of Cardinals.
 2002: Elected Dean of the College of Cardinals.
April 19, 2005: Cardinal Ratzinger elected as the 265th pope and chooses the name Pope Benedict XVI.
April 24, 2005: Celebrates first Mass as pope.
Sept. 9-14, 2006: On a trip to his Bavarian homeland, he controversially quotes a 14th-century Byzantine emperor who said Islam had only brought evil to the world. He apologizes several days later after his remarks spark protests by Muslims around the world, saying he was misunderstood.
Nov. 28-Dec. 1, 2006: Visits Turkey in a fence-mending mission following the angry Muslim reaction to his speech. He joins Istanbul's grand mufti in prayer facing Mecca at the Blue Mosque.
July 13, 2007: Announces that the Vatican will be the world's first "carbon-neutral" state by planting a forest to offset carbon emissions and installing solar panels.
Feb. 5, 2008: Changes a Good Friday prayer in Latin to delete a reference to Jews and their "blindness" -- but keeps the call for them to accept Jesus.
April 15-20, 2008: Visits the United States for the first time as pope and celebrates Mass at Nationals Park in Washington D.C. He addresses the United Nations General Assembly in New York, prays at Ground Zero and celebrates Mass at Yankee Stadium. He also meets with victims of sexual abuse from the Boston Archdiocese.
July 18, 2008: Apologizes to victims of child sexual abuse in a Mass on World Youth Day during a trip to Australia.
Jan. 23, 2009: Launches a Vatican channel on YouTube.
Jan. 24, 2009: Lifts excommunications of four ultra-traditionalist bishops, including a Holocaust denier.
May 20, 2009: Ireland's Ryan Report on clerical sexual abuse is published.
Nov. 6, 2010: On a trip to Spain, he attacks abortion and gay marriage in a Mass to consecrate Barcelona's Sagrada Familia church. He criticizes Spain's "aggressive secularism."
July 25, 2011: Vatican recalls its ambassador to Ireland after the publication of report accusing church authorities of covering up sexual abuse.
Jan. 6, 2012: Names 22 new cardinals, which increases the chances that the next pope will be a conservative European.
Oct. 6, 2012: Pope's former butler Paolo Gabriele is found guilty of stealing secret documents from the Vatican and is sentenced to a year and a half in prison.
Oct. 21 2012: Names seven new saints, including two Americans: 17th-century Native American Kateri Tekakwitha and nun Marianne Cope, who helped lepers in Hawaii for 30 years.
Dec. 12, 2012: Posts his first tweet from @Pontifex: "Dear friends, I am pleased to get in touch with you through Twitter. Thank you for your generous response. I bless all of you from my heart."
Feb. 11, 2013: Pope Benedict XVI announces he will step down on Feb. 28.
Source: United States Conference of Catholic Bishops, National Catholic Register, Reuters and The Associated Press
Related:
Pope Benedict XVI to resign on Feb. 28, Vatican says
Archbishop Dolan: I'm 'startled' by pope's resignation