Standing under clear skies at an air base in Syria, Russian President Vladimir Putin told his troops the good news: They had all but secured victory in the Middle East country's six-year civil war.
"The task of combating armed gangs here in Syria ... has been largely resolved — brilliantly resolved," he said during a surprise announcement Monday.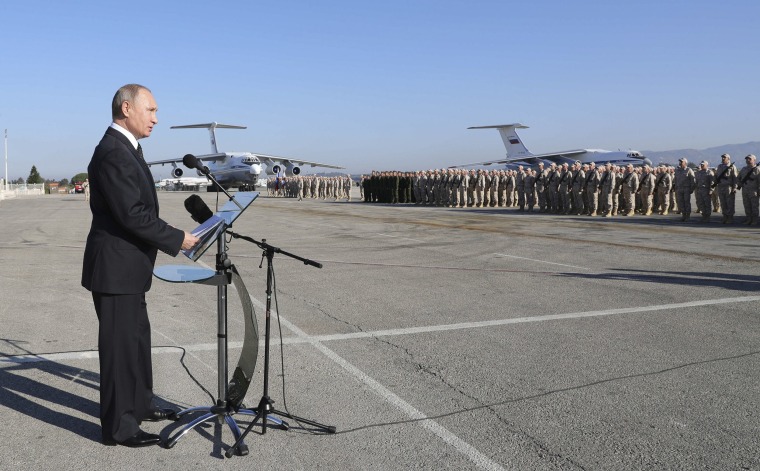 But many experts say Putin's victory lap is premature with huge swaths of the country still out of the control of his ally, President Bashar Assad.
"It's an over-simplification when people say the war is ending," said Haid Haid, a consulting research fellow at London's Chatham House think tank. "This conflict will most likely go on for some time."
Assad has been fighting a patchwork rebel force since 2011 — a conflict that the hyper-violent Islamic State entered three years later.
His regime was losing ground until Russia joined the fray in 2015, launching what many say has been an indiscriminate bombing campaign that turned the tide in Assad's favor.
An estimated 400,000 people have died in the conflict and 11 million have been displaced from their homes. During the battle for Aleppo, perhaps the war's most notorious chokepoint, United Nations investigators found that all sides were guilty of war crimes.
"The regime does not have a reason to negotiate"
For its part, the Assad's regime has been accused of chemical attacks on its own people, laying sieges that cut off civilians from essential supplies, and torturing or arbitrarily killing thousands of prison inmates.
This campaign has put Assad in a commanding position.
Supported by Russian airstrikes, as well as Iran, Lebanese Hezbollah and Shiite militias, Syrian forces have squeezed most of the rebels into a relatively small pocket in Idlib Province.
ISIS has been routed from its strongholds of Raqqa and Deir el-Zour and currently controls a sliver of land along the Euphrates River and Syria's border with Iraq, as well as other low-population desert areas.
Heralding these achievements during his victory speech Monday, Putin also announced he would withdraw some of his forces from Syria because they were no longer necessary.
And the drawdown may not mean that Russia is looking to end its involvement in the conflict anytime soon, according to the Institute for the Study of War. According to a recent report by the Washington think tank, in the past these have been used to "reinsert alternative weapons systems better suited for the next phase of pro-regime operations."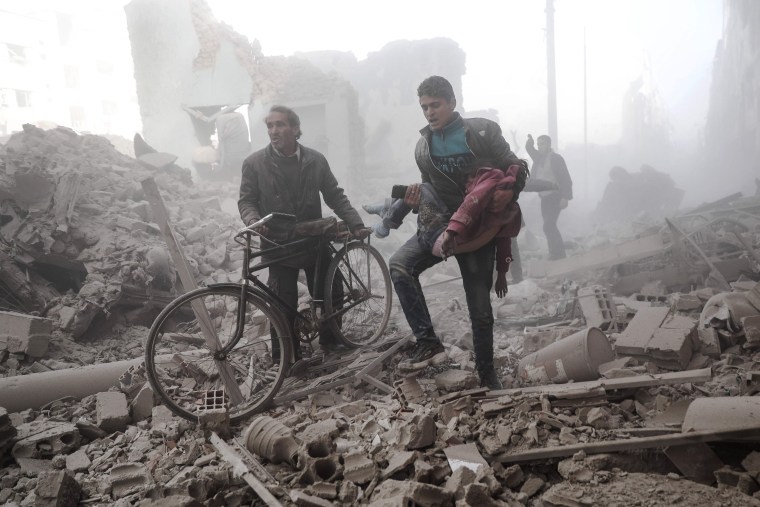 Whatever Putin's next motive, most experts agree that a complete victory for his Syrian allies is some way off.
Although precise estimates vary, some say Assad only controls 60 percent of the country, and his forces are still fighting ISIS in the east and other rebels in the west.
The parts of the country not governed by the regime are under the command of a web of different actors, each with their own agendas and demands that experts say could lead to more bloodshed.
"Syria and Russia have obtained the upper hand but that doesn't mean there won't continue to be violence between these other groups," according to Robert Lowe, the deputy director of the Middle East Center at the London School of Economics. "It's hard to see any end to the war in sight."
And it's not just the forces that Assad is fighting directly whose presence he may have to worry about.
Kurdish-led fighters backed by the United States were central to the liberation of Raqqa and areas along the Euphrates river. The Syrian Kurds also control a huge chunk of northeastern Syria and their long-held ambitions for statehood are vehemently opposed by Turkey.
"Tensions between Turkey and Kurdish forces could escalate into armed conflict," according to Ziad Majed, an associate professor at the American University in Paris, writing for the Carnegie Middle East Center last month.
The U.S. has some 4,000 troops in Syria. And although President Donald Trump's focus is apparently elsewhere, namely North Korea, U.S. officials cast doubt on Putin's claims of victory.
"We think the Russian declarations of ISIS' defeat are premature," a White House National Security Council spokeswoman told Reuters on Tuesday. "We have repeatedly seen in recent history that a premature declaration of victory was followed by a failure to consolidate military gains, stabilize the situation and create the conditions that prevent terrorists from reemerging."
In Idlib Province, the al Qaeda-linked group Tahrir al-Sham is now the dominant force. And ISIS may be squeezed, but earlier this month the group claimed a car bomb attack in the city of Homs that killed 11 members of the Syrian army.
One arena where Assad does appear to hold all the cards is the ongoing peace talks.
The eighth round of negotiations began in Geneva last week but there is still little sign of progress. Assad's representative suggested at one point that he might not even return to the summit because of the opposition's demand that the president play no role in any interim administration.
"The regime does not have a reason to negotiate," said Haid at Chatham House.
The only thing keeping Assad's representatives engaged at all, according to Lowe at LSE, is international recognition. While Assad has emerged from the past six years still in charge, his supporters hope a peace deal could see Western powers accept his presidency as legitimate.
"If a deal can be done that keeps the regime in power, then that's in Assad's interests," Lowe said. "It's true that power is what he has now, but it's not recognized internationally and there's lots of opposition to him around the world."