Russia's weekend maritime clash with Ukraine illustrated the vast military imbalance between the neighbors.
No fewer than 11 Russian vessels surrounded Ukraine's two light military ships and one tugboat, ramming them before eventually opening fire on Sunday, Ukrainian President Petro Poroshenko told NBC News.
Poroshenko insists his country is under "extremely serious" threat of a land invasion, and that's why he had to declare martial law for 30 days in regions adjacent to Russia.
The gulf in military might was further driven home when Russia announced Wednesday it would deploy another of its S-400 surface-to-air missile systems to Crimea, the peninsula it annexed from Ukraine in 2014. The S-400 can track 300 targets simultaneously including aircraft, drones and other missiles mid-flight, and has a range of 250 miles. It will be the fourth S-400 in Crimea.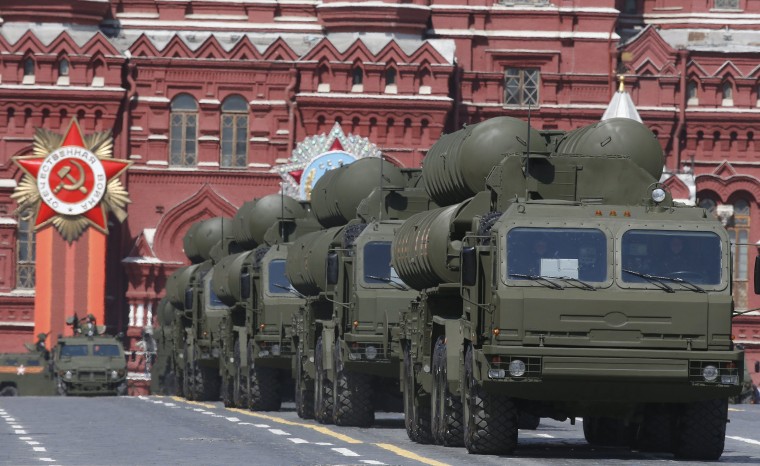 According to Poroshenko, Russia also tripled the number of tanks at a base near the Ukrainian border from September to October.
"We are now strengthening our defense on all the borders with Russia," Poroshenko told NBC News' Richard Engel on Tuesday.
The U.S. currently has around 200 soldiers stationed as advisers in Ukraine.
Ukraine says that Russia is attempting to take control of the Sea of Azov. The annexation of Crimea gave it control of the Azov's only entrance, the Kerch Strait, choking access to Ukraine's own ports.
In May, Russia opened a $3.69 billion bridge across the strait, and Ukraine says Sunday's clashes were evidence the Kremlin is further tightening its grip.
Kiev is concerned about how to protect a 180-mile stretch between Crimea and the eastern part of Ukraine that's already run by Russian-backed separatists.
Most of Ukraine's navy was based in Crimea when it was annexed, meaning the military lost around 80 percent of its fleet to capture or defections. Russian President Vladimir Putin has offered to give the vessels back, although he described what is left as being a "wreck."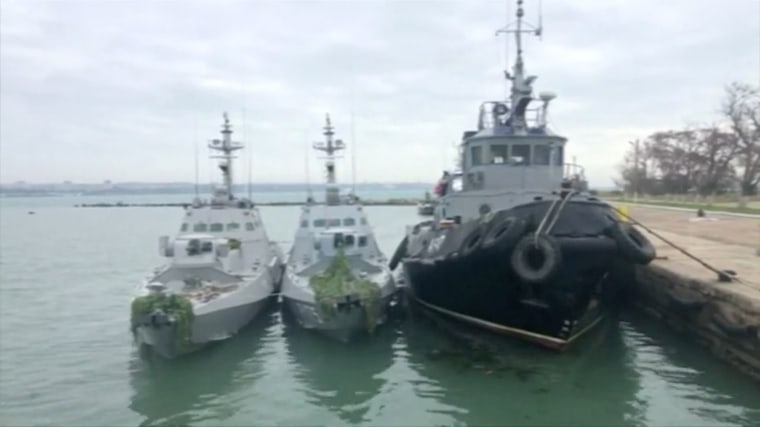 Since 2014, fighting in eastern Ukraine has claimed more than 10,000 lives. In 2015, the rebels briefly stormed the port city of Mariupol. Poroshenko says he believes they might try again.
"I have a document of intelligence in my hands," he said Monday, explaining his decision to impose martial law. He said the files contained a "detailed description of all the forces of the enemy located at a distance of literally several dozens of kilometers from our border, ready at any moment for an immediate invasion of Ukraine."
Some experts are skeptical.
"It is very unlikely that the rebels would attempt to mount a land assault and try to push the boundaries of the conflict further into Ukraine," says Emily Ferris, a research fellow at the Royal United Services Institute for Defence and Security Studies, a London think tank.
Ferris points out that if anything Moscow has been attempting to politically disengage from the conflict in the east of the country, with its domestic media focusing on the country's role in Syria.
In December 2017, Moscow withdrew from an organization that oversees the often-violated ceasefire in Ukraine, likely an attempt to persuade Ukraine to deal directly with separatists, Ferris added.
"We would have to consider what Russia could gain from this," she said referring to a land assault.
Some fear the Ukrainian president is using the crisis to weaken democracy as he trails badly in the polls ahead of an election in March.
However, given the disparity between Ukraine's forces and Putin's military next door, many are alarmed by the prospect of conflict between the former members of the Soviet Union.
Ihor Kabanenko, a retired admiral with the Ukrainian navy, has for months been predicting a flare-up along the lines of the Sunday's incident.
In August, he told NBC News that "Moscow will use Ukrainian maritime vulnerability and its own maritime supremacy at the Sea of Azov to achieve this goal."
In September, the United States gave Ukraine two Island-class patrol boats, outdated vessels built for the U.S. Coast Guard in the 1980s and 1990s.
These will form part of a new so-called "Mosquito Fleet" of light vessels that Ukraine is trying to assemble
But it is no match for Russia, whose Black Sea Fleet is station in Crimea and has received a "large number" of new ships and submarines since 2014, according to the War on the Rocks website.
The boats that detained Ukraine's ships on Sunday were part of Russia's FSB security service.
Compare that with Ukraine. In October, the BBC spent time aboard one of Ukraine's remaining vessels: a small, slow fishing boat with a gun bolted to the back.