Ukrainian attacks have seen Russia bolster its defenses with trenches and mines. Now it appears to be doubling its deployment of dolphins.  
The Kremlin has ramped up the amount of trained marine animals like dolphins that it uses to protect the key Crimean port amid increasing attacks on the peninsula's key strategic targets, a British intelligence assessment said Friday.  
The Russian Navy has invested in "major enhancements" to the security of its Black Sea Fleet's main base in Sevastopol since last summer, the briefing said. 
At least four layers of nets and booms have been placed across the harbor entrance, according to the assessment which Britain's defense ministry published to its Twitter feed, alongside satellite imagery taken in April and June.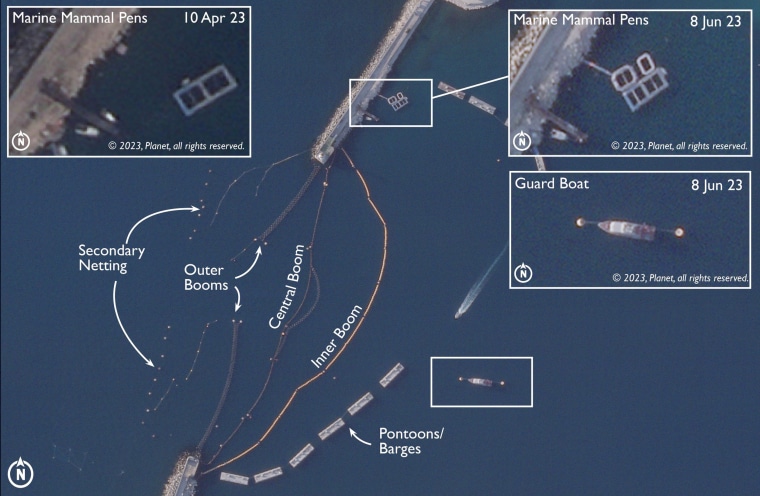 "In recent weeks, these defenses have highly likely also been augmented by an increased number of trained marine mammals," it said, adding that it showed "a near doubling of floating mammal pens in the harbor which highly likely contain bottle-nosed dolphins." 
Russia has trained animals for a range of missions, the ministry added, but the ones housed in Sevastopol harbor are "highly likely intended to counter enemy divers." 
NBC News was not able to independently verify the ministry's claims about the port on the peninsula, which Russia occupied in 2014.
Britain publishes an intelligence assessment about the war every day and this one was widely reported on by Ukrainian media. 
Russian state media has largely ignored it and there was no immediate reaction from Kremlin officials. 
Russia is not the only country that has used trained marine animals for military purposes in the past. For decades, the U.S. Navy has also trained dolphins and sea lions to help guard against underwater threats. In 2019, a beluga whale surfaced in Norway with a camera harness that raised suspicions it was working as a Kremlin spy.
Two months after Russia's invasion in February 2022, a review of satellite images by the commercial firm Maxar and the U.S. Naval Institute (USNI) concluded that two transportable dolphin pens were moved into the Sevastopol harbor.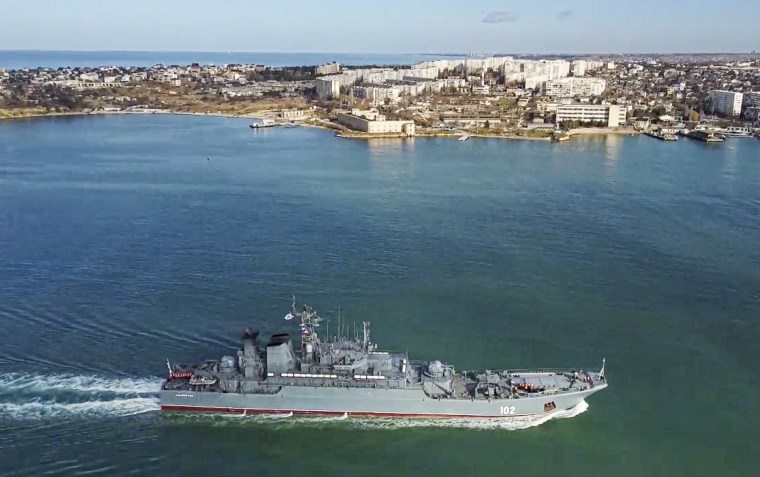 H I Sutton, a submarine analyst who specializes in the use of marine mammal pens, told NBC News at the time that dolphins were "the most obvious type of mammal" being used to protect the naval base.
He added that these were most likely the same pens that Russia deployed to Tartus in Syria in 2018, where dolphins were used to counter enemy divers, retrieve objects from the sea floor, and perform intelligence operations.  
Earlier this month, Sutton also concluded that Russia had doubled the trained dolphins defending Sevastopol, as "part of a gradual tightening of defenses in response to Ukraine's growing ability to reach the strategic city." 
But other military experts said it was hard to assess with certainty how Russia might be using the animals there.
Sevastopol has a relatively small harbor entrance, which could be secured by active sonar, according to Andrew Lambert, a professor of naval history at King's College London. 
"If there are more pens, the Russians may be increasing training numbers," Lambert said.
However, Neil Melvin, the director of international security studies at the London based Royal United Services Institute think tank, said it was hard to tell what the Russians were using the animals for.
"If I was to speculate, it would be that they are hoping that they can assist them with identifying maritime drone attacks, which the Ukrainians have been using against the Black Sea fleet or may be to spot sea mines," he said. 
Containing the Russian Black Sea fleet in Sevastopol through drone attacks is one of the main aims for Ukraine's ongoing counteroffensive as it would stop Moscow from using its ships to launch missile strikes from the Black Sea against Ukrainian targets, he added.
Earlier in the war, Crimea was touted as a major red line by the Kremlin, but Russian military installations and bases on the peninsula have come under regular attacks in recent months and naval drones have targeted the Black Sea fleet stationed in Sevastopol and forced the Russians to tighten their defenses there, the fleet's commander Vice-Admiral Viktor Sokolov, was quoted as saying by state media. 
The peninsula is an important supply route for Russian troops in the southeast of the country, where the Ukrainian army has been trying to break Russian defense lines. 
Moscow has blamed Kyiv for trying to sabotage its defenses on Crimea. But Ukraine has never acknowledged its involvement in attacks on the peninsula, although it has openly declared its intention to reclaim it. 
And earlier this week, Dmytro Pletenchuk, a spokesman for the country's navy, told Ukrainian TV that Russians do not feel safe in Crimea and are forced to constantly redeploy their Black Sea Fleet ships. NBC News cannot independently verify this claim.   
The British assessment earlier this week also said Moscow's "elaborate" defenses deep in rear areas, especially on the approaches to Crimea, highlighted the Russian command's assessment that "Ukrainian forces are capable of directly assaulting Crimea."