SEOUL, South Korea — Scandal-plagued South Korean President Park Geun-hye said Tuesday that she would leave office early if ordered to by the nation's Parliament.
"I will abide to whatever arrangement the ruling and the opposition parties work out, including reducing my term," Park said during a news conference in Seoul. "I am ready to put all things down."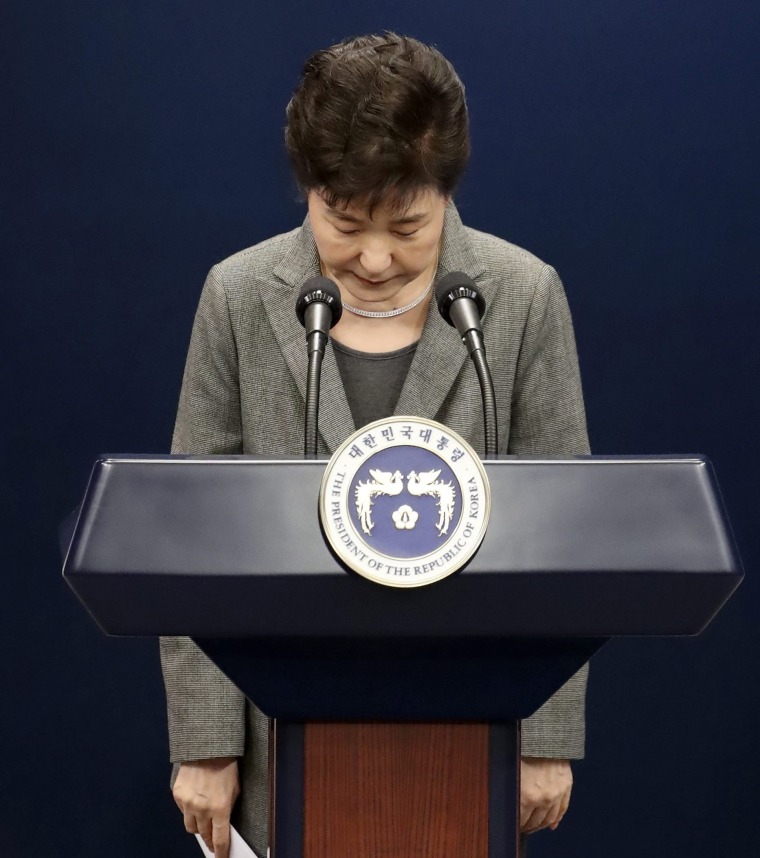 The surprise announcement, which the opposition called a ploy to delay impeachment, comes amid prosecution claims that she colluded with a friend who wielded government power from the shadows.
Hundreds of thousands of people have rallied in Seoul each Saturday for the last five weeks to demand that Park step down.
At the heart of the scandal is Choi Soon-sil, Park's longtime friend and the daughter of a late cult leader who allegedly meddled in state affairs and pressured companies to donate millions of dollars to foundations controlled by her at the request of Park.
Prosecutors have so far indicted Choi, two ex-presidential officials and a music video director known as a Choi associate for extortion, leakage of confidential documents and other charges.
Park, who has immunity from prosecution while in office, has refused to meet with prosecutors. Her lawyer, Yoo Yeong-ha, has described prosecutors' accusations against Park as groundless.
"I did what I did thinking that was the best for the nation, but that cannot excuse me for the failing to manage the people around me," Park said Tuesday.
Choi allegedly extorted money from South Korean conglomerates including Samsung and is accused of using the money to support her own projects and to buy horses for her daughter.
Their friendship dates to an era when Park served as acting first lady after her mother was killed by an assassin's bullet intended for her father, then-president Park Chung-hee. Five years later, in 1979, Park's father was murdered by his disgruntled spy chief.
Park's term is scheduled to end in February 2018.
Some lawmakers from Park's Saenuri party had asked her to resign under an agreement that would allow her to leave office with some dignity.
Park's approval rating fell to just 4 percent in a weekly survey released on Friday by Gallup Korea, an all time-low for a democratically elected South Korean president.
Kim Hyun Mee, a lawmaker from the opposition Democratic Party, described Tuesday's address to the nation as a "cheap trick to avoid impeachment," adding: "we are signing the bill to process the impeachment against President Park Geun-hye as I am talking to you right now."