Treasury Secretary Janet Yellen will travel to Beijing this week to meet with senior Chinese officials.
The Treasury said Yellen is expected to discuss a number of macroeconomic and financial issues, as well as how the U.S. and China can "responsibly manage our relationship, communicate directly about areas of concern, and work together to address global challenges."
A senior administration official told reporters that the trip is intended to "deepen and increase the frequency of communication between our countries moving forward and to stabilize the relationship, avoid miscommunication and expand collaboration where we can."
The official noted, however, that the Biden administration does not expect significant breakthroughs. Treasury said it would provide further details later.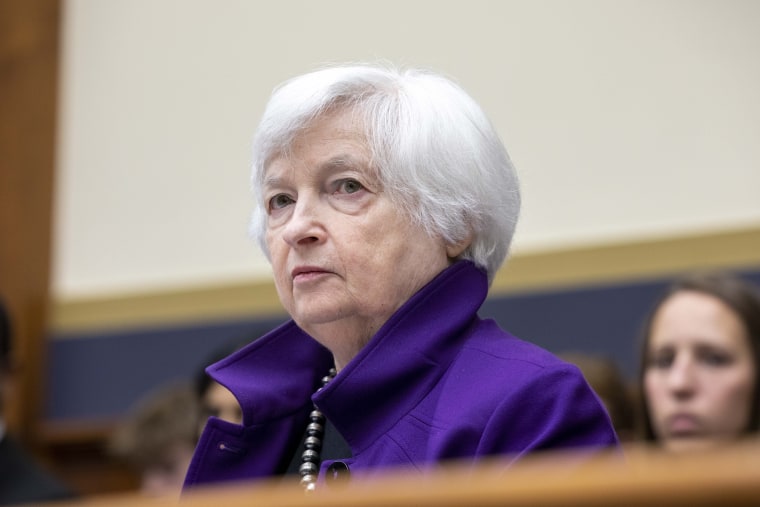 Chinese state broadcaster CCTV confirmed Yellen will visiting from Thursday to Sunday.
In a speech in April, Yellen outlined three economic priorities for the U.S.-China relationship: securing national security interests, fostering mutually beneficial growth, and cooperating on global challenges like climate change and debt distress.
The senior administration official told reporters that Yellen's visit will underscore those objectives.
Still, Yellen emphasized in April that the U.S. will not hesitate to "defend our vital interests." She noted, however, that those measures are "motivated solely by our concerns about our security and values" and are not intended to "gain competitive economic advantage."
The senior administration official reiterated that stance Sunday, saying: "We do not seek to decouple our economies. A full cessation of trade and investment would be destabilizing for both of our countries and the global economy."
Secretary of State Antony Blinken met with Chinese President Xi Jinping in Beijing last month, when he highlighted the importance of the economic relationship between the two nations. He noted that the growth of major economies like China is in the U.S. interest but that "it's not in our interest to provide technology to China that could be used against us."