British Prime Minister Rishi Sunak has struck a new deal on post-Brexit trade rules for Northern Ireland, gambling that the reward of better ties with the European Union is worth any discord it might cause within his own party.
In power for only four months, Sunak is pursuing a high-risk strategy that he can find a compromise to improve relations with Brussels — and the United States — without sufficiently angering the wing of his party most wedded to Brexit.
European Commission President Ursula von der Leyen met Sunak for final talks on Monday ahead of a joint news conference. She will also visit King Charles III, a meeting that has drawn criticism because the monarch is not supposed to be involved in political matters.
The deal seeks to resolve tensions caused by the 2020 post-Brexit arrangements governing the British province and its open border with E.U. member Ireland. It remains to be seen, though, whether it will go far enough to end political deadlock in Northern Ireland and satisfy critics in Britain.
"Over the past few months, there have been intensive negotiations with the E.U. — run by British ministers — and positive, constructive progress has been made," Sunak's office said.
The new agreement is expected to ease physical checks on goods flowing from Britain to Northern Ireland and give the British province a say over the E.U. rules it has to implement under the complicated terms of Britain's exit from the bloc.
It could also allow London to set some tax and state aid rules.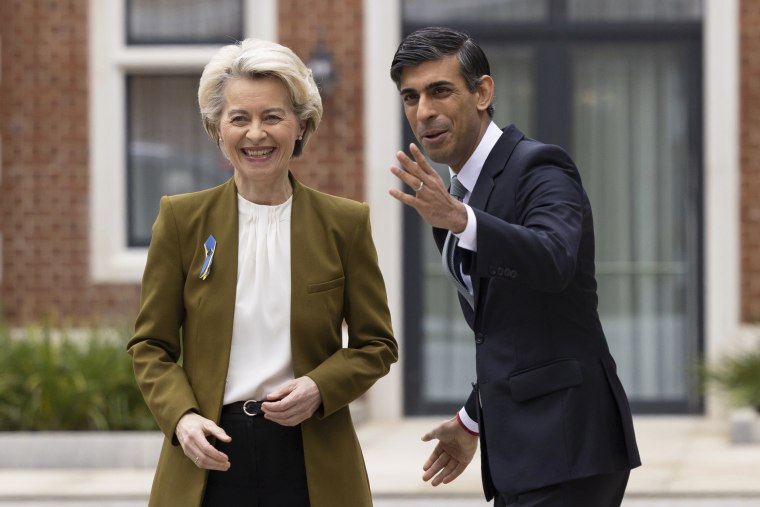 Its success could hinge on whether it convinces the Democratic Unionist Party (DUP) to end its boycott of Northern Ireland's power-sharing arrangements. These were central to a 1998 peace deal which mostly ended three decades of sectarian violence in the British province.
If Sunak can win support for the deal he will be able to move past the most contentious issue on his agenda and strengthen his hold over his Conservative Party, while trying to overtake the opposition Labour Party, now well ahead in opinion polls, before a national election expected in 2024.
Were he to fail, Sunak will probably face a rebellion from the euroskeptic wing of his Conservative Party, reviving the deep ideological divisions that have at times paralyzed the government since the vote to leave the E.U. in 2016.
Sunak could have left the Northern Ireland standoff unresolved, but officials in London and Belfast say he has been motivated to act ahead of the 25th anniversary of the Good Friday Agreement, which could entail a visit from President Joe Biden.
Biden, who often speaks with pride of his Irish roots, has expressed concern about the stand-off in the province.
Sunak is hoping that a successful outcome will improve cooperation with the E.U. in areas beyond Northern Ireland, including the regulation of financial services, scientific research and help to stem an influx of migrants in small boats across the Channel.
As part of its exit agreement, Britain signed an accord with Brussels known as the Northern Ireland protocol to avoid imposing politically contentious checks along the 310-mile land border with Ireland.
But the protocol effectively created a border for some goods moving from Britain because it kept Northern Ireland in the E.U.'s single market for goods. That also left Northern Ireland subject to some E.U. rules even though it was not a member of the bloc.
Perceptions that the protocol erodes Northern Ireland's place in the U.K. have sparked anger among many in unionist communities.
Both the DUP and the European Research Group, which brings together pro-Brexit Conservative lawmakers, have said they will study the details of any new agreement before giving their verdict, a process that could take days.
One person who could be key in the coming days and weeks is former Prime Minister Boris Johnson.
Johnson negotiated the original protocol in order to secure a broader trade deal with the bloc, before saying that London should renege on its commitments to Northern Ireland.