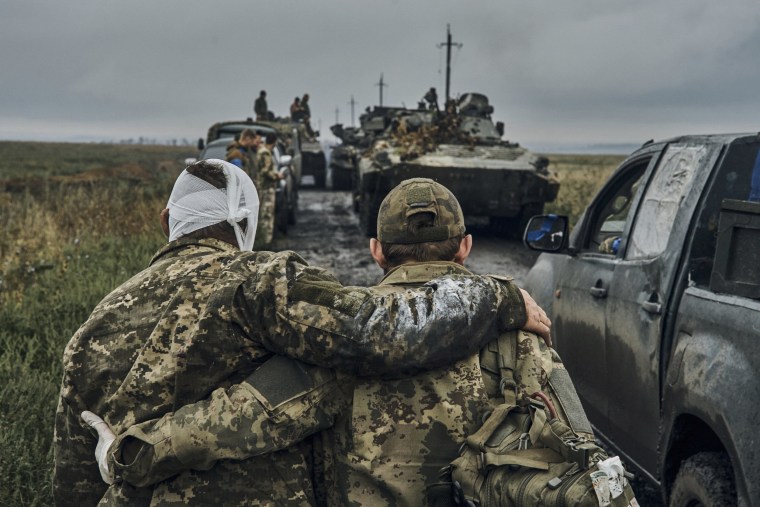 President Volodymyr Zelenskyy said in his nightly address Monday that Ukrainian forces had retaken more than 6,000 square kilometers (2,400 square miles) this month alone — an area roughly the size of Delaware. He urged that Kyiv and its allies "strengthen cooperation to defeat Russian terror."
The eastern city of Kreminna — in the Donbas region, the focal point of the Kremlin's war — was the latest to see Russian troops retreat, according to local governor Serhiy Haidai, while intense fighting continues in several other urban areas.
Video released by Ukraine's state border service also showed soldiers tearing down a Russian banner from the side of a store in Vovchansk, a town just 2 miles from Russia that was seized on the first day of the war.
NBC News has not verified the reports of Ukrainian progress on the ground.
Secretary of State Antony Blinken hailed "significant progress by the Ukrainians, particularly in the northeast," while speaking on a diplomatic trip to Mexico City late Monday, although he stressed that Russia still has sizable arms and forces in Ukraine.
Washington has said that Ukraine was taking advantage of the Western-made weapons now in its arsenal, including U.S.-supplied HIMARS rocket systems.
But Kyiv appeared determined to ensure that the apparent shift in momentum was felt in Europe, where evidence of its ability to fight back the Russian invaders was a timely intervention for those increasingly concerned the war's impact on energy supplies might strain working families as well as political will.
Ukrainian Foreign Minister Dmytro Kuleba said on Twitter Tuesday that he had heard "disappointing signals" from Germany on its willingness to supply new arms. "What is Berlin afraid of that Kyiv is not?" he asked.
The war and the danger to ordinary people are far from over, however.
Russian shelling rained down on positions from which President Vladimir Putin's troops have withdrawn, according to local officials.
"Of course, it is far from the end of the war, but it is great relief for the Kharkiv people," Karina Detyuk, deputy director at the Zoological Park of the city of Kharkiv, which remained under Ukrainian control while large parts of the surrounding region were occupied, told NBC News.
"I really hope the current counteroffensive will force the victory of Ukraine to come true sooner," said Detyuk, 32, who said poor mobile connection has left her still waiting to contact family and friends in newly liberated areas.
She added that she hoped Ukraine's allies would send more aid. "Please, believe in us, don't leave us alone," Detyuk said.
Military analysts have also cautioned that Ukraine should be wary of pushing too far, too fast.
"That's a recipe for the Russians to surround them and take back a large part of the land that they've retaken from the Russians," said Lt. Gen. Stephen Twitty, a former deputy commander of U.S. forces in Europe.
"Remember, this is a war of attrition," said Twitty. "This war is going to go on for quite some time."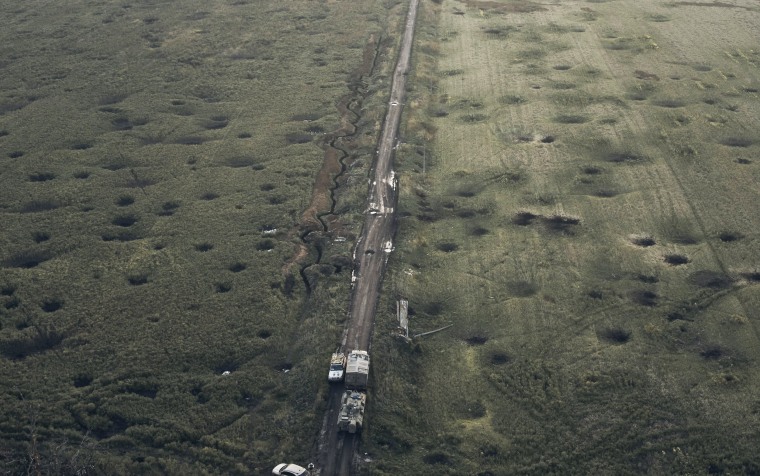 With Putin under pressure to respond to the battlefield setbacks, some loyalists in state media have suggested that Western interference has already made a difference.
"It's not Ukraine but all of NATO who is fighting us," wrote Alexander Kots, a journalist for the pro-Kremlin newspaper Komsomolskaya Pravda, The Associated Press reported.
The Institute for the Study of War, a U.S.-based think tank, said in its latest daily briefing that Ukraine was continuing to make "impactful" gains that were hitting Russian morale, with some soldiers "actively fleeing."
Britain's Ministry of Defense said in its daily public intelligence briefing that Russian forces forced to retreat in the past week included the prestigious 1st Guards Tank Army, which it said was designed to respond to NATO military action.
"It will likely take years for Russia to rebuild this capability," the ministry said.
A rare glimpse into how some Russians have expressed dismay at the course of the war came from opposition politician Boris Nadezhdin, who said during a discussion on the state-owned NTV channel this week that Putin had been misled by his advisers into thinking a quick victory was possible in Ukraine.
"We have to understand it's absolutely impossible to beat Ukraine using those resources and colonial war methods with which Russia is trying to wage war," he said, according to a translation by Reuters.
Alexander Kazakov, a lawmaker from the For Truth Party, referred to Nadezhdin as a "non-comrade" and said: "I again urge you to watch your language."
With his military on the retreat and signs of rare criticism growing at home, attention has turned to how Putin might respond.
But the Kremlin ruled out one potential option that some public figures in Moscow have called for to stem the Ukrainian tide.
Spokesman Dmitry Peskov said in his daily news conference Tuesday that a nationwide military mobilization was not being discussed.
He added that Russians as a whole continue to support Putin, and referred to criticism of Russia's leadership from nationalist commentators as an example of the country's "pluralism."
"But the line is very, very thin. You have to be very careful here," Peskov said.