During a tour of Disneyland Shanghai on Wednesday, Commerce Secretary Gina Raimondo would have been forgiven for wishing that some of the park's self-described "storybook magic" had touched her visit. 
Raimondo's China trip this week was the fourth by senior U.S. officials in three months, part of a Washington charm offensive to get relations between the world's two largest economies back on track. There is a lot of work to do, with friction on topics from human rights to the status of Taiwan, Chinese regional and global ambitions to intellectual property theft and the U.S. fentanyl crisis.
Among the issues Raimondo raised during her visit, the first by a U.S. commerce secretary in five years, was the recent hacking of her unclassified email by China-linked hackers, an action that she said "erodes trust."
But squint hard through the skepticism, mistrust and barbs, and there may be signs the U.S. and China are taking baby steps toward repairing their strained ties. The main achievement of Raimondo's trip was to establish new channels of regular communication between the two countries on commercial issues and export controls.
"You can't solve any problems without first communicating," she told reporters at a digital news briefing before she left Shanghai on Wednesday, adding that she hoped the two working groups would help level the playing field for U.S. companies in China.
In meetings with Raimondo this week, Chinese Commerce Secretary Wang Wentao and other officials expressed willingness to find a way forward.
Wang told Raimondo on Monday that he was ready to work with her "to foster a more favorable policy environment for stronger cooperation between our businesses to bolster bilateral trade and investment in a stable and predictable manner."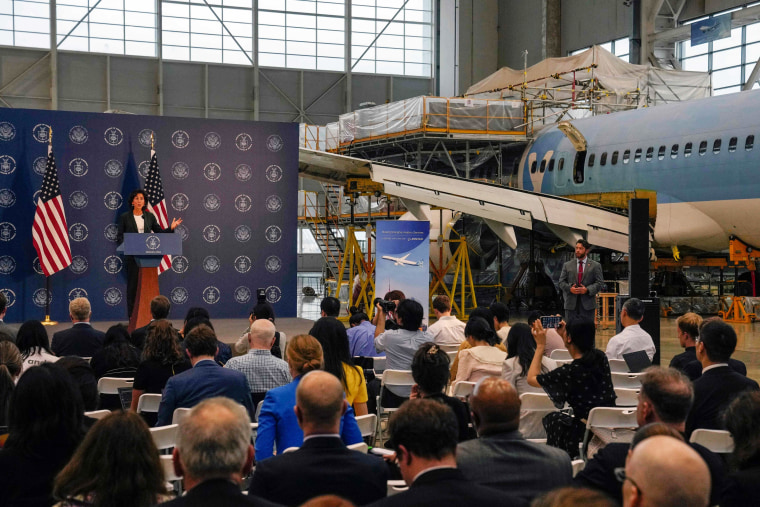 Experts say that even though Beijing is deeply wary of Washington, both sides know their trading relationship is not just significant but essential. 
Last year, 7.5% of U.S. exports went to China. Meanwhile, 16.5% of total imports were from China, although that percentage fell by a quarter in the first six months of the year, according to data reported this month by the Commerce Department, as companies try to diversify their supply chains. 
In surveys, U.S. companies say that they are committed to the China market long term and that their biggest concern is the poor state of U.S.-China relations.
But they are also hesitant to increase investment, citing an unpredictable regulatory environment and fears that Beijing may take action against them in retaliation for Biden administration policies aimed at limiting China's advances in sensitive areas.
Those policies, which Raimondo says are nonnegotiable, include export controls on semiconductor chips and an executive order restricting U.S. investment in some high-tech industries. They have been strongly criticized by China, which accuses the U.S. of politicizing economic and trade issues and "overstretching" the concept of national security.
"There is mutual dependency and mutual dislike," said Paola Subacchi, a professor specializing in Chinese economics at Queen Mary, University of London.
'Challenging relationship'
Raimondo acknowledged the difficulties. 
"It's a challenging relationship. We will of course disagree on certain issues," she said in Beijing on Monday, the second day of her four-day trip. "I think we can make progress if we are direct, open and practical."
The U.S. has said it wants to "de-risk" its relationship with China, promoting trade but restricting certain areas such as semiconductors, which it worries could be used for military purposes. 
The White House has tried to sell that as a positive approach. But China does not seem to be buying it, condemning President Joe Biden's strategy as just another form of the China-bashing former President Donald Trump popularized.
"The U.S. policy towards China aims to contain and suppress China under the pretext of competition," said Wu Xinbo, the director of the Center for American Studies at Fudan University in Shanghai. "Despite these high-level interactions, we still maintain a cautious attitude."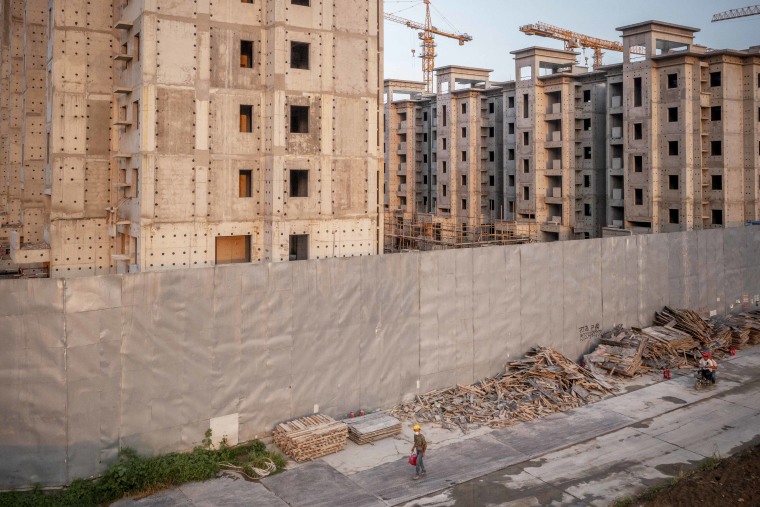 China may be wary, but it also has serious economic problems that it cannot weather by itself. Its previously cantering GDP growth has slowed, partly because of a slump in its once-thriving real estate sector, which accounts for as much as 30% of China's gross domestic product. It remains the world's largest exporter, but exports are down, foreign investment is at a 25-year low, and youth unemployment is at a record high.
Meanwhile, Beijing is looking to build bridges elsewhere. Last week Chinese President Xi Jinping expressed support for an expansion of the BRICS group, a club of non-Western developing economies that some in the West think Beijing envisions as a rival to the Group of Seven developed economies, which includes the U.S.
"Difficulties in China's relationship with the U.S., the European Union, Japan and South Korea lead them to want to strengthen their relations with others," said Stephen Orlins, the president of the National Committee on U.S.-China Relations, a nonprofit organization based in New York. "One door is closed, you've got to go through another door."
BRICS stands for Brazil, Russia, India, China and South Africa. The group will more than double in size next year by adding Argentina, Egypt, Ethiopia, Iran, Saudi Arabia and the United Arab Emirates, representing 37% of global GDP and 47% of the global population, compared with 29% of global GDP and 10% of the global population for the G7.
Some observers, including Lord Jim O'Neill, the former Goldman Sachs economist who coined the "BRIC" acronym in 2001, have questioned whether such a diverse and disparate group can be effective, particularly given the rivalry between its biggest members, China and India.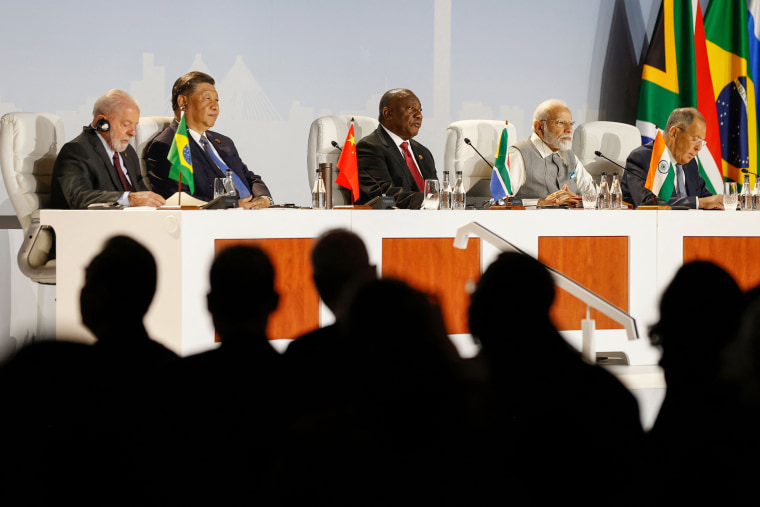 'Uninvestable'
In any case, few believe BRICS can rival the trading relationship between the U.S. and China, which share more than $700 billion in annual trade.
It is because of that codependency that many in the U.S. and China are eager to at least normalize relations. Although Beijing has yet to reciprocate Washington's high-level visits, both Orlins and Wu predicted that China would send a senior delegation to the U.S. soon.
From a Western business perspective, a central problem that needs to be resolved is that China is seen as an increasingly hostile environment by foreign investors, who are wary of becoming caught up in Xi's sweeping but vague anti-espionage laws.
Raimondo said Tuesday that U.S. firms had told her China was "uninvestable because it's become too risky," citing raids by Chinese authorities on national security grounds.
Like the U.S., China is trying to balance economic well-being with national security concerns. 
The economy may be weighing more heavily these days on the minds of Chinese officials, said Michael Hart, the president of the American Chamber of Commerce in China.
One theory is that "we're seeing more activity on the Chinese side, in terms of reaching out to the U.S., because the economics are starting to tell the story about just how important foreign investment is to China," he said.
Subacchi said: "China and the U.S. are playing a game of hide and seek. But the bottom line is that they cannot live without each other."