The U.S. warships and fighter jets deploying near Israel this week in support of Israel are also intended to send an explicit message to Iran, according to current and former senior U.S. officials.
That message, one of the officials said, is "stand down" — specifically when it comes to any consideration by Tehran of unleashing the Lebanese militant group Hezbollah.
"This is all about deterring Iran," the official said.
The Biden administration is sending the ships of the Navy's USS Gerald Ford Carrier Strike Group to the eastern Mediterranean Sea, and officials plan for the foreseeable future to keep in place some F-16 and A-10 fighter jets that had been scheduled to rotate out of the region, a U.S. official said.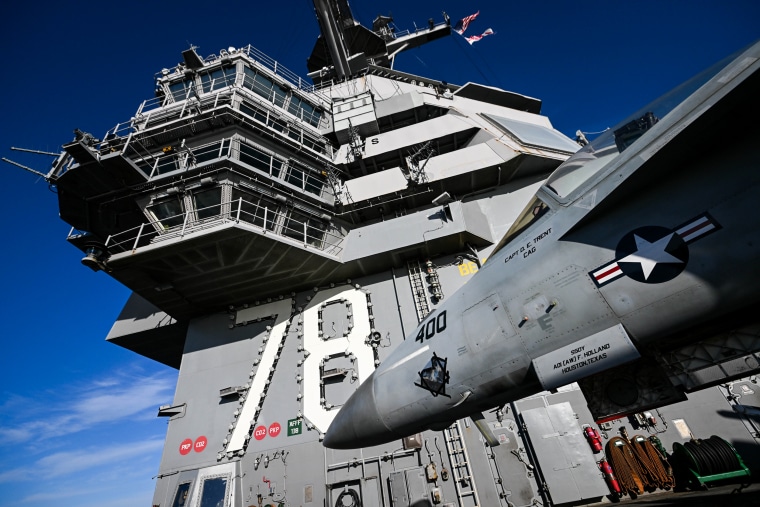 The timing of deploying additional F-15s that were scheduled to arrive in about a month has been moved up, the official said. And though the U.S. moved a squadron of F-35s out of the Middle East last week without a plan to replace them, another squadron will move there in the coming days. 
In all, as many as two dozen advanced fighter jets are expected to arrive in the region in the coming days. The official said that "represents significant air-to-air and air-to-ground capability to deter any Iranian aggression or expansion of ops," which is shorthand for operations.
The ships and the aircraft are all directly supporting Israel and deterring Iran and any other expansion, the official said.
As NBC News has reported, the U.S. is reviewing its plans for any needed evacuation of American citizens, and the ships could be used in such an operation.
Hezbollah has fired dozens of rockets across the Israeli border, but it has not fully taken up arms against Israel in the wake of Hamas' attack. The Israeli military said Monday that it had "neutralized a number of terrorist infiltrators who crossed from Lebanon into Israel."