TVER, Russia — President Vladimir Putin's popularity has taken a hit amid a controversial proposal to raise Russia's retirement age.
The plan was unveiled against the backdrop of host country Russia's exciting run to the quarterfinals of soccer's World Cup, with some critics accusing the Kremlin of trying to bury the news by announcing it during the tournament.
Prime Minister Dmitry Medvedev said the government wants to raise the retirement age for men up to 65 from 60 by 2028, and for women up to 63 from 55 by 2034.
The announcement came on June 14, the same day that Russia beat Saudi Arabia 5-0 in the opening game of the World Cup.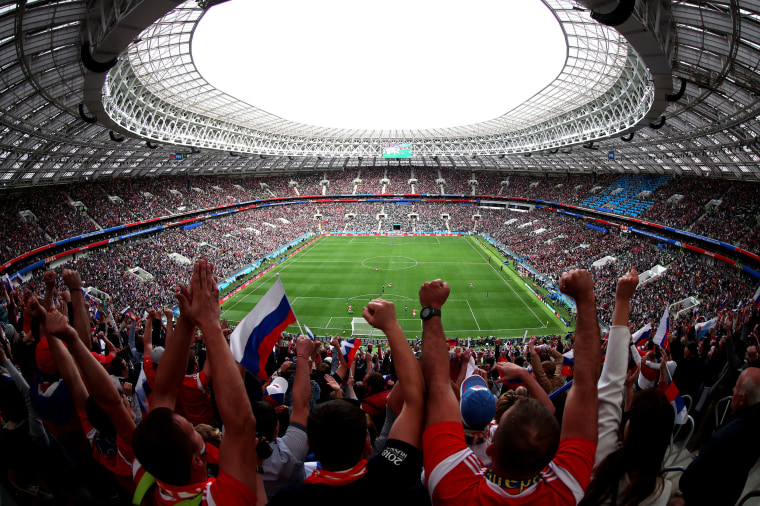 The proportion of Russians who said they would vote for Putin fell by eight percentage points within a week — with 54 percent supporting him, compared to 62 percent beforehand, according to the FOM pollster.
FOM said Putin's approval rating also dropped six percentage points to 69 percent from 75 percent. State pollster VTsIOM showed a 5 percentage point drop.
"The president is aware of the [people's] reaction to the proposals and parameters," Kremlin spokesperson Dmitry Peskov said on Friday.
Many Russians, especially women in their 40s and 50s, say they're worried about trying to find jobs when they will be aged 60 and older.
Russians staged small rallies to protest the proposed changes to pensions in several cities not hosting the World Cup.
Demonstrations were primarily organized by supporters of Alexei Navalny, a prominent Kremlin critic, but other political groups were behind some protests.
Sasha Aleksandrov, a 47-year old driver, said he attended a rally against the pension changes in Tver, a city on the Volga River about 110 miles northwest of Moscow. It drew a couple hundred people, according to organizers.
"Trying to find a job at age 50 in Tver is really difficult, and even after 40 it's really difficult. But at 60 — well, I think that's currently really impossible," he said, echoing comments from others in the city who spoke with NBC News.
Russia's current retirement age is low compared to other countries. Economists say reform is necessary in order to offset the double-strain on the country's economy of a growing number of retirees combined with the lower birth rates seen after the collapse of the Soviet Union.
Critics of the plan have also pointed out that the new retirement age would about the same as life expectancy for many Russians.
Still, Putin's approval remains relatively high compared to other politicians. It's also possible the government could soften the proposals before a final decision is made.
"Together with existing sweeteners, concessions on the reform will prevent it causing major political difficulties — Putin will remain popular and firmly in control," said Jason Bush, a senior analyst at Eurasia Group. "But by illustrating the fragility of his public support, the latest poll numbers will reinforce the existing trend for policy and refocus onto spending programs to address domestic social and economic issues — now a more effective way to rally public support than aggressive policies abroad."
Russia was eliminated from the World Cup by Croatia on Saturday.