While Russia says accusations that it poisoned a former Russian agent and his daughter in England are propaganda designed to damage its relations with the West, the nerve agent believed to have been used is a Cold War creation of the old Soviet Union — designed specifically to get around treaties banning chemical weapons.
Prime Minister Theresa May said Monday that the British government believed it was "highly likely" that Russia was responsible for the poisoning of Sergei Skripal, 66, a onetime double agent for Britain who exchanged for Russian spies in 2010, and his daughter, Yulia, 33.
The Skripals remained in critical condition Monday, eight days after they were found unconscious at a shopping mall in Salisbury, about 90 miles west of London.
May told Parliament that British scientists concluded that they were exposed to a nerve agent called Novichok, a Russian word that roughly translates as "newbie" or "new boy" in English.
What is Novichok?
"Novichok" is actually a class of several advanced chemical agents developed in the Soviet Union beginning in the 1970s.
Their existence was disclosed in 1991 when Vil Mirzayanov, a scientist at Russia's Scientific Research Institute for Organic Chemistry and Technology, fled to the West and revealed that Moscow was working on a nerve agent far deadlier than anything ever before created, in defiance of the 1990 Chemical Weapons Accord. Mirzayanov told The New York Times in 1994 that he disclosed the program because "it occurred to me that I was engaged in a criminal enterprise."
How deadly are Novichoks?
While full details of the chemical makeup of Novichoks remain secret to this day, a Novichok agent "causes a slowing of the heart and restriction of the airways, leading to death by asphyxiation," Gary Stephens, a professor of pharmacology at the University of Reading in England, told Reuters on Monday.
At least one of the Novichoks is described as being five to eight times as toxic as VX, according to 2010 research at the University of Teesside and James Cook University Hospital in Britain.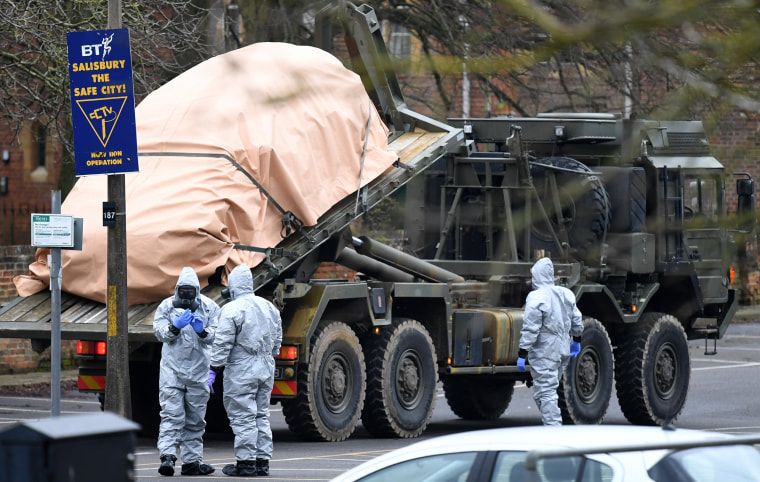 To put that into context, VX is the chemical that was used to kill North Korean leader Kim Jong Un's half-brother at the airport in Kuala Lumpur, Malaysia, in February 2017. And VX is so deadly that the United Nations lists it as a weapon of mass destruction.
"Novichok agents are reported to produce more permanent injury" than more common nerve agents, the British scientists wrote in 2010, "even following appropriate nerve agent antidote treatment."
What's worse, they said: "It should be noted that some Novichok agents have been specifically designed to be resistant to standard nerve agent antidote therapy."
How are Novichoks used?
Most Novichok agents are so-called binary weapons — that is, they're made up of two separate nontoxic components that become lethal only when they're combined.
"The Novichok agents are thought to be far more difficult to detect during manufacturing and far easier to manufacture covertly, because they can be made with common chemicals in relatively simple pesticide factories," the American Academy of Orthopaedic Surgeons says in its Weapons of Mass Casualties and Terrorism Response Handbook.
Stephens, the University of Reading scientist, said: "One of the main reasons these agents are developed is because their component parts are not on the banned list."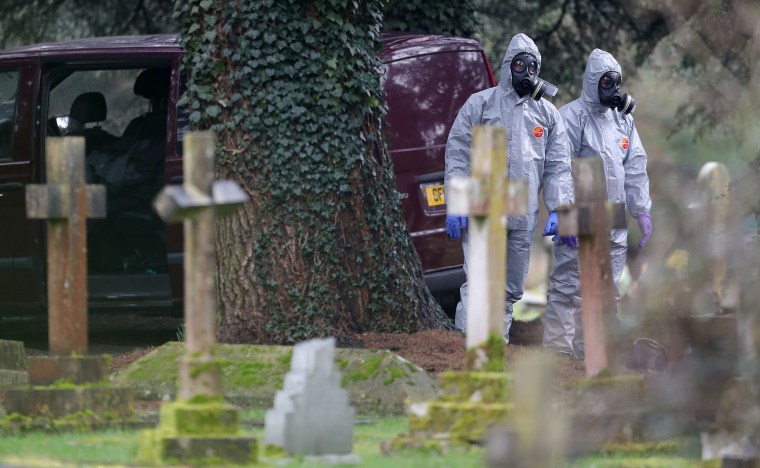 And because at least one of them is a powder, not a gas or a vapor, contamination "would be harder to detect with normal chemical warfare detection means," said Daniel Kaszeta, managing director of Strongpoint Security Ltd., a weapons and defense consultancy in London.
"They were specifically developed to evade the West/NATO's detection capabilities and foil intelligence collection efforts," Kaszeta, a former security specialist with the U.S. Secret Service's Technical Security Division and Chemical/Biological Countermeasures Branch, said in a long series of posts on Twitter.
The Soviet Union and then Russia "went to great lengths to keep the programme secret at a point when the USSR had already agreed in principle to chemical arms control," Kaszeta said.
"Their existence is a political embarrassment."