Ukraine appeared to offer and then retract a major concession to Russia amid increasingly feverish attempts by some world leaders to prevent war from breaking out in Europe.
Russian forces — thought to number around 130,000 — continued to mass near Ukraine's borders Monday. Meanwhile, warships, including submarines, streamed toward the Black Sea for naval drills as Kyiv advised airlines to avoid flying over its open waters.
After repeated warnings from the United States and its allies that an invasion could be imminent, Ukraine's ambassador to Britain told the BBC on Sunday that it could drop its bid to join NATO — raising eyebrows in Europe and Washington.
Ambassador Vadym Prystaiko said Ukraine was willing to be "flexible" over its goal to join the alliance, which would be a major concession to Moscow. 
"We might — especially being threatened like that, blackmailed by that and pushed to it," Prystaiko said when asked if Kyiv would contemplate not joining NATO to avert war.
But a day later, Ukrainian officials appeared to walk back the statement, saying there would be no change in Ukraine's constitutional commitment to become a member of NATO, which it made in 2019.
Asked about Prystaiko's comments, Ukrainian President Volodymyr Zelenskyy said Monday that Ukraine should stay on its chosen path when it comes to NATO despite Russia's opposition, but also voiced concerns that Ukraine's membership in the alliance remains more of a "dream" and is not up for Ukraine to decide.
Constraining and even rolling back NATO — the U.S.-led military alliance founded after World War II to counter the Soviet Union — is an aim of Russian President Vladimir Putin.
At the same time, Putin has been trying to bring the former Soviet republic back into the Russian fold, and a ban on Ukraine ever joining the alliance is among a list of security demands the Kremlin issued in December.
Although few can know Putin's true intentions, on Monday the Kremlin signaled it was ready for more dialogue with the U.S. and its allies.
In a carefully orchestrated televised meeting, Russian Foreign Minister Sergey Lavrov told Putin the talks "can't go on indefinitely, but I would suggest to continue and expand them at this stage." He said they were "far from being exhausted."
Some lawmakers on Capitol Hill said they were encouraged by the continuation of talks, while noting they were still worried about the prospect of an invasion.
"Concern is very high," Senate Majority Whip Dick Durbin, D-Ill., told reporters Monday following a closed-door briefing from White House national security adviser Jake Sullivan.
"The only good news is that diplomatic exchange continues. Putin today, I guess indicated he wanted it to continue. I'm looking for any positive news and I think that's a positive," Durbin added.
Sullivan also briefed House lawmakers on the situation in Ukraine.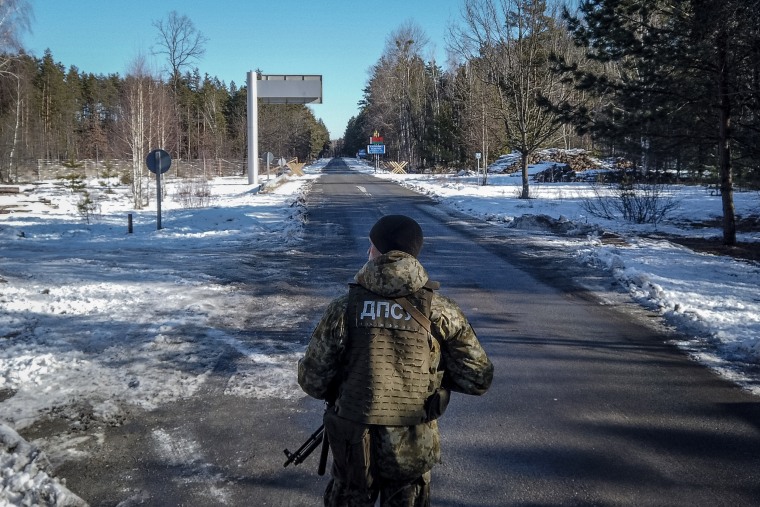 Later on Monday, Secretary of State Antony Blinken announced the U.S. was offering Ukraine a sovereign loan guarantee of up to $1 billion. Blinken said the offer would help "bolster Ukraine's ability to ensure economic stability, growth, and prosperity for its people in the face of Russia's destabilizing behavior. "
Fears of an imminent Russian invasion are having financial ripple effects. Dutch airline KLM has canceled flights to Ukraine until further notice, the company said in a statement Saturday, while German airline Lufthansa told NBC News it was monitoring the situation closely. The carrier has not made a decision about suspending flights.
However, Ukraine's infrastructure ministry reassured the country's airspace remained open, and most airlines continued operations without any restrictions.
Efforts to resolve the impasse continued Monday with German Chancellor Olaf Scholz traveling to Kyiv and Moscow for talks with Putin on Tuesday.
Ahead of the trip, Scholz warned Russia of immediate sanctions and "hard reactions" if it attacks Ukraine.
British Prime Minister Boris Johnson called the situation "very, very dangerous" with the threat of a Russian invasion of Ukraine leaving the world "on the edge of a precipice," U.K.'s Sky News reported.
Adding to the tensions, two lawmakers from Russia's ruling United Russia party on Monday submitted a draft resolution to seek recognition of two breakaway regions in Ukraine's east as independent states.
Formal recognition of the Donetsk People's Republic and the Luhansk People's Republic, controlled by Moscow-backed separatists since a deadly conflict that broke out in 2014, could further inflame the crisis around the Russian troop buildup. 
The State Duma, Russia's lower house, was due to discuss the proposal amid continued U.S. warnings about the possibility of a Russian attack.
On Sunday, Sullivan said an invasion by Russia could begin "any day now." (Russia has steadfastly denied any such plans.)
"We cannot perfectly predict the day, but we have now been saying for some time that we are in the window," Sullivan told CNN.
Also over the weekend, Zelenskyy invited President Joe Biden to visit Kyiv "in the coming days" in a phone conversation, according to his office's readout of the call.
The White House did not mention the invitation in its own readout.
According to the White House, Biden made clear to his Ukrainian counterpart that the U.S. would respond "swiftly and decisively" to any further Russian aggression against Ukraine.
Meanwhile, Ukraine on Sunday said it wanted talks with Russia and other members of the Organization for Security and Cooperation in Europe, which seeks to ensure peace, stability and democracy across the continent, to discuss Russia's military buildup within 48 hours.
Ukrainian Foreign Minister Dmytro Kuleba said Moscow had not responded after Kyiv invoked a part of the Vienna Document, a set of security agreements, to demand Moscow explain its military activities in the areas adjacent to Ukraine.