LONDON — The British World War II veteran who became a national hero by raising millions to support the country's National Health Service celebrated two milestones on Thursday with much fanfare.
Col. Tom Moore marked his 100th birthday by not only by receiving stacks of cards from across the country but also even more donations to his campaign to support health workers, pushing it past the 30 million pound ($37.4 million) mark.
"THANK YOU everyone you are all magnificent," he said in a tweet Thursday.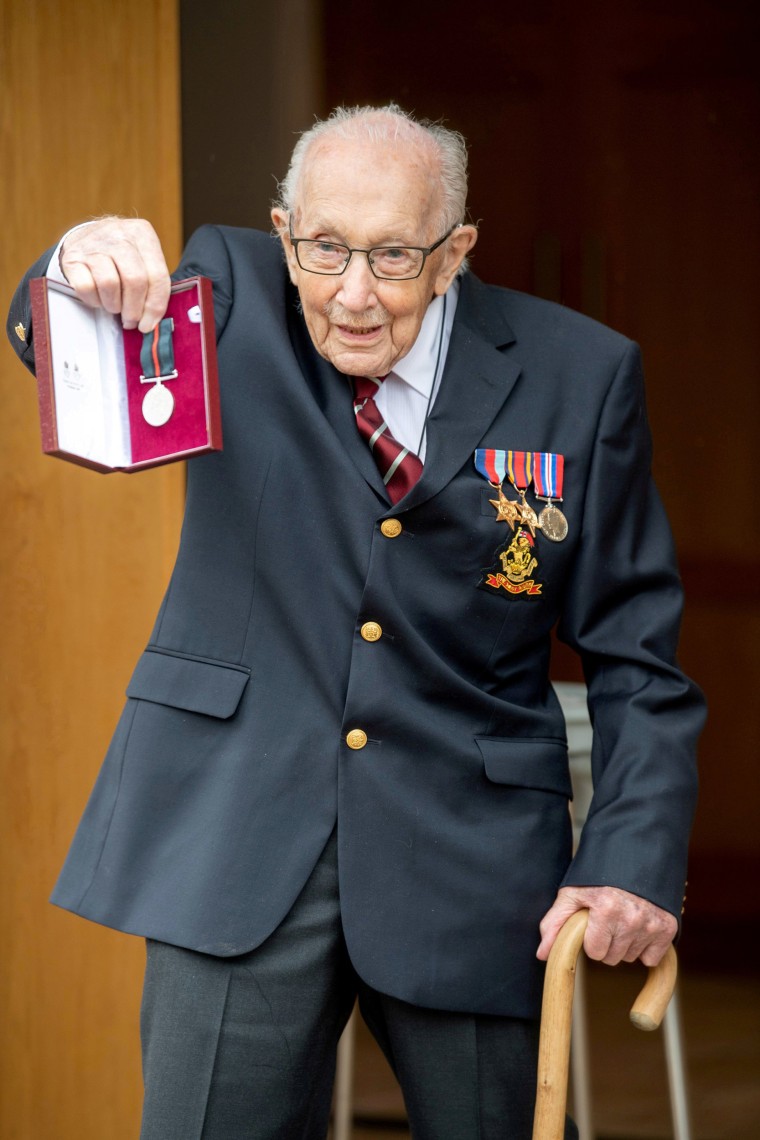 Moore began raising funds earlier this month by pledging to walk 100 laps around his 50-yard-long garden before his 100th birthday. His daughter, Hannah Ingram-Moore, who proposed the idea, hoped it would simply encourage the veteran to stay active during the coronavirus pandemic.
Armed with his walker, Moore aimed to do enough lengths of the yard at his home in Marston Moretaine, around 50 miles north of London, to raise 1,000 pounds, or $1,244, by the end of the month.
Soon, news of his campaign went viral, leading him to raise 18 million pounds in just 11 days.
The effort earned him a flypast of two Second World War-era aircraft on Thursday after he was given the new title of honorary colonel, having previously been a captain.
"That is one of the greatest honors anyone could get," he said late Wednesday when he was presented with the new rank.
Britain's Ministry of Defence also presented Moore with a replacement Second World War Defence medal, ahead of next week's VE Day celebrations, after officials noticed through his recent media appearances that he was missing it.
Prime Minister Boris Johnson was among the many to wish the centenarian a happy birthday Thursday, calling Moore "a point of light in all our lives."
"Your heroic efforts have lifted the spirits of the entire nation," Johnson said in a video posted on Twitter.
More than 140,000 birthday cards were also delivered to the veteran and laid out by his grandson Benjie across the Great Hall of Bedford School, north of London.
Moore told the BBC that he was "absolutely delighted" by the outpouring of birthday wishes.
"It's really absolutely awesome the amount of people who've been so kind to make those remarks," he said.
To add to the milestones, Moore's musical rendition of "You'll Never Walk Alone" performed with Michael Ball and the NHS Voices of Care Choir, debuted at Number 1 on the U.K.'s official singles chart, the Official Charts Company said in a statement last Friday. Proceeds from the song will also support Britain's health service.
Despite all his recent accomplishments, on turning 100, Moore told the BBC: "It hardly feels any different than yesterday."
The Associated Press contributed to this story.