Big Spring may be just a small town in Texas, but when it comes to the size of its kindness, it's truly boundless.
Big Spring is just one of dozens of towns across the country where the so-called Blessing Box giving effort has thrived, gaining national attention at a time of polarizing headlines. The simple cardboard boxes are filled with donated, free nonperishable foods and personal hygiene products, and then they're placed in random locations in towns from Oklahoma to Kansas.
The idea is that anyone walking by who may be struggling can use the goods to make ends meet and get through the day. No one exactly knows how the idea was hatched.
Desperate to find a way to help his community, insurance salesman Eric Escamilla was inspired to build a blessing box in Box Spring after reading about a similar project in another city.
"It's time to stop having ideas about how to help other people. It's time to actually help other people," Escamilla said.
Related: Chef Bruno Continues Mission to Feed Children After Fire Destroys Restaurant
In less than a month, Box Spring has gone from Escamilla's one blessing box to having more than a dozen. Neighbors, inspired to join the movement, have set up their own boxes so they, too, can help bless the lives of those in need.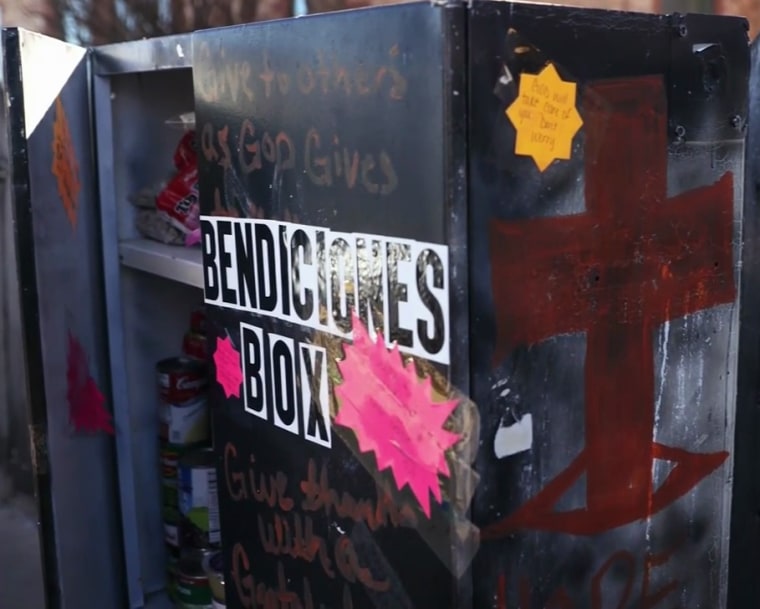 "That's what I wanted to do!" Escamilla said. "Let's move together as a community. Let's change this city as a whole."
Escamilla encourages people to donate whatever they can — whether it's a can of beans or a bag of diapers. Anyone can play a part in paying it forward and alleviating the financial stresses of those around them.
A mother who frequents the blessing boxes to help feed her children said: "Just to feed the kids for that day or something for the next — it really helps a lot. I tell them this is for us and for anybody and they don't have to feel shame or anything."
The small acts of kindness are creating ripples not only in Box Spring but across the United States, showing people how something as simple as a canned good can make a difference in a family's life that day.