A crumbling Trenton high school in the shadows of the state capital has been terminally ill for years. Old pipes that leak in the walls, asbestos, mold and warped floors plague its 82-year-old bones. Repeated attempts to revive and rehabilitate the school have failed.
Now, in what one state official called "a complete departure" from past attempts to fix Trenton Central High School's decrepit building, a spokesman for New Jersey Gov. Chris Christie confirmed he now supports the plan to build a brand new building.
The apparent change of heart came after new leadership arrived at the state agency responsible for the school. Christie appointed his former chief counsel, Charles McKenna, to take over the School Development Authority (SDA) in December. After McKenna toured Trenton High he issued a statement promising, "there will be no more delays in getting the facility into the best possible condition."
School officials recently invited NBC News to visitthe massive main high school for New Jersey's capital which houses some 1800 students and staff. Many claim the building is rotting inside and out. And what's more, they say, it's unhealthy, and unsafe.
During last week's tour we were given a sharp warning: "Don't drink the water!"
Later, librarian Nancy Lee showed us a plastic container filled with murky brown water collected from the school's faucets: she uses it to water her plants. But for drinking? Never.
"We bring our own bottled water," she explained.
In Bridget Ruggiano's arts classroom, where she has taught for the past four years, the ceiling is discolored, and the plaster is crumbling. Ruggiano blames water leaks.
"The second day of school it actually happened pretty bad," she said. "I was sitting at my computer working on my lesson plans … It just started pouring."
"I can smell the dead mice in the wall."
She showed us patterns in the ceiling stains, distinguishing between leaks from the bathroom above and elsewhere. Next, she showed us a storage closet connected to the class. The floor had been badly damaged by termites many years ago, Ruggiano said. But her bigger concern was the woodwork near a dark corner -- and a tiny mouse hole.
"I can smell the dead mice in the wall," Ruggiano said.
When she sweeps the floor, "I usually find at least one or two," she said, adding that in past years she's found even more.
We heard similar stories throughout the building about mold, mildew, falling plaster, water leaks, rodents and more. In much of the building the old central ventilation system has been turned off. The custodians said turning it on might spread asbestos.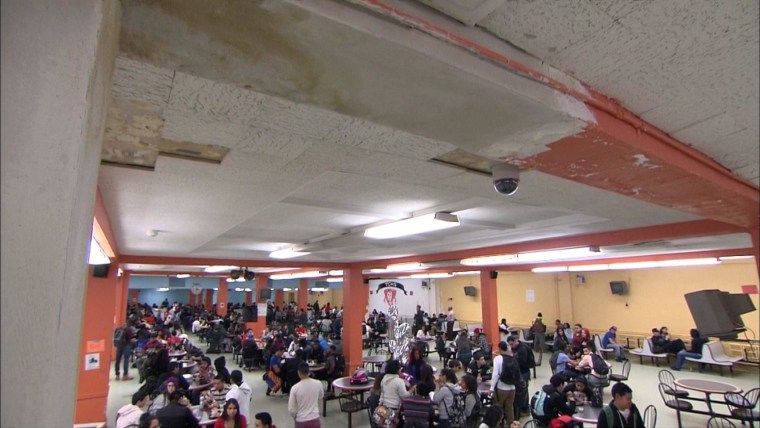 Staff and students at Trenton Central High School are just now hearing about Christie's plan to rebuild. The state plans to present their proposal to the Trenton school community on Monday.
"I'm very excited and very interested to hear what state officials have to say," said Principal Hope Grant.
The state hopes to relocate students and staff in time for the start of the new school year this fall, and says a wrecking ball could arrive before the end of this year.
"Things are moving very quickly," said Kristen MacLean, the SDA's spokesperson.
Local school officials had been locked in a long-running battle with Christie's administration about renovating and rebuilding the aging building, which is located less than two miles from Trenton's gleaming state house dome. The state's SDA is responsible for maintaining many of the schools in the state's poorer school districts, such as Trenton, and the Trenton school district has accused state leaders of turning a blind eye.
"The students shouldn't have to learn in an environment like this."
In a court complaint the local school district demanded that the state make immediate repairs – officials say there have been more than 100 health and safety violations in recent years. The state plans to start major exterior renovations when the school year ends, and interior repairs a year later, in 2015.
Trenton school officials are demanding immediate repairs, claiming the hazards "threaten students and staff on a daily basis." Some fixes have been made over the years, but the staff says they're just Band-Aids that don't address the root of the problem.
During NBC News' tour, we visited Annie Coleman's language arts classroom, which is no longer in use. The walls, she says, were covered in mold. Since then, it has been repaired, she's been told. But even so, Coleman was reluctant to walk back into the room. On a freshly painted wall she noted the black mold appears to be growing back.
"That's what was there before," Coleman explained. "It gets darker and darker and then it just spreads."
"It's not fair," she said, leaving the room quickly. "The students shouldn't have to learn in an environment like this."