JERSEY CITY, N.J. — The two people who stormed a kosher grocery store this week appeared to be highly trained killers, the lone survivor of the shooting said Thursday.
David Lax, who owns a nearby shop, told NBC News that he evaded the pair by diving under a salad bar and then pushing his way past one of the assailants at JC Kosher Supermarket. Six people, including both attackers and a police officer, were killed at two locations Tuesday.
Authorities said Thursday the attack was being investigated as a "potential act of domestic terrorism fueled both by anti-Semitism and anti-law enforcement beliefs."
Lax said he couldn't shed any light on the pair's motives but made it clear that from his perspective, the assault was "targeted."
Suggesting the shooters, whom police have identified as David Anderson, 47, and Francine Graham, 50, may have had military or tactical training, Lax said that "the way they were carrying themselves, the way they were handling themselves, they were very professional."
"They came to kill," he said. "Put it that way: They came to kill."
The Army confirmed to NBC News that Anderson served in the U.S. Army Reserve from 1999 to 2003 as a fuel and electrical system repairer.
Mindy Ferencz, 32, who ran the store with her husband; Miguel Douglas, 49, who is believed to have worked at the store; and Moshe Deutsch, 24, were killed at the store. Authorities say they believe Anderson and Graham were also responsible for the death of Jersey City police Det. Joseph Seals, who was killed shortly before the attack at the store.
Lax said Thursday the entire episode was over in only about 10 seconds — enough time for him to conclude that he, too, would be killed.
"That second, I thought it was over," he said.
Lax evaded the attackers by diving under a refrigerated salad bar and hiding there until the right moment arrived, he said. When it did, he rushed toward the female attacker and "redirected her arm," allowing him to race for the door.
"She was kind of big, also, so she had to pivot herself to come in, so in that second I went right away in, I went right away in, and I redirected the arm and in and out," he said.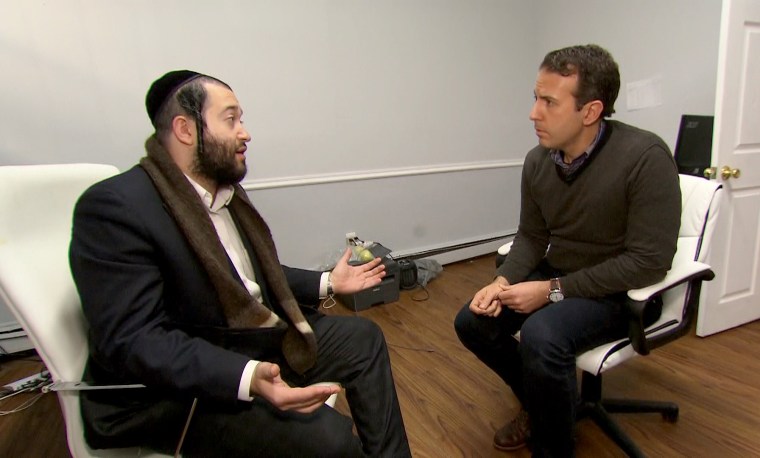 Lax rejected the idea that he was a hero for having ushered a child he ran into outside the store from the scene.
"People saying that I dragged a child — no, it's not true," he said. "This child was a very brave kid, a smart kid. He was at the next store."
They met at the corner, and "I told the kid, 'You come with me,"" he said. As they were running away, Lax called police, he said.
Download the NBC News app for breaking news
He described his survival as a miracle, "because they were there to shoot and to kill the most possible."
He added, "I'm not sure why, but I'm alive."
Gabe Gutierrez reported from Jersey City, and Alex Johnson from Los Angeles.