Hillary Clinton expressed "regret" for a comment made Friday night in which she said "half of Trump supporters" belong in a "basket of deplorables" — but did not apologize for the larger point she was making.
"Last night I was 'grossly generalistic,' and that's never a good idea. I regret saying 'half' — that was wrong," Clinton said in a statement, only partially walking back her argument that the Republican nominee has many followers who are "racist, sexist, homophobic, xenophobic, Islamaphobic."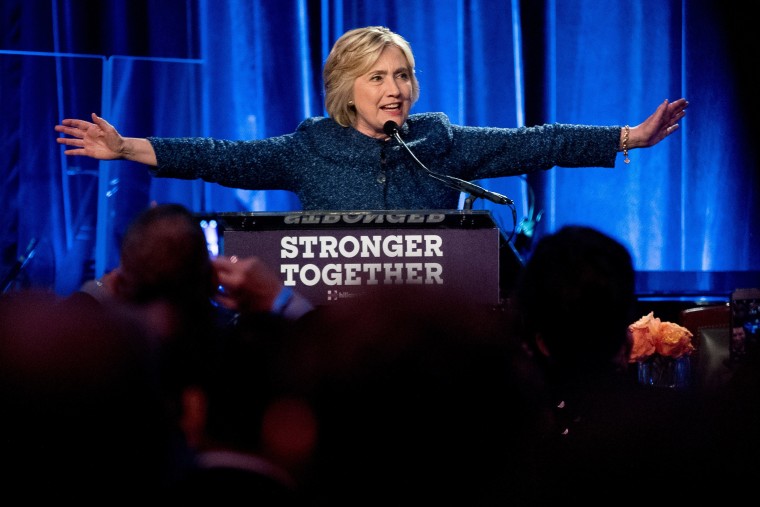 The initial remarks were made during a star-studded fundraiser in downtown New York, which Barbra Streisand headlined.
On Friday night, Clinton said that Trump has "given voice" to "irredeemable" individuals who engage in "offensive, hateful, mean-spirited rhetoric." The other "basket," she said, is comprised of people who feel that the government and the economy has "let them down."
Related: Clinton: Half of Trump Supporters Belong in 'Basket of Deplorables'
In her statement Saturday, Clinton also doubled down on part of her charge, saying that "it's deplorable that Trump has built his campaign largely on prejudice and paranoia and given a national platform to hateful views and voices."
The Democratic presidential nominee also said she stood by her comments about "the very real challenges we face as a country where so many people have been left out and left behind," including "many" Trump supporters, who she also referred to as "hard-working Americans" in her clarification.
Clinton didn't utter the "basket of deplorables" line for the first time Friday night, but it happened to gain a lot more traction because it was one of the rare times during her campaign in which she has allowed the press into her fundraiser events.
She used the same phrasing in an interview with Israeli television earlier this week, and reportedly has been using a similar line at fundraisers since August.
Trump on Saturday fired back at Clinton on Twitter, saying that she was "so insulting" to his supporters and that it would "cost her at the polls."
"While Hillary said horrible things about my supporters, and while many of her supporters will never vote for me, I still respect them all!" Trump also tweeted.
Trump said in a statement released by his campaign Saturday that "For the first time in a long while, her true feelings came out, showing bigotry and hatred for millions of Americans. How can she be President of our country when she has such contempt and disdain for so many great Americans?"
Republican Speaker of the House Paul Ryan Tweeted Saturday: "Hillary Clinton should be ashamed of her comments."
And the Republican National Committee slammed Clinton for being "insulting" toward a swath of Americans.
"By referring to millions of Americans as 'deplorables' and 'irredeemable,' Hillary Clinton is showing her outright contempt for ordinary people and proving yet again why Americans overwhelmingly regard her as dishonest and untrustworthy," RNC head Reince Priebus said in a statement. "Insulting everyday Americans to a group of wealthy donors shows whose priorities Clinton really has in mind and exposes the hypocrisy of a candidate whose stated desire to unite the country is clearly all for show."