Wytheville, VA — Despite Donald Trump winning Virginia on Super Tuesday, two of three delegates elected in the first district convention here are supporters of rival Ted Cruz — which could matter if a second ballot were to take place at the national convention.
In the 9th congressional district, Donald Trump took over 47 percent of the votes on Super Tuesday. In Virginia's primary for this district, Ted Cruz won only about 19 percent of the votes.
GOP delegates from Virginia are required to vote as allocated by voters in the primary in the first ballot at the national convention, but are able to vote for whoever they choose in successive ballots.
In Virginia's primary, Trump received 17 delegates, whereas Cruz had only received eight.
"I want to vote for a conservative and that's what I know I'm getting with Ted Cruz. And with Donald Trump, it's a question mark," delegate Kyle Kilgore of Gate City told NBC News.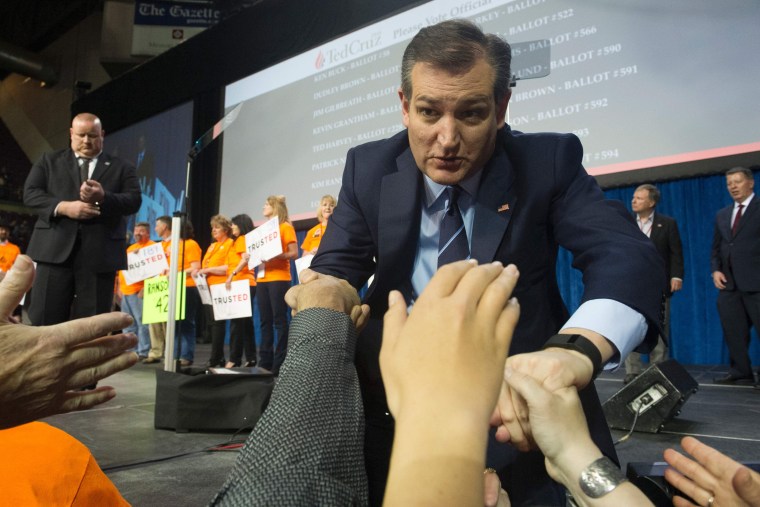 Kilgore says he will support Ted Cruz in the second ballot if it arises, because of his conservative principals.
C. Jordan Labiosa, who received the second highest number of votes Saturday, was on a list of three delegates handed out earlier this morning by members and supporters of the Cruz campaign.
The third delegate going to the national convention is Landon Tucker Davis from Grundy, who is also Virginia's western field director for the Trump campaign.
Related: Cruz Sweeps Colorado Delegates as Trump Camp Issues Error-Filled Ballots
The first alternate delegate, Robert Taconet, is a Cruz supporter and the fifth and sixth alternate delegates, Tamara Neo and Flux Neo, are both Trump supporters.
Shak Hill, Virginia's co-chair for the Cruz campaign told NBC News he had about a dozen people from the Cruz campaign at the convention Saturday.
Before the votes were counted he said, "The best scenario today is three of the delegates coming out of the convention, locally here in the ninth. They are going to vote for Senator Cruz on the second ballot."
In Virginia, each of the 11 congressional districts elect three delegates up until the state convention, where 13 additional delegates are elected.
Virginia will send a grand total of 49 delegates to national convention, which includes 33 delegates from congressional districts, 13 delegates elected at the state convention, the state party chairman, and two national committee leaders.
Virginia's next congressional district GOP convention will be held April 16 in Ashburn with its 10th congressional district.