Republican front-runner Donald Trump once again lashed out at Muslims on Wednesday.
"I think Islam hates us," the billionaire told CNN's Anderson Cooper when asked whether the religion was "at war with the West."
"We have to get to the bottom of it," Trump said. "There is an unbelievable hatred of us — anybody."
He added: "And we can't allow people coming into this country who have this hatred of the United States."
In December, the real-estate mogul triggered uproar when he called for a "complete shutdown" of Muslims entering the country.
The proposal prompted Arab billionaire Khalaf Al Habtoor to publicly withdraw his support for the American businessman.
Related: Billionaire Who Dumped Trump: U.S. Election Isn't Reality TV
Also on Wednesday, Trump addressed his controversial pledges that have been likened to Hitler's Nazi salute.
"I probably won't ask you to pledge that you'll vote for me because they'll say that it was a horrible thing," he told a rally in Fayetteville, North Carolina, referring to those who have criticized the pledge.
When the crowd booed and cheered, Trump said, "You wanna do it? OK."
He added: "Do you pledge that on Tuesday you will go and we will make America great again and you will vote for Donald Trump — yes?"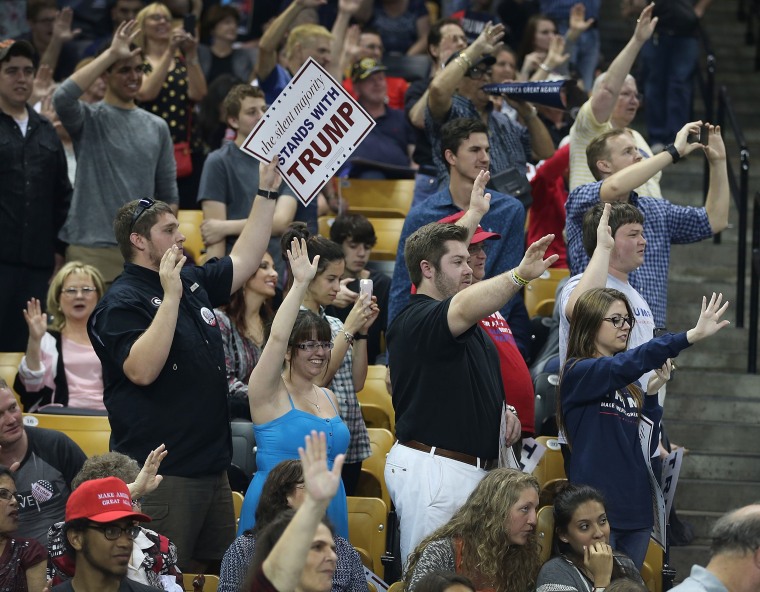 Meanwhile, Democratic presidential hopefuls Hillary Clinton and Bernie Sanders bashed Trump for his comments about immigrants and minorities.
While not specifically calling him a racist, the former secretary of state saidshe been "the first one to call [Trump] out ... when he was calling Mexicans rapists, when he was engaging in rhetoric that I found deeply offensive."
At a debate hosted by The Washington Post and Spanish-language Univision television network, Clinton said Trump's rhetoric was "demagoguery," and added the GOP candidate "trafficking in prejudice and paranoia has no place in our political system."
Sanders also weighed in, saying: "The American people are never going to elect president who insults Mexicans, who insults Muslims, who insults women, who insults African Americans."