Former Attorney General Eric Holder has written a scathing op-ed condemning FBI Director James Comey for his handling of the investigation into Hillary Clinton's use of a private email server.
"I fear he has unintentionally and negatively affected public trust in both the Justice Department and the FBI," Holder wrote in an op-ed in The Washington Post published late Sunday. "And he has allowed — again without improper motive — misinformation to be spread by partisans with less pure intentions."
Holder accused Comey of violating long-standing policies and traditions when the FBI director wrote to members of Congress on Friday and informed them his agency was reviewing a fresh batch of emails related to the Clinton investigation.
The FBI had already concluded in July that there was no evidence that Clinton committed a crime.
And while Comey said his the review of newly unearthed emails were not likely to bare significant developments, Holder said he was deeply concerned with the timing of the director's announcement, coming less than two weeks before the presidential election.
"That decision was incorrect. It violated long-standing Justice Department policies and tradition," Holder wrote.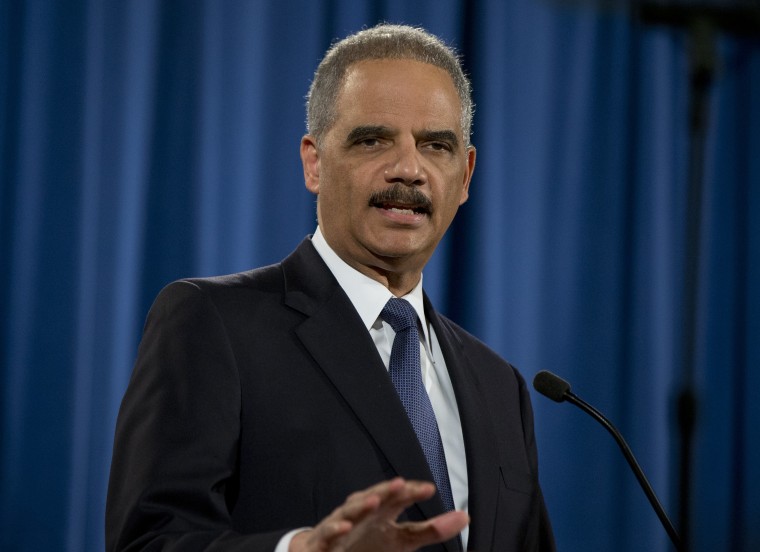 Holder's biting op-ed comes after he and several former high-ranking officials within the Department of Justice wrote a letter saying they were "moved" to speak out against Comey.
Holder said it pained him to so publicly criticize Comey, a former colleague and career federal prosecutor. But the former attorney general said he felt it was necessary.
"It is up to the director to correct his mistake — not for the sake of a political candidate or campaign but in order to protect our system of justice and best serve the American people," Holder wrote.
Meanwhile, Senate Minority Leader Harry Reid also accused the FBI director of carrying out a "clear double-standard" and could have potentially violated federal law.
Tennessee Rep. Steve Cohen later became the first congressional Democrat to call for Comey to resign.