Two big-money donors who have given or raised tens of thousands of dollars for Donald Trump are livid at the Republican presidential nominee and are asking for their money back, according to a bundler who raised money for Trump.
"I cannot express my disappointment enough regarding the recent events surrounding Mr. Trump," one donor wrote to a Trump fundraiser in an email with the subject line "Trump support withdrawal."
"I regret coming to the Trump support event, and in particular allowing my son to be a part of it," the donor, who had given to and raised money for Trump, said. "I respectfully request that my money be refunded."
Senior Trump spokesman Jason Miller said the campaign is "unaware of any donors making such a request."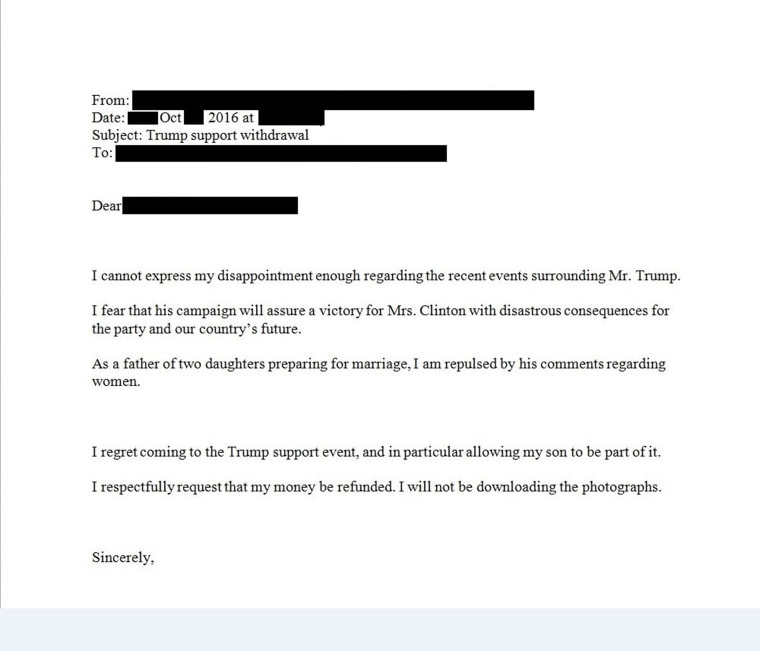 The donor has buyer's remorse after the release of a vulgar videotape last Friday that reveals Trump describing unwanted sexual advances on women.
A second donor also requested his money be returned because he is "mortified" over the leaked videotape, according to another email obtained by NBC News.
"I can not (sic) support a sexist man. I have three young children and will not support a crude sexist man," the second donor wrote. "I expect a refund of my donation. Please process immediately and I thank you for your help."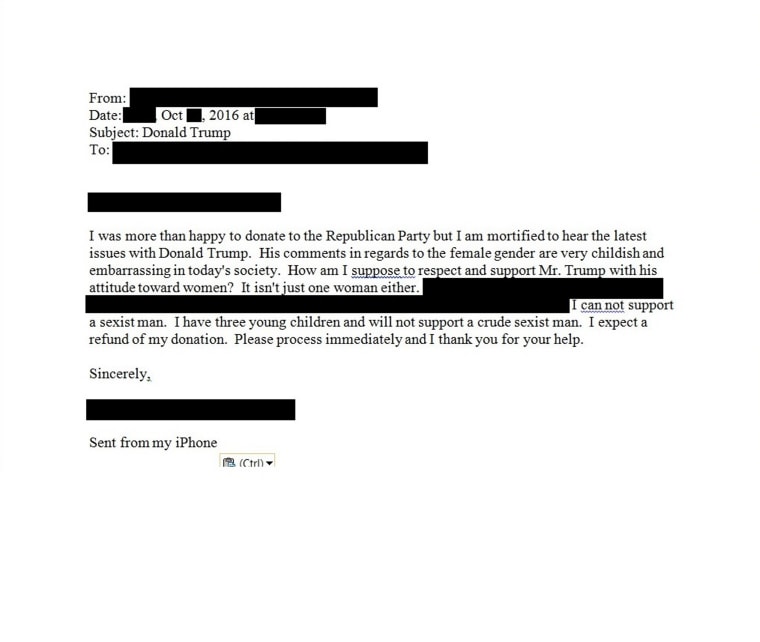 The fundraiser, or "bundler," who collected the donations said that the two donors together have contributed or raised tens of thousands of dollars for Trump. Bundlers, common in major party presidential campaigns, are supporters who tap into their own networks to raise money for a candidate.
This bundler, who says he has raised close to $1 million for Trump, said he, too, is fed up with the nominee and has informed the Trump Victory fundraising leaders that he's done raising money for the candidate.
"I give up. I'm totally walking out and disappointed, and the last 72 hours I have lost sleep over it," the bundler, who was granted anonymity in order to speak freely, said in a telephone interview.
Trump's candidacy has divided the party throughout the 2016 campaign but those divisions grew deeper in the wake of the released video. More than fifty elected officials have announced their opposition to the Republican nominee and House Speaker Paul Ryan distanced himself even further from the candidate Monday.
Trump has doubled-down, even launching attacks against those who have come out against him. But the loss of financial support could have practical and damaging implications for his presidential prospects.
Trump has been unable to keep up with Hillary Clinton's $400 million campaign operation (not including the well-funded super PAC backing her). While August was Trump's best fundraising month yet — he took in $41 million — Trump has struggled to gain the support of major Republican donors. Aides at four of the five super PACs backing Trump have repeatedly told NBC News that fundraising for Trump is a struggle.
Related: Post-Debate Poll Shows Clinton With 9-Point Lead Over Trump
The long-time Republican bundler, who has raised money in Florida, Ohio, Los Angeles and in the Northeast, said that he is ashamed of his solicitations of cash for Trump, adding that he raised money for him as recently as last week.
"I'm embarrassed. I'm really embarrassed" he said. "I shook hands with him last week and now I want to wash my hand."
The bundler said that the videotape pushed him over the top, but his dissatisfaction had been building. He pointed to other insults to women, including attacks on Fox News host Megyn Kelly and smears of former Miss Universe Alicia Machado. He also noted Trump's attacks on federal judge Gonzalo Curiel based on his Mexican-American heritage was disconcerting.
"We have to make America great, but he's using the wrong slogan," he said. "It should be, 'You're destroying America,'" he said.
The fundraiser said he will now focus his fundraising efforts on electing Republicans to the House and the Senate.