Melania Trump defended Donald Trump against allegations that he sexually assaulted women, saying in a rare interview Monday night that her husband was "egged on" to make lewd comments about women that were caught on tape in 2005.
"I believe my husband," she said of his insistence that the women who have accused him of sexual assault or misconduct are lying.
In a CNN interview, Trump echoed her husband's charges that the release of the 2005 comments and the women's accusations are all part of a media conspiracy involving the Democrats to hurt the Trump presidential campaign.
"This was all organized from the opposition. And with the details — did they ever check the background of these women? They don't have any facts," she said.
It was a rare public appearance for the nominee's spouse, her first since the leak of the 2005 tape, in which Donald Trump was recorded bragging to then-"Access Hollywood" host Billy Bush about groping women in lewd terms.
Trump dismissed their conversation as "boy talk" and speculated that her husband "was led on — like, egged on — from the host to say dirty and bad stuff."
She also said she told her husband that his comments were "inappropriate ... not acceptable."
"And I was surprised, because that is not the man that I know," she said, adding that she accepted his apology.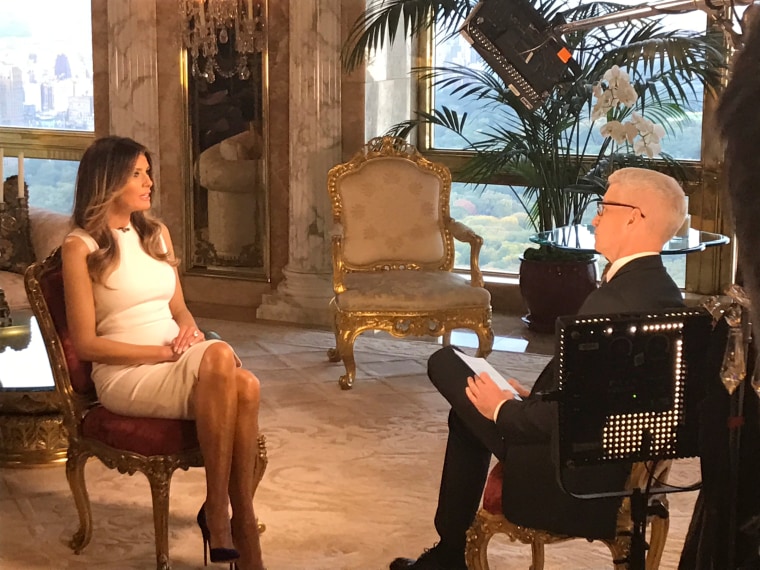 Speaking to Fox News, Trump also defended her husband's choice to go after Democratic presidential nominee Hillary Clinton for the sexual assault allegations against her husband, declaring, "They're asking for it."
"They started from the beginning of the campaign putting my picture from modeling days," she added, accusing the Clinton campaign of pushing nude photos of her to the press.
Trump said on CNN that she didn't believe that Donald Trump's comments in the tape described sexual assault.
"That's not sexual assault — he didn't say he did it," she said.
But she did agree with comments Michelle Obama made in a recent speech, in which she said kissing or groping a woman without consent is sexual assault. Still, Trump said, "every assault should be taken care of in a court of law."
Related: The Allegations Women Have Made Against Donald Trump
"And to accuse — no matter who it is — a man or a woman without evidence is damaging and unfair," she added.
Trump did describe seeing other women make advances on her husband — "coming to him and giving phone numbers and, you know, want[ing] to work for him."
"Inappropriate stuff from women. And they know he's married," she said, adding that when women do these things "in front of me," she confronts them.
Indeed, Trump pushed back in the interview against some pundits' perception of her as having been kept out of the spotlight or mistreated by her husband. She hit back at what she said was false reporting from a media establishment that she never expected to be "so dishonest and so mean."
"I'm very strong. And people — they don't really know me. People think and talk about me like, 'Oh, Melania, oh, poor Melania,'" she said.
"Don't feel sorry for me. Don't feel sorry for me. I can handle everything."