Want to know what the NBC News Embeds saw? Follow their daily journey to the inside of the 2016 presidential campaign here:
There were no campaign stops in the sleepy southern Mississippi town of Pearlington this primary season.
At last count in 2010, there were just 274 registered Democrats, 185 Republicans and 315 independents living in the town of 1,600.
Nearly three-quarters of the population is white and the other quarter is black. One out of every four residents lives in poverty.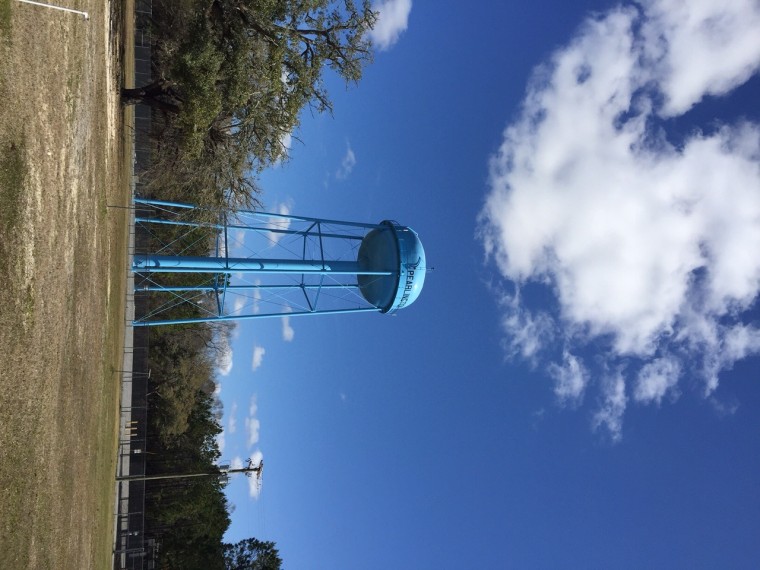 I cover the campaign of Ted Cruz, which doesn't have a charter plane or a bus for the press.
It can be frustrating driving seven hours attempting to track down a candidate by car as his plane flies overhead. But in recent weeks, I've found the drive through parts of America to be humbling and as important as anything I hear in a stump speech.
"We need help," said Melody Roberts, a resident of Pearlington, when I asked her what she would like a presidential candidate to understand about her town.
"The Gulf Coast was torn up so bad they've only focused on New Orleans," Roberts deplored to me earlier this week, standing inside a gymnasium built to headquarter much of the rebuilding efforts in the town obliterated by Hurricane Katrina.
Her friend, Susie Sharp, a quick-tongued, longtime resident, said the response for the past decade has been as if the hurricane only hit New Orleans.
"It's bullshit," she said.
Roberts jumped back in, explaining that New Orleans "got the floods, but they did not get the wind and the storm. This was the eye of the storm."
And it was. Winds, along with waters coming off the Gulf Coast more than 20 feet high, nearly eliminated Pearlington, which has been dubbed "Katrina's Forgotten Town."
Almost eleven years later, many of the homes are rebuilt. But it's just the start to rebuilding the community.
"This is nothing but pencils piled up to the top," Sharp said, walking us through a storage closet with bins stacked of school supplies. "Then that's notebooks, binders, folders, spiral notebooks, everything – glue sticks, you name it."
Sharp volunteers with Roberts for the Pearlington Impact Association, a non-profit about a dozen community members run.
It provides the approximately 300 children in town their school supplies before each school year. It gathers clothes for the kids, helps take free photos of them each Christmas for their families and hosts a "trunk-or-treat" for the kids on Halloween, when locals park their cars in the library parking lot and pass out candy from the trunks of their cars.
Several years after the hurricane hit, the local schools shuttered. Roberts and Sharp said the children are now at their bus stops by "6 a.m., and they're the last ones to get home" from the schools now 20 to 30 miles away.
The pair also vented about the severe flooding each time a storm rolls through – something they say never happened until the levees around New Orleans were constructed, pushing the water onto land in parts of Southern Mississippi.
Sharp, just last semester, had floodwaters rise four feet into her home. She said she no longer has savings after the years of expenses.
I asked them who in the government they turn to for help or to hear their concerns.
"We have no local level," Sharp responded. "Our governor is in Jackson, Mississippi."
Jackson – the state capital – is three hours north. There is no mayor or city council of Pearlington. And the county supervisor representing the town lives outside of town.
And truthfully, if it weren't for my four-hour drive between stops to cover Ted Cruz campaign events, I wouldn't have heard the voices of Pearlington either.
-- Vaughn Hillyard covering the Cruz campaign