TALLAHASSEE, Fla. — Ron DeSantis' presidential campaign is rebooting a pair of linked fundraising vehicles that have sat dormant since he launched his campaign, as his fledging operation faces a difficult early stretch.
One of the vehicles is a joint fundraising committee that was created around the campaign launch in late May but has been inactive so far, campaign finance records show. The other is a leadership PAC that is linked to the joint fundraising committee, as is DeSantis' campaign committee — an increasingly common campaign finance setup.
There are strict rules detailing how campaigns have to pay for their own costs, but the joint fundraising committee-plus-PAC setup can split things like fundraising costs with the campaigns, and it's a vehicle for large-dollar donors to put more money behind campaign-adjacent efforts. The decision to start using the two committees comes as DeSantis is slashing campaign staff amid financial concerns and trying to regain momentum after what has been a brutal first two months on the campaign trail.
The two committees are called Great American Comeback (the leadership PAC) and Team DeSantis 2024 (the joint fundraising committee).
"The committees were always part of the plan," said Slater Bayliss, a top bundler for the DeSantis campaign. "It is a powerful mechanism to ensure we get the governor and his message in front of voters."
Among other things, the activation of the groups would provide a vehicle for donors who have already given the legal maximum contribution to the DeSantis campaign.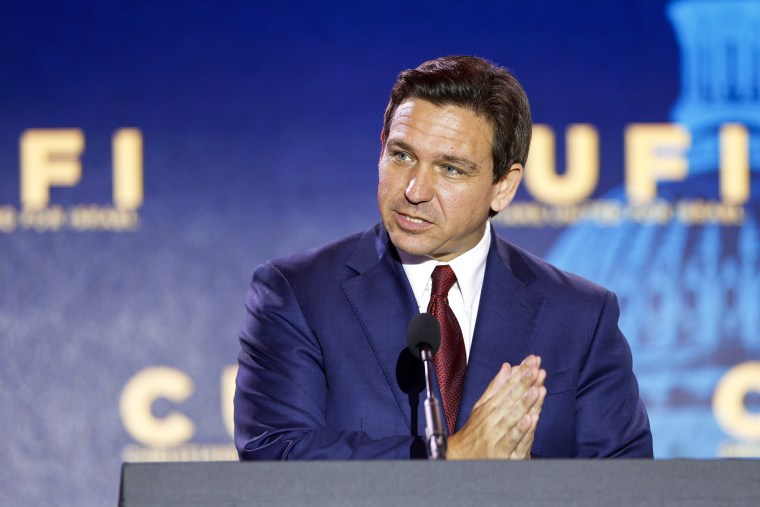 Those who give to joint fundraising committees must still follow federal contribution limits, which are set at $3,300 per election to a federal candidate and $5,000 per year to a political action committee. That means givers through Team DeSantis 2024 could give up to $11,600 at a time — maximum campaign donations for the primary and general election plus a maximum donation to the PAC.
The committees have become increasingly popular. Former President Donald Trump, for one, appears to be running most of his campaign contributions through his joint fundraising committee, which is also fueling a PAC paying at least some of his legal expenses.
Team DeSantis 2024 filed its first quarterly report July 15 and listed no activity. Great American Comeback has not yet filed its first report. The name of the second committee aligns with DeSantis' campaign messaging, which has increasingly used the "Great American Comeback" line when talking about what his policies as president would usher in.
The formal DeSantis campaign has already let go of 38 staffers, about 40 percent of the 92 people it listed on payroll on its first campaign finance report, and fundraising concerns have started to pop up. A DeSantis fundraiser in the Hamptons did not go well and the campaign needed to cut the price of admission in half, from $6,600 to $3,300, the New York Post reported. 
DeSantis' campaign raised a healthy $20 million during its first six weeks, but that number came with some warning signs. More than one-third was raised in the first 24 hours, and nearly $14 million of the overall haul came from donors who gave the maximum legal campaign donation and cannot give to DeSantis again during the primary. Some already hit the general election maximum, too.
The campaign has also been concerned about spending political cash at an unsustainable rate, which was part of the reason it has so aggressively cut staff over the past few weeks. They also plan to do fewer large campaign rallies and events, which are costly and require a lot of staff for coordination.
The issue was the topic of conversation over the weekend at a DeSantis donor retreat in Park City, Utah. At the event, about 70 donors and political builders huddled to figure out what the campaign will look like after a much discussed reset.
Campaign manager Generra Peck told those in attendance that they would focus on a more "lean" campaign and assured those funding DeSantis' political efforts that they will be mindful of their spending.
"They told us they want to be better stewards of the funds," Hal Lambert, an early DeSantis fundraiser, told NBC News at the weekend event. "Instead of saying, 'We want to go here and we will drop $5,000 for a particular event,' why not look around and see if we can do the same things for $900."
DeSantis has not been able to dent Trump's primary lead, which has been in solid double figures in most national and early-state public polling.