WASHINGTON — Ask almost any Senate Republican, and they'll tell you they love Tim Scott. They're just not ready to endorse him for president. 
As the popular South Carolina Republican prepares to become the first — and likely only — GOP senator to launch a 2024 presidential bid, Senate colleagues are heaping praise on Scott as "terrific," "top-tier" and "engaging," all while gingerly tip-toeing around the question of whether they will rally behind his candidacy.
"He's extraordinarily bright, well-informed and inspiring," said Sen. Susan Collins, R-Maine, who worked with Scott on the Aging Committee. "I think Tim is among the strongest candidates. I would also put in that category Nikki Haley, potentially Glenn Youngkin, and Chris Christie. I think we're blessed to have a lot of good people. … I'm not endorsing anyone at this point; I think it's way too early. But I am a big Tim Scott fan."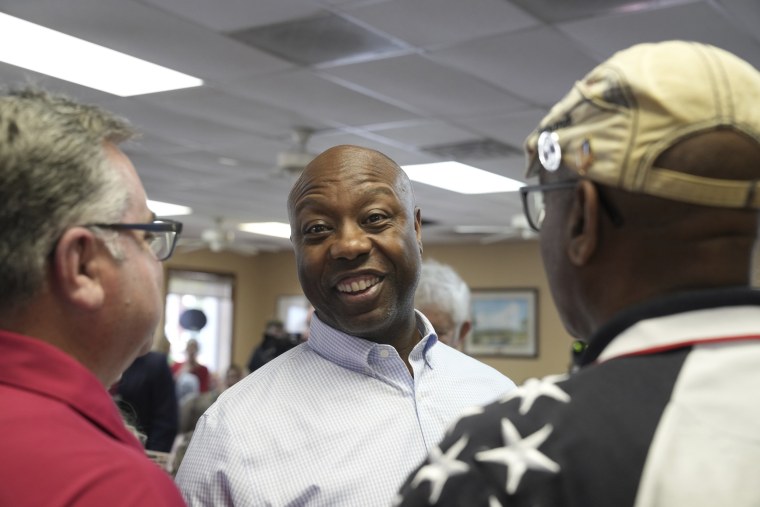 "I'm a big fan of Tim. He is a good friend of mine," added Sen. Ted Cruz, R-Texas, the runner-up to Donald Trump in the 2016 presidential primary. "I'm staying out of the race and I'm confident that the voters will decide and make the choice. And I look forward to enthusiastically supporting the Republican nominee in 2024."
Scott endorsed and campaigned with Sen. Marco Rubio, R-Fla., during the crowded 2016 presidential primary race. Asked whether he'll return the favor in 2024, Rubio, another "big fan," demurred.
"Well, we'll see. I may endorse in the presidential race. I'm not anywhere close to making that decision," Rubio said, noting two leading candidates — Donald Trump and Ron DeSantis — are from his home state. "I've got two people with residence in my state running. They've both done a good job in the jobs they've had, so we'll get to that bridge at some point."
Even colleagues outside of his party are talking up Scott. At a recent private fundraiser in Los Angeles, Arizona Sen. Kyrsten Sinema, the Democrat-turned-independent, was asked by a donor to assess the 2024 race.
"The country deserves better than a rematch between Biden and Trump," Sinema replied, according to two sources who attended the dinner at the home of Jean-Marc Chapus, co-founder of Crescent Capital Group.
Sinema went on to tell the guests that Scott was "a great Republican presidential candidate because he is a man of integrity and honor," the sources said, adding that Scott represents what the GOP hasn't had in a presidential candidate since before Trump arrived on the scene.
Her comments were not an endorsement of Scott, however, the sources said. A Sinema spokesperson had no comment.
Approached about his official campaign launch, the 57-year-old Scott replied with one word: "Soon." The senator recently said he will make a "major announcement" in North Charleston, South Carolina, on May 22, weeks after he announced an exploratory bid for the presidency.
Sen. John Boozman, R-Ark., who was endorsed by Trump in his 2022 reelection bid, is steering clear of the primary. He called Scott "a significant candidate" and a "person of integrity" but said he's focused right now on "how we can get a farm bill passed." Plus, there's another "capable" person in the race, Arkansas Gov. Asa Hutchinson, Boozman said.
In any other presidential cycle, Scott might have been one of many senators to throw his hat in the ring. But more than a half dozen of his hyper-ambitious GOP Senate colleagues said no to a 2024 bid after Trump — the former president who still remains the most powerful figure in the party — announced he would seek a rematch with President Joe Biden next year. 
Trump's dominance in the polls and the endorsement game is one reason why so many of Scott's colleagues are either joining the Trump campaign or staying on the sidelines.
Trump has secured the endorsement of nearly 50 House members and 10 senators, according to an NBC News tally, compared with three House endorsements and zero Senate endorsements for DeSantis. Haley, the former governor from Scott's home state of South Carolina, has been endorsed by one lawmaker: Rep. Ralph Norman, R-S.C.
Unlike in the Democratic Party, congressional endorsements for Republicans don't count in the race for delegates. But in a crowded field, endorsements from lawmakers can signal momentum and a candidate's popularity from certain parts of the country.
"Tim's a good guy," first-term Sen. Markwayne Mullin, R-Okla., said wishing him "the best of luck" in his bid. "We broke bread together and we've had dinner a lot together. He gave me some of the best advice when I got up here: 'You'll know you're a senator when your mouth is moving and you have nothing else to say.'"
But Mullin, who hosted Trump at a NCAA wrestling match in Tulsa this year, argued that Trump is the best candidate to lead the party: "Trump is a friend of mine … and when we get rid of these disastrous four years of Biden, we're going to need somebody that's a proven leader."
Still, for those ready to turn the page on Trump, Scott could ultimately prove a strong alternative. In 2014, the former House member made history as the first Black Republican elected to the Senate from the South since Reconstruction. And colleagues described Scott as an exceptional communicator, a hard worker and a detail-oriented legislator who has an up-from-the-bootstraps personal narrative and a positive vision for the future that will play well on the campaign trail.
"He's someone who I would be happy if he became president of the United States," Sen. Mitt Romney, a two-time presidential hopeful and the GOP nominee in 2012, said in a brief interview. "There are a number of people who I feel that way about; he's certainly one of them."
A handful of others who are still on friendly terms with Trump also felt comfortable saying they would like to see a President Scott — though they stopped short of a formal endorsement.
"He's terrific and I think he'd be a great president" Wyoming Sen. John Barrasso, the No. 3 Senate Republican in leadership. "I think he'd be terrific."
"He's top-tier, that's for sure. He's smart, hard-working. He's articulate. He's joyful. He's just the best. He's always a sort of healing source when he's around," said Sen. Kevin Cramer, R-N.D., a Trump ally who has not endorsed yet in the presidential race.
"I'd absolutely consider endorsing him. He's got everything you'd want in a leader."
But asked if Scott had what it takes to beat Trump, Cramer replied: "I don't know. It's hard to say and it's hard to see it."