President Barack Obama released his picks for the NCAA Men's Basketball Tournament on Wednesday with the University of Kansas as his choice to cut down the nets in Houston.
In his last bracket as commander in chief, the president chose to go chalk, as he has in past years, mostly picking the higher seeded teams and shying away from predicting any major upsets.
Obama's final four picks are: Kansas, the University of North Carolina, Michigan State and Texas A&M. This marks the third time the president is rooting for Kansas to take it all the way.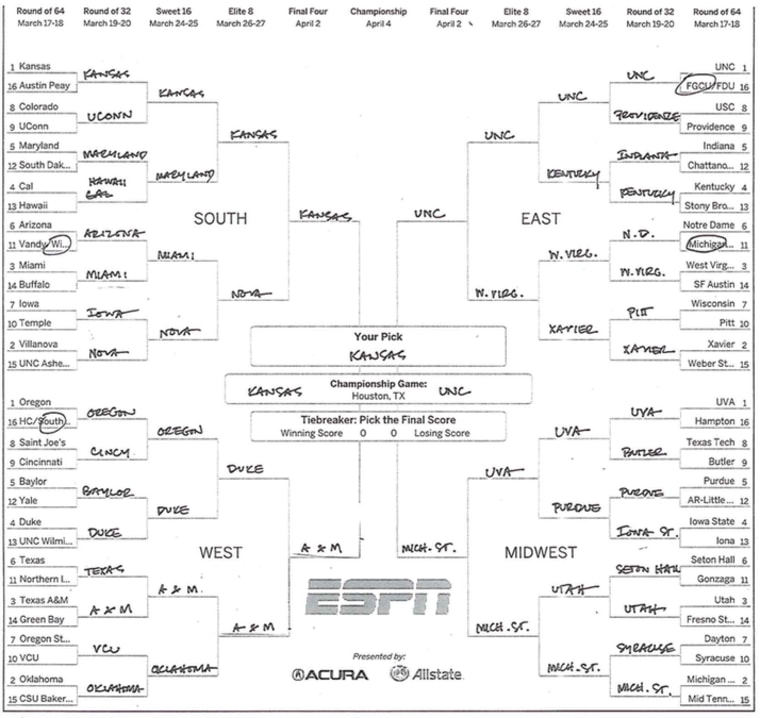 "Bill Self owes me," the president said about the Jayhawk's coach in an interview with ESPN where he unveiled the picks. "Coach, I'm just teasing. I'm not putting pressure on you."
For a proclaimed basketball fan, the president does not have a steady track record for picking winning brackets. The last time President Obama correctly predicted a winner was back in 2009 with North Carolina during his first year in office. The president said he hopes his last year in office will bring him the same luck.
"Only once was I proven right. We're going to bracket success at the beginning, success at the end," the president said.
When asked why he did not chose a "Cinderella" team in the last tiers of his bracket, President Obama said he's too busy to keep up with low-ranking teams. He admits he's so busy that his own game may be a little rusty.
"I've hung it up for a while," Obama said. "I figured, let's not pop an Achilles in the last 10 months of my presidency."