In the first week of the new GOP-led House, a Texas Republican has filed articles of impeachment against Homeland Security Secretary Alejandro Mayorkas.
Rep. Pat Fallon, in a document filed Monday night, accused Mayorkas of "high crimes and misdemeanors" in his role as homeland security secretary. The articles have been referred to the Judiciary Committee, chaired by Jim Jordan, R-Ohio.
Congressional Republicans have made immigration and the surge in border crossings a top issue since President Joe Biden took office. The administration has faced GOP criticism for moving to terminate Trump-era policies such as "Remain in Mexico," aimed at restricting immigration at the southern border, and Title 42, a policy implemented near the start of the Covid pandemic that allowed U.S. authorities to turn asylum-seekers away at the border.
"It is unfortunate that we have gotten to this point, but it is necessary," Fallon said in a statement. "Secretary Mayorkas's potential impeachment is not an accident. He has willfully abdicated his duties as Secretary of Homeland Security and actively misled Congress and the American people. To make any progress at our southern border, he must go."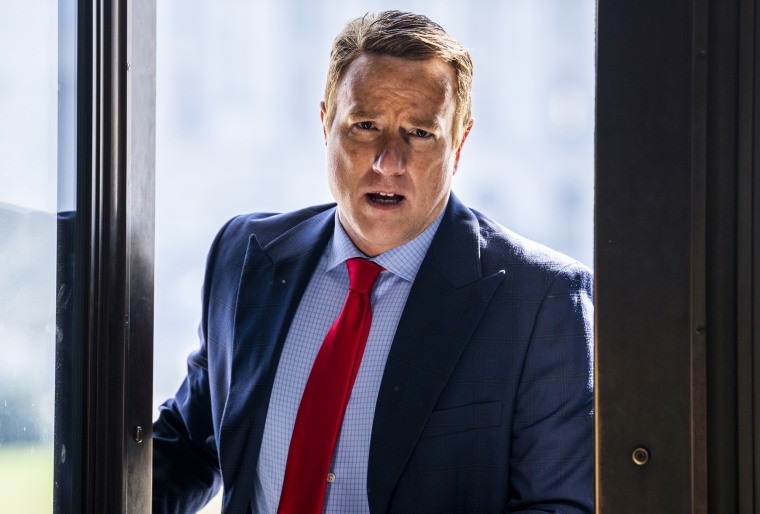 In response to a request for comment on the impeachment effort, Marsha Espinosa, a spokesperson for the Department of Homeland Security, said lawmakers "can do better than point the finger at someone else; they should come to the table and work on solutions for our broken system and outdated laws, which they have not updated in over 40 years."
Kevin McCarthy, R-Calif., then the House minority leader, called on Mayorkas to resign in November, saying he had failed to secure the southern border. Appearing with other GOP lawmakers in El Paso, Texas, McCarthy warned at the time that House Republicans would launch an investigation if Mayorkas refused to resign and would consider impeachment proceedings.
Asked Sunday in an interview with ABC News whether he was prepared for any GOP-led investigations, Mayorkas said: "I am. I will be. And I'll continue to do my work throughout them."
Rep. Andy Biggs, R-Ariz., first filed articles of impeachment in August 2021. The effort did not advance in the Democratic-led House.
On Sunday, Biden made his first trip to the border as president. He traveled to El Paso to assess enforcement operations just days after his administration announced new restrictions on asylum-seekers amid record numbers of migrants' trying to cross into the U.S.
The number of undocumented crossings at the southwest border for fiscal year 2022 topped 2.76 million, surpassing a previous record by more than 1 million, according to Customs and Border Protection data. CBP said in a statement when the data was released in October that Covid restrictions led to "multiple border crossing attempts."
Mayorkas was sworn in as homeland security secretary after the Senate confirmed him in a 56-43 vote in February 2021. Six Republicans voted with Democrats to confirm him.