WASHINGTON — Speaker Kevin McCarthy told House Republicans on a conference call this week that he believes Congress will have to pass a short-term government funding bill to avoid a shutdown this fall, two sources with knowledge told NBC News.
The remarks reflect a growing recognition that Congress doesn't have enough time to reach a full-year funding deal before money runs out on Sept. 30. Lawmakers are on a monthlong August recess and return in September, just a few weeks before the deadline.
While McCarthy now privately agrees Congress needs to buy time to reach a funding deal, it's not clear how much they'll push for. One Republican lawmaker said McCarthy, R-Calif., indicated he didn't want to set a deadline that pushes Congress up against the Christmas holiday. A second GOP source didn't recall McCarthy specifying a length of time for the stopgap bill.
On Wednesday, Senate Majority Leader Chuck Schumer, D-N.Y., said he met recently with McCarthy and agreed to pursue a stopgap bill, often called a continuing resolution or CR.
"Speaker McCarthy and I met a few weeks back and we agreed we should do what's called a CR — in other words, a congressional resolution where you just extend the existing funding for a few months so we could work this out," Schumer said on MSNBC's "Morning Joe." "And I thought that was a good sign. But I would say this: Our Republican colleagues in the House need to follow the lead of their Republican colleagues in the Senate and work in a bipartisan way."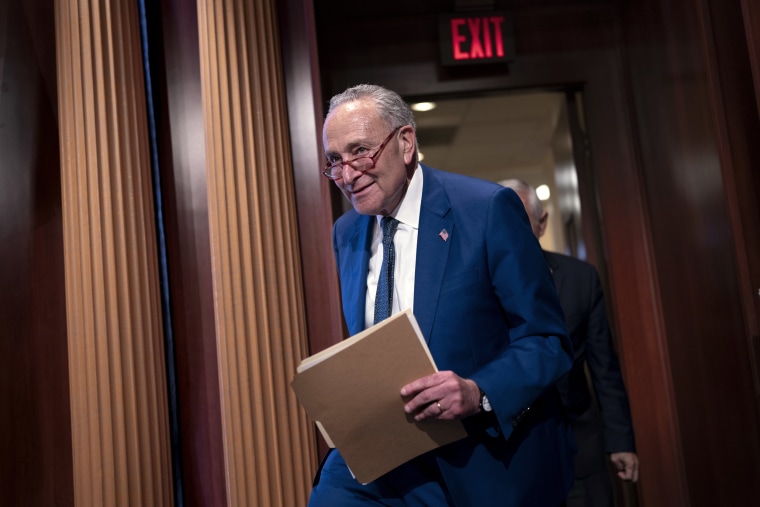 Apart from the length, congressional leaders would also need to agree on the policy terms of a short-term bill — and it's not clear even that will happen in time to prevent a shutdown.
McCarthy's comments on the Monday call were first reported by Punchbowl News. One lawmaker Rep. Tony Gonzales, R-Texas, came away from it believing there will be a shutdown.
The Republican-led House and Democratic-controlled Senate are moving in different directions on an appropriations package.
The House, driven by pressure from right-wing Republicans, is seeking to slash federal spending below levels agreed to in a recent two-year budget deal and attach conservative policy provisions to restrict abortion and LGBTQ rights while rolling back portions of President Joe Biden's agenda.
The Senate, which requires 60 votes to overcome a filibuster and pass funding bills, is operating on a bipartisan basis by pursuing spending levels both parties support and avoiding controversial policy provisions that either side sees as a poison pill.
"If McCarthy follows the hard right and tries to do a partisan bill he's going to lose," Schumer said. "The hard right wants to shut down the government. But McCarthy knows that that would be a disaster not only for the country, but for his party."
Some Republican allies of McCarthy have been warning for weeks that a continuing resolution is inevitable given the lack of time. In recent years, Congress has regularly punted the deadline to achieve a longer funding deal.
Rep. Tom Cole, R-Okla., the Rules Committee chair, recently floated a stopgap bill into early next year.
"I fully accept a CR toward the end of the fiscal year, in late September, probably through early January," Cole said in an interview in late July. "And the negotiation between the House and the Senate would take place in that time frame."
As for another Sept. 30 deadline to pass a farm bill, McCarthy updated his members that there had been progress on the committee level, a GOP lawmaker said on the call. Some are more tepidly optimistic about meeting deadlines to renew the important agriculture and social safety net bill, but there remains concern about the sluggishness of that process.