WASHINGTON — A major debt ceiling bill negotiated by President Joe Biden and House Speaker Kevin McCarthy passed its first test Tuesday, gaining approval from the Republican-led House Rules Committee and setting up a vote Wednesday in the full chamber.
The vote was 7 to 6, with two Republicans — Reps. Ralph Norman of South Carolina and Chip Roy of Texas — and all four Democrats voting no. It sends the bill to the House floor.
The 99-page Fiscal Responsibility Act, which faces heavy criticism from some GOP hard-liners, will need a majority of the House to pass. It is sure to rely on some Democratic votes in the narrowly divided chamber.
If the bill is passed by the House, it would then need to be approved by the Democratic-controlled Senate before the Treasury Department's deadline of Monday to avert a calamitous default.
Rep. Thomas Massie, R-Ky., one of three ultraconservatives on the Rules Committee, announced earlier that he planned to vote yes, which all but assured passage through the panel.
"There are things to dislike and things to like about this bill," Massie said. "When people want to express their ideology, the floor of the House on the actual final passage of the bill is the place to do that."
Norman described the bill as "smoke and mirrors," arguing that Republicans "should have walked away" from the table after they passed their party-line debt limit legislation and forced Democrats to either swallow it or accept default.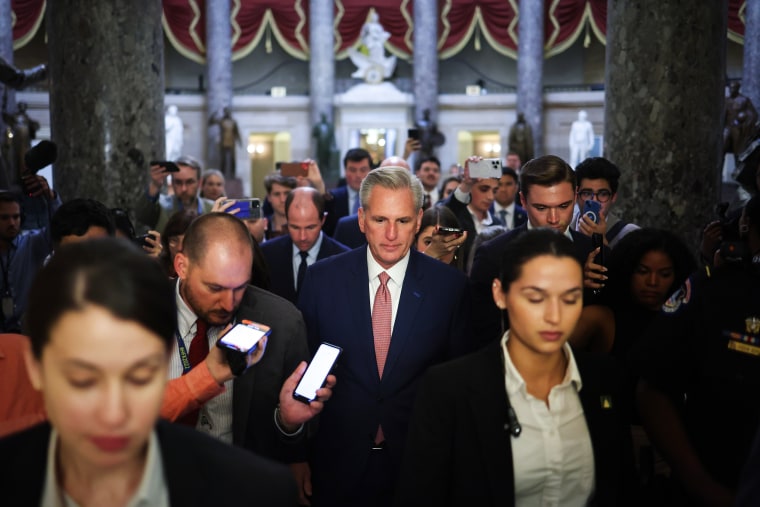 Some progressive Democrats have raised their own concerns about the bill ahead of Wednesday's vote. Rep. Jim McGovern of Massachusetts, the top Democrat on the panel, criticized the bill's new paperwork requirements for those who get benefits under the Supplemental Nutrition Assistance Program and Temporary Assistance for Needy Families, worrying it would "make poor people poorer."
"Everybody here wants to avoid a catastrophic default on our debt," McGovern said, expressing hope that Congress could do it "without increasing hunger" in the U.S. "We don't hold the Defense Department accountable for cost overruns. Yet we are doubling down on poor people."
The bill would extend the debt limit for two years alongside modest federal spending cuts and a series of policy provisions.
It would cap spending for the next two years to set up the appropriations process. It includes conservative policy measures that would rescind about $28 billion in unspent Covid relief funds, eliminate $1.4 billion in IRS funding and shift about $20 billion of the $80 billion the agency got through the Inflation Reduction Act to nondefense funds.
The legislation would restart federal student loan payments after a lengthy "pause" that began at the start of the pandemic. It would add work requirements to get SNAP and TANF benefits for people up to 55 years old (the current threshold is 50), with carve-outs for veterans and homeless people.
In addition, it would overhaul the National Environmental Policy Act to streamline permits for projects.
Massie praised a part of the bill in his Rules Committee remarks: its inclusion of a measure he sponsored to require the government to cut 1% of spending across the board if Congress doesn't pass all 12 appropriations bills.
But Roy said the bill was "effectively a spending freeze" that would do little to change the long-term trajectory of the federal budget.
Rep. Dusty Johnson, R-S.D., the chair of the center-right Main Street Caucus, told reporters that he predicts the bill will "absolutely pass" after he spoke with "dozens of members."
Rep. Stephanie Bice, R-Okla., touted new Congressional Budget Office estimates provided to some in the Republican leadership that haven't been made public, two GOP sources said. The estimates say the Biden-McCarthy bill would cut $2.1 trillion in spending — slightly more than what Republicans originally projected.
Bice said the bill will pass with support from both parties: "We're going to get there. There's going to be bipartisan support on this legislation. The president is supporting it. I think that we're in a really good place. Spending cuts are what we asked for; no new taxes are what we asked for; no clean debt ceiling is what we asked for. And that's exactly what we've got."
Meanwhile, senior White House staff members worked the phones over the weekend to sell the deal to moderate and progressive Democrats, including holding briefings in small groups and one-on-one calls to respond to any technical questions from lawmakers and their staff members, a White House official said.