The 2014 election cycle will be remembered for the inordinate number of "Old Bulls" who decided to leave Capitol Hill behind.
But perhaps no retirement will be more significant than that of Michigan Rep. John Dingell. The 87-year-old Democrat said Monday that he will leave Congress next year after an almost 60-year tenure in the House.
Dingell's career arc in many ways mirrors the broader transformation of our politics: once the proud custodian of the traditions and mores of the U.S. House, Dingell told the Detroit News that he now finds serving on the Hill to be "obnoxious."
Dingell began his career in politics age 29 after winning a special election to succeed his late father, who represented a southeast Michigan district for over two decades. (The Dingell family tradition may well continue: the Detroit News reported that the outgoing congressman's younger wife, Debbie, is expected to seek his seat this fall.)
In the decades since, Dingell established himself as one of the most influential members of Congress and as much of a Midwestern institution as a paczki on Fat Tuesday – quite the accomplishment for someone who was often fond of referring to himself as "just a dumb Polish lawyer."
Representing an area of Michigan that typically spanned from the middle-class suburbs of Detroit to the crunchy college town of Ann Arbor, Dingell spent his career championing both universal health care (a passion of his father's) and the auto industry that reigned supreme throughout much of southeast Michigan.
The word 'Congress' means coming together. We are supposed to come together to do the people's business, and for most of my career, that's what we did.
Dingell's tenure cast an iconoclastic shadow across the Democratic Party. The congressman was in many ways a forebear of the so-called "Reagan Democrat" – a term coined partly in reference to the blue-collar centrist voters in nearby Macomb County, Mich.
Dingell was at once an avid outdoorsman who supported gun rights and a devoted conservationist who helped to author the Endangered Species Act, and quietly win millions in federal funds for Detroit to address its polluted brownfields and conserve a long stretch of the Detroit River.
As chairman of (what's now known as) the House Energy and Commerce Committee for much of the 1980s and early 1990s, Dingell slow-walked rules like higher fuel-efficiency standards for automobiles during a time when the industry faced stiffer global competition.
His environmental record contributed to a somewhat acrimonious power play by then-Speaker Nancy Pelosi in early 2009. Pelosi moved to usurp seniority rules that typically dictate Democratic chairmanships and instead installed California Rep. Henry Waxman as chairman of the committee in hopes of advancing landmark climate legislation through Congress. The cap-and-trade bill passed the House but stalled in the Senate; Waxman has also announced his intention to retire at the end of this term.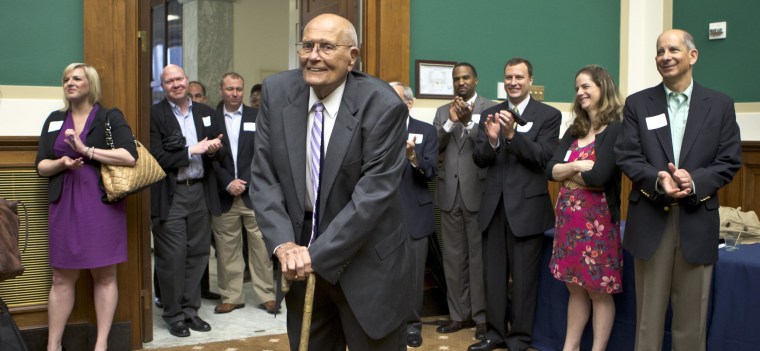 Dingell's impact on health care in America was just as meaningful, and more markedly progressive. He was famous for introducing a universal health care bill at the beginning of each Congress, and presided over the 1965 vote to establish Medicare – a longtime priority of his father's. A lead sponsor of the Affordable Care Act, Dingell lent Pelosi that same gavel to use while presiding over the historic health care reform vote in 2010.
The Dean of the House by virtue as his tenure as its longest-serving member, Dingell seemed to foreshadow his retirement by speaking with disdain toward the atmosphere in contemporary Washington. He told Michigan Radio's Jack Lessenberry last year that he probably wouldn't run for Congress today if he knew what he knows now.
"This has become an essentially non-functional institution, and the business of the nation is being neglected," he told Lessenberry. "The word 'Congress' means coming together. We are supposed to come together to do the people's business, and for most of my career, that's what we did."
That comment speaks to the way politics and the business of legislating has changed over Dingell's decades of work in Congress. But history is more likely to remember Dingell for what he managed to accomplish before gridlock and celebrity politics consumed Washington, and the institution which he'll leave behind.