WASHINGTON — In a de-escalation of internal GOP tensions, House Republicans are now aiming to refer a Biden impeachment resolution to two committees instead of holding an immediate vote on impeaching the president.
The House will vote Thursday to send a resolution offered by Rep. Lauren Boebert, R-Colo., to the Homeland Security and Judiciary committees. By forgoing the impeachment vote, Republicans will be able to avoid, for now, a messy fight that was already dividing the conference.
The House Rules Committee advanced the plan in a last-minute meeting Wednesday night after huddling with House Speaker Kevin McCarthy, R-Calif., who urged rank-and-file Republicans at a closed-door meeting earlier in the day to oppose Boebert's resolution, arguing that such an important issue should go through the committee process, three GOP sources who heard the comments confirmed.
Republican lawmakers who didn't think it was appropriate to impeach President Joe Biden will now be able to vote to send Boebert's resolution to committees for further work instead of having to cast a vote to table, or kill, the resolution — which would have made some GOP lawmakers politically vulnerable in the 2024 primaries.
"I think it's best for everybody," McCarthy told reporters when asked why he wanted to proceed with the resolution this way.
As she exited the House chamber, Boebert told reporters, "A sophomore in Congress just forced the House of Representatives to do their job."
"I'm fine with the process taking place…if we send this to that committee, then yes, we are forcing the committee to do the work of impeaching Joe Biden," the second-term lawmaker said.
Asked about McCarthy's suggestion behind closed doors that it might be premature to bring an impeachment resolution straight to the floor, Boebert said: "I think there's nothing premature about it. We should have been working on impeachment since we took hold of the gavels in this Congress, and I didn't see any progress in the committees. And so that's why I brought my privileged resolution to the floor to force action. And it seems that nothing happens in Washington, D.C., without force."
By offering a privileged resolution, Boebert was positioned to force a House floor vote on impeachment. The House will still act on the resolution Thursday as required, but will vote on whether to refer it to congressional committees.
Boebert told reporters Wednesday night that if nothing happens in committee as she was "promised," that, "yes, I will bring a privileged resolution every day for the rest of my time here in Congress."
House GOP Whip Tom Emmer of Minnesota declined to say whether Republican leadership pressured Boebert to change course on the resolution.
"We talked to Lauren about a whole bunch of stuff. We want Lauren to be successful. So we try to work with her on everything," he said.
When Democrats controlled the chamber, McCarthy had vehemently argued that they were rushing to impeach President Donald Trump, not once, but twice. Now, he is warning that Republicans could fall into the same trap by immediately voting to impeach Biden.
McCarthy confirmed to reporters on Wednesday afternoon that he opposed an impeachment vote right now, arguing that to "prematurely" pursue it "undercuts" GOP efforts to investigate Biden.
"It's very serious," he said of impeachment. "That's why I don't want to do anything that harms the investigation we're going through right now."
The House Oversight and Judiciary committees have probes focusing on Biden.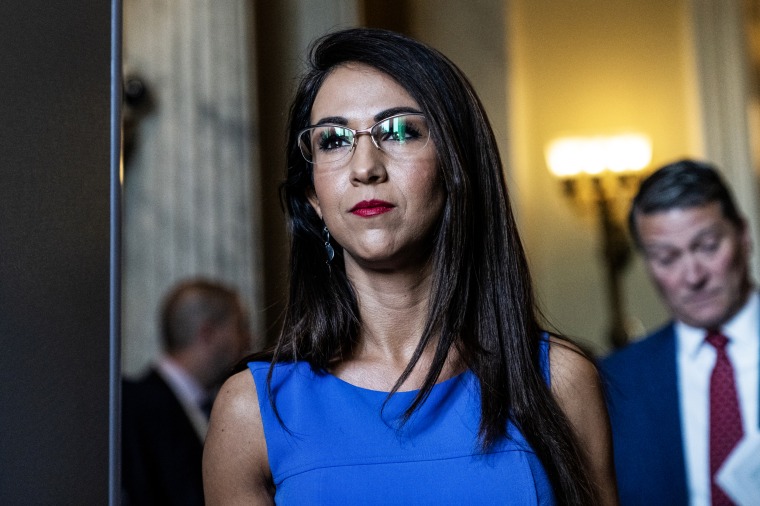 Boebert did not attend the weekly House GOP Conference meeting, lawmakers said, so she did not hear McCarthy's earlier comments directly. Boebert, a conservative bomb thrower and fierce McCarthy critic, shocked colleagues when she introduced her impeachment articles Tuesday night.
"Republicans need to stick together and get this man out office for his dereliction of duty on the Southern Border," she tweeted earlier Wednesday.
Some Republicans predicted that the resolution did not have enough GOP votes to pass. Moderate Rep. Don Bacon, R-Neb., said earlier Wednesday that impeachment should go through the committee process and confirmed he would back a Democratic effort to "table" Boebert's resolution, or set it aside.
"I think if people see that we're being honest about this and that impeachment is a very serious thing, it should go through committee," Bacon told reporters. "I feel like it was cheapened in the last Congress. We shouldn't follow the same footprints.
Rep. Thomas Massie, R-Ky., on Wednesday night said, "I gotta give some credit to Representative Boebert because I think if she had wanted to force the issue, she could have had the vote the other way."
Boebert's resolution is part of a larger push by the House GOP majority to retaliate against its political enemies. On Wednesday, the House voted along party lines to pass a resolution introduced by Rep. Anna Paulina Luna, R-Fla., to censure former Intelligence Committee Chairman Adam Schiff, D-Calif., the lead prosecutor in Trump's first impeachment. And Rep. Marjorie Taylor Greene, R-Ga., has vowed to introduce other privileged resolutions to impeach Biden and other top administration officials.Greene, a McCarthy ally who has been feuding with Boebert for months, accused Boebert of copying her own articles of impeachment against Biden.
"I had already introduced articles of impeachment on Joe Biden for the border, asked her to co-sponsor mine — she didn't," Greene said. "She basically copied my articles and then introduced them and then changed them to a privileged resolution."
Asked about Greene's claims that she copied her resolution, Boebert said: "I'm not in middle school."