U.S. Secretary of Homeland Security Kirstjen Nielsen unveiled two new miles of border fencing on Friday and declared it the first new section of the President Donald Trump's border wall.
"It's different than a fence in that it also has technology. It's a full wall system," she said in Calexico, Calif., when asked about whether the 30-foot tall barrier made of steel bollards was actually just a fence. "It's a wall, this is what the president has asked us to do. It's part of a system."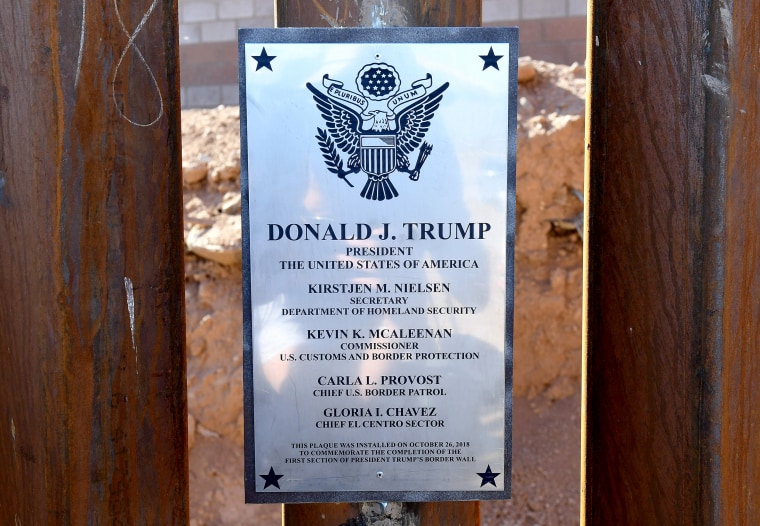 Trump campaigned on a promise to build a "big, beautiful wall," which he specifically said would not be a fence. The president built a slew of concrete border wall prototypes last year, but since taking office, his administration has replaced older fencing with newer, taller fencing and claimed the president's promise is being kept.
The president has built eight border wall prototypes in California — some concrete, some like the fences they unveiled Friday — and unveiled them earlier this year. This year's congressional spending bill specifically states that border construction must use the same kind of fencing previous administrations had used.
The wall celebrated Friday replaces shorter, older fencing installed in the 1990s that was now out of date and operationally inadequate, Nielsen said. After she arrived, two workers installed a plaque displaying Trump's name, atop the names of several border officials.
"This plaque was installed on October 26, 2018, to commemorate the completion of the first section of President Trump's border wall," the plaque reads.
White House Chief of Staff John Kelly reportedly told lawmakers in January that Trump's rhetoric on the wall was "uninformed."
"A concrete wall from sea to shining sea" is not going to happen, he said according to the Washington Post, instead calling it a "physical barrier."
The Friday event comes as a migrant caravan of several thousand Central Americans makes its way across Mexico toward the U.S., prompting the administration to prepare to send troops to the southern border. The Trump administration is also drafting an executive order aimed at closing off the borders as much as possible; while the details of the executive order are still being debated in the White House, it could mirror the travel ban and would make it exceedingly hard for migrants seeking asylum to gain entry to the U.S.
"Everything is on the table," Nielsen said.