Allen Weisselberg, the former chief financial officer of the Trump Organization, was sentenced Tuesday to five months behind bars for his role in the company's sweeping 15-year tax fraud scheme.
Weisselberg, 75, was sentenced in accordance with his guilty plea in an appearance before acting Justice Juan Merchan in New York criminal court and was taken to New York's notorious Rikers Island jail immediately after the proceeding.
Taking into account the typical amount of time off for good behavior, Weisselberg is likely to serve about 100 days.
He also paid over $2 million in taxes and penalties and will be on probation for five years.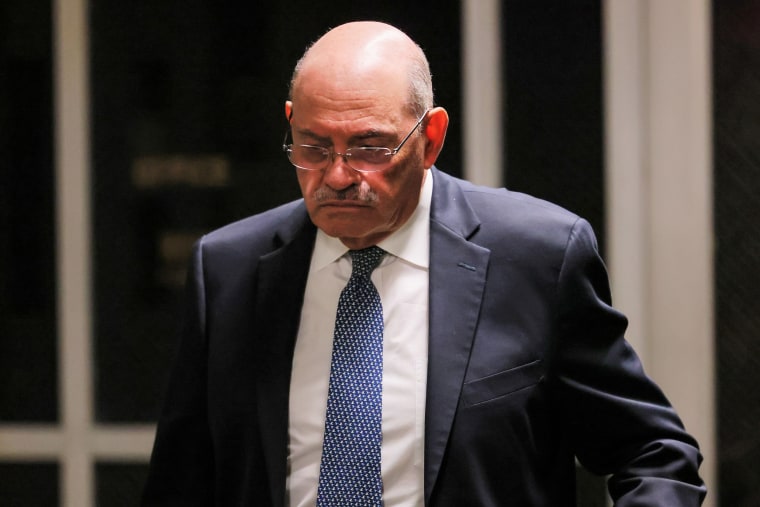 As part of his deal with prosecutors, Weisselberg could have faced added time behind bars if he didn't testify truthfully at the trial, which ended with the Trump Organization's being convicted of all counts.
No public court filings suggest Weisselberg's testimony wasn't truthful, and prosecutors didn't ask the judge to revisit the agreed-upon sentence.
"The people believe that Mr. Weisselberg provided truthful testimony," New York County Assistant District Attorney Susan Hoffinger told the judge. "He satisfied the conditions of his plea agreement."
Weisselberg's lawyer, Nicholas Gravante Jr., said Weisselberg had already "paid severely" for his crimes and asked the judge whether he "would consider a further reduction in his sentence in some form."
Merchan refused.
"I believe a stiffer sentence might be appropriate having heard the evidence" in the case, Merchan said, adding that he felt obligated to stick to the deal he agreed to in August.
Manhattan District Attorney Alvin Bragg touted Weisselberg's sentence in a statement. "In Manhattan, you have to play by the rules no matter who you are or who you work for," he said.
Weisselberg was the star witness for the prosecution in the case against former President Donald Trump's company, describing how top executives and the company evaded paying taxes they rightfully owed. Trump wasn't charged with any crimes.
The biggest personal beneficiary of the scheme, prosecutors said, was Weisselberg. He collected $1.76 million in "indirect employee compensation," including a rent-free apartment, expensive cars, private school tuition for his grandchildren and new furniture. Other executives received similar perks and were paid bonuses as independent contractors, saving the company money in payroll taxes.
On the witness stand, Weisselberg said Trump did not know about the scheme. Weisselberg further testified that he was still on company's payroll, adding that while he was removed as CFO after he was charged, his duties and salary had remained substantially the same.
Lawyers for the two Trump Organization subsidiaries charged in the case maintained during the trial that Weisselberg was the lone bad actor and that the companies shouldn't be held responsible. A jury disagreed.
The panel convicted the companies on all 17 counts last month, including conspiracy, criminal tax fraud and falsifying business records. The companies face up to $1.6 million in fines when they are scheduled to be sentenced Friday.
Gravante told reporters as he left the courthouse Tuesday that Weisselberg "regrets the harm his actions have caused to the Trump Organization and members of the Trump family," adding, "He is grateful to them for their continued support throughout this difficult chapter of his life."
Had Weisselberg been convicted, he could have faced up to 15 years in prison.