A screaming protester lobbed several small Russian flags at President Donald Trump on Tuesday as he walked into a lunch with Senate Republicans inside the U.S. Capitol.
Trump was entering the lunch when a man who was standing with the media, posing as a journalist, tossed the flags at Trump and Senate Majority Leader Mitch McConnell, R-Ky.
Trump didn't flinch as the airborne flags headed his way, reacting only by giving a thumbs up.
The man who flung the flags — who was later arrested and identified by police as Ryan Clayton —shouted, "Trump is treason."
"This president has conspired with agents of the Russian government," Clayton yelled as security officials subdued him. "We should be talking about treason in Congress, not about tax cuts!"
Trump wasn't in any danger, but the incident nevertheless appeared to be a security breach.
The general public is allowed inside the Capitol complex for tours and appointments, but all entrants, including journalists, must go through a metal detector. Members of the press carry photo identification that allows them to traverse the halls of the building, but journalists obtain those credential badges only after undergoing a screening.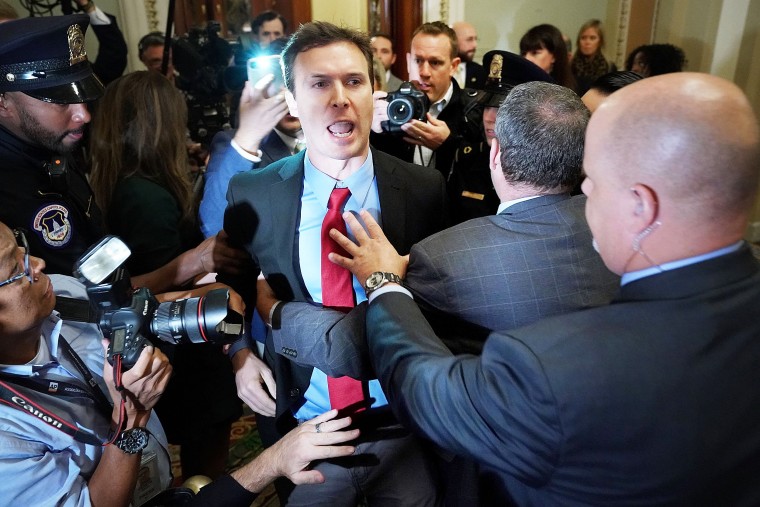 Clayton was heard on camera identifying himself to Secret Service agents as from "Americans Take Action."
The group identifies itself on its website as "a network of populists who believe that the American government should represent we the people once again, that the economy should work for all of us, and that the internet should remain free and open for generations to come."
The White House didn't immediately respond to questions about the incident.
Clayton appears to have posed as a member of the media throughout the morning and was even seen as part of a group of journalists talking to Sen. Bob Corker, R-Tenn., earlier in the day.
Following the flag-throwing incident, Clayton was arrested by U.S. Capitol Police, who charged him with unlawful conduct.
Clayton was part of a similar incident occurred in July.
On July 24, a man standing with reporters who identified himself as "Ryan Clayton with Americans Take Action" tried to hand a Russian flag to Jared Kushner and asked Kushner to sign it.