WASHINGTON — Former EPA Administrator Scott Pruitt's use of a round-the-clock security detail that cost taxpayers more than $3.5 million was not justified and was more than twice as expensive as his predecessor's, according to a new report by the Environmental Protection Agency's Inspector General.
Pruitt resigned from the EPA effective July 6 after facing a barrage of investigations and audits.
The inspector general found the decision to assign a 24-hour, seven-day-a-week security detail to protect Pruitt was made by the Trump transition team before the administrator even started the job. The decision was supposed to be re-evaluated two weeks after Pruitt arrived but the IG says that never happened. It also cost 110 percent more than the security protection given to Pruitt's predecessor, Gina McCarthy, during a similar time period.
This is in sharp contrast to statements from Pruitt's team who defended the increased security as necessary, citing security professionals who asserted Pruitt was in more danger than his predecessor. The IG says that while the agency kept statistical data on threats, there was no evidence it had made a real effort "to assess the potential dangers posed by any of these threats."
In response, the EPA press office provided NBC News with a statement agreeing that the agency would now conduct regular threat analyses for the EPA administrator.
But the agency disagrees with the IG's claim that Pruitt's security was not justified, "Specifically, because persons intending harm often do not make threats, EPA believes — based on DOJ's report, 'Protective Intelligence & Threat Assessment Investigations,' Secret Service practices and real-life scenarios such as the recent attack on the Republican Congressional baseball team and the shooting of Representative Giffords — that a threat analysis cannot be the sole source of information used to determine if protective services are provided or the level of protection."
Environmental advocate Eric Schaeffer, a former director of civil enforcement at the EPA who is now executive director of the Environmental Integrity Project, said the report confirms what is already known.
"There was no serious evaluation of the so-called 'threats' to former Administrator Scott Pruitt's personal safety, and no reason to justify providing him with round the clock security and first class travel," said Schaeffer. "Nothing more than paranoia and mismanagement explains why taxpayers shelled out more than $3.5 million last year [on] Mr. Pruitt's personal bodyguard."
Many of Pruitt's troubles while he was an embattled member of President Trump's cabinet are linked to his extensive security detail. Critics say Pruitt cited his need for security as a way to justify sitting in the first class section of airplanes. Pruitt also faced criticism for requesting lights and sirens to get through D.C. traffic even though it violated agency policy.
Pruitt was faulted for installing a soundproof phone booth at a cost of $43,000 that he used only once, an expenditure the Government Accountability Office questioned in an April letter to Senators.
The EPA's new acting administrator, Andrew Wheeler, has asked that the round-the-clock security be eliminated, according to the new IG report. The EPA press office says a summary of ongoing security expenses will be released at the end of September.
Four more Pruitt audits are in the pipeline according to a spokesperson for the EPA Inspector General's office.
The probes include a review of Pruitt's travel through the end of 2017, including a trip to Morocco. Another looks at whether payments to law enforcement staff at EPA were appropriate. A third covers the dramatic salary increases that were arranged for two key Pruitt staffers. And the fourth will examine how the agency's preservation of emails and text messages as well as how freedom of information requests are handled at the agency.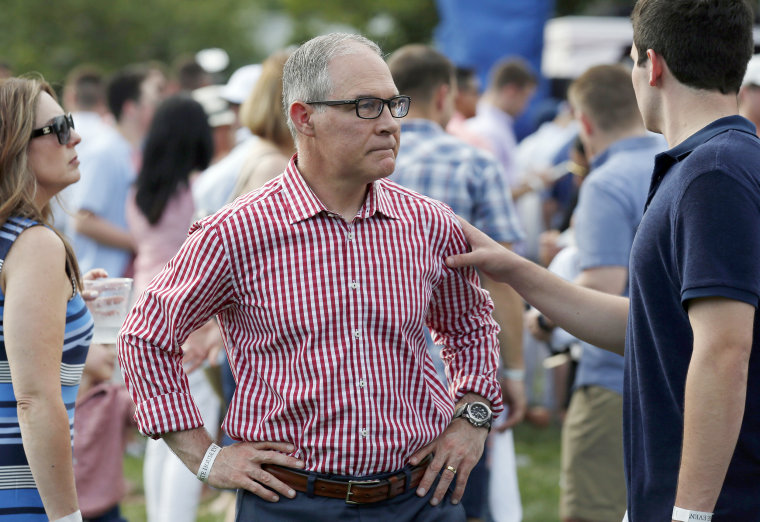 The Government Accountability Office is probing Pruitt's removal of scientists from the scientific advisory board. A second GAO investigation, which looked at whether Pruitt broke lobbying rules when he made comments to the National Cattlemen's Beef Association last year, concluded there was no violation.
Before leaving office, Pruitt told senators at a May hearing that he had set up a legal defense fund to handle the costs of defending himself from mounting inquiries. In his testimony, Pruitt pledged that the donations would be made public.
Pruitt is required to submit an updated financial disclosure report 30 days after he leaves the agency. So far that disclosure has not yet been released by the Office of Government Ethics.
The former administrator appears to have shut down his Twitter account when he left government in early July and has been keeping a low profile far from Washington. According to Politico Playbook, Pruitt was recently spotted in Maui having breakfast at the Four Seasons.