WASHINGTON — The deputy director of Election Day operations for Donald Trump's 2020 presidential campaign appeared before a federal grand jury Thursday as part of special counsel Jack Smith's investigation into Jan. 6 and efforts to interfere with the lawful transfer of presidential power.
Gary Michael Brown, who has been accused of being involved in the so-called fake electors scheme after the 2020 election, was seen headed into the third-floor grand jury space at a courthouse in Washington where a grand jury has been hearing testimony about efforts to stop the transfer of power to President Joe Biden.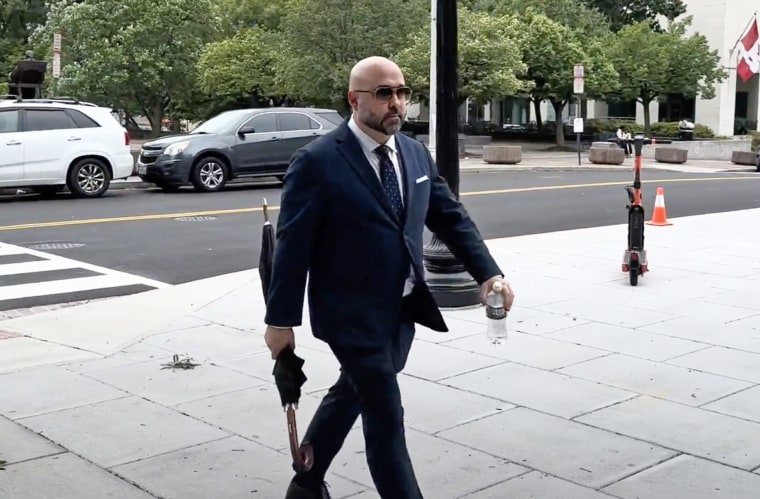 Stanley Woodward — an attorney who is representing several Trump aides, including Walt Nauta, who was indicted along with Trump in the Mar-a-Lago documents case — accompanied Brown in court Thursday. He declined to comment.
Brown, speaking with a member of the media after having emerged from the E. Barrett Prettyman Federal Courthouse, declined to comment, saying he was "starving" and wanted to get a sandwich.
The defunct Jan. 6 committee in Congress, when it subpoenaed Brown last year, said it had found "credible evidence" that he was "aware of, and participated in, efforts to promote unsupported allegations of fraud in the November 2020 Presidential election and encourage state legislators to alter the outcome of the November 2020 election by, among other things, appointing alternate slates of electors to send competing electoral votes to the United States Congress."
The committee also said Brown and other members of Trump's campaign had a coordinated strategy "to contact Republican members of state legislatures in certain states that former President Trump had lost and urge them to 'reclaim' their authority by sending an alternate slate of electors that would support former President Trump." The committee said it appeared Brown "helped manage the Trump campaign staffers participating in this effort."
NBC News reported last week that two of the "fake electors" testified before the federal grand jury in Washington the same day Trump appeared at a federal courthouse in Miami in connection with his indictment over his handling of classified records. Trump pleaded not guilty.
Smith's investigation into the Jan. 6, 2021, riot and efforts to interfere in the transfer of power is separate from the probe that led to Trump's indictment in Florida, although some of the grand jury proceedings related to that indictment took place in Washington, as well.
The special counsel's office declined to comment Thursday on Brown's appearance.