Former President Donald Trump said Thursday that he appreciated recent praise from Russian leader Vladimir Putin. In an exclusive interview with NBC "Meet the Press" moderator Kristen Welker, Trump said it meant "what I'm saying is right," referring to his positions on the war in Ukraine.
Trump readily claimed in the interview that if re-elected president, he would resolve the war within 24 hours, though he provided few details about how he would end a conflict that has dragged on for more than 18 months. The former president has asserted several times that he could quickly end the war.
"If I tell you exactly, I lose all my bargaining chips. I mean, you can't really say exactly what you're going to do. But I would say certain things to Putin. I would say certain things to Zelenskyy," he said, referring to Ukrainian President Volodymyr Zelenskyy.
Putin, Russia's longtime leader, said at the Eastern Economic Forum in Vladivostok, Russia, last week that he had heard "that Mr. Trump says he will resolve all burning issues within several days, including the Ukrainian crisis. We cannot help but feel happy about it."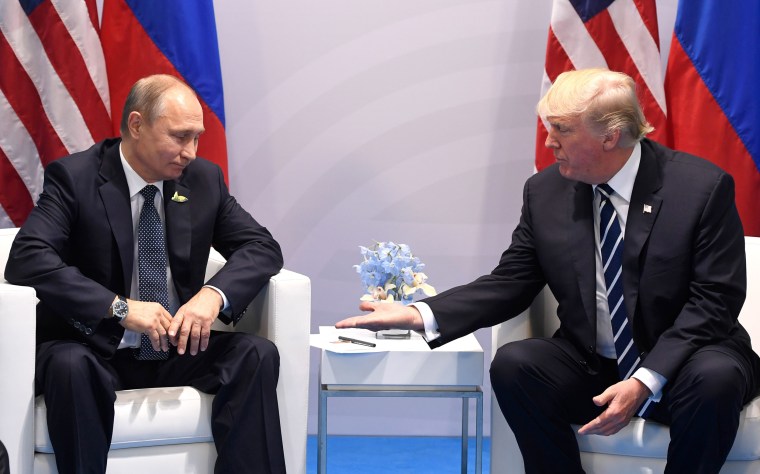 Trump said he was pleased by Putin's comments.
"I like that he said that," he told Welker. "Because that means what I'm saying is right. I would get him into a room. I'd get Zelenskyy into a room. Then I'd bring them together. And I'd have a deal worked out."
This is Welker's first interview as moderator of "Meet the Press," and it will air in full Sunday on NBC stations nationwide. Welker, who covered Trump in the White House, pressed the former president several times to clearly explain how he would end the war.
Tune into "Meet the Press with Kristen Welker" this Sunday for more from Welker's exclusive interview with former President Donald Trump. Check local listings.
Trump continued to avoid an explanation of what his plan would entail, though he claimed he would "make a fair deal for everybody" when asked if he would allow the Kremlin to keep Ukrainian territory that Russian forces had illegally seized by force.
Trump remains the front-runner in the polls for the 2024 Republican presidential nomination. Some of his competitors have criticized him for de-emphasizing the war in Ukraine as a U.S. national security interest, while others — such as Vivek Ramaswamy and Florida Gov. Ron DeSantis — have adopted his denunciations of the contributions made by American allies, especially compared to those by NATO.
Though Trump did not make clear what he would do in office regarding the conflict, he frequently argued during the interview that there would not have been a war if he had remained president.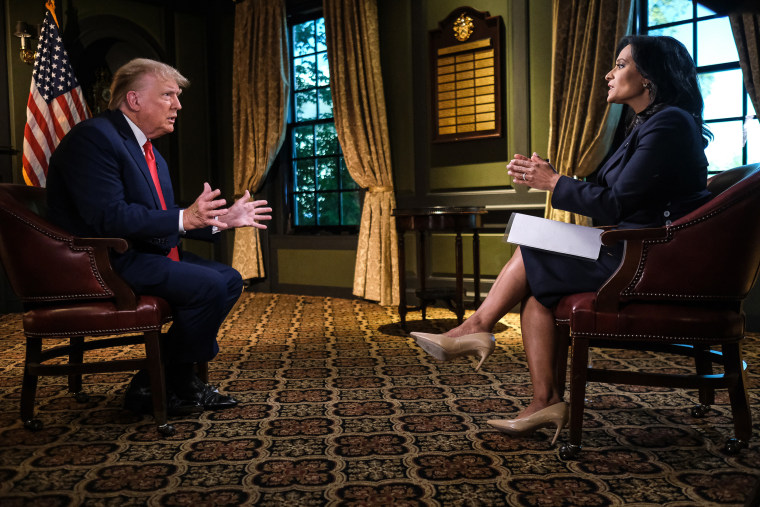 "There was nobody tougher than me with Russia," he said. "And yet I got along with Putin. Let me tell you, I got along with him really well. And that's a good thing, not a bad thing. He's got 1,700 nuclear missiles. And so do we."
The former president did not have much to add when Welker pressed him about the Kremlin's brutality in Ukraine, however. She noted that Russian forces had bombed maternity wards, buried Ukrainian civilians in mass graves and kidnapped children in the occupied territory.
"It's all terrible," Trump said in response.
It is not the first time that he has declined to be overly critical of Putin, whom most American allies and members of the U.S. national security community consider an antagonist.
And Trump's track record in supporting Ukraine, a U.S. partner, has been spotty.
When Russia first invaded Ukraine in February 2022, Trump praised Putin as "a guy who is very savvy" and the invasion of Ukraine as "genius" in an interview with a conservative podcaster.
"President Biden has been clear about how critical it is to support Ukraine against Mr. Putin's brutal and barbaric invasion — and he's rallied the world to do just that," White House Press Secretary Karine Jean-Pierre responded to Trump's remarks, adding, "What's at stake is not just the survival of Ukraine; it's the unmistakeable message that in the 21st century a dictator cannot be allowed to conquer his neighbor's territory with impunity and threaten the fundamental values of freedom and independence that matter to every American."
Trump's first impeachment in December 2019 came after a daylong debate in Congress about whether the then-president had violated his oath by pressuring Ukraine to damage a political opponent — Joe Biden — by withholding nearly $400 million in U.S. aid to Ukraine.
He also said he took the Russian president at his word at a summit in Helsinki in 2018 and dismissed U.S. intelligence agencies' conclusions that Russia had interfered in the 2016 election.
"President Putin says it's not Russia," Trump said at the time. "I don't see any reason why it would be."
Days later, the former president claimed he had misspoken.