The Alabama Republican Party is sticking with Senate candidate Roy Moore, party leaders told NBC News on Wednesday night, even as more women were reported to have accused him of making unwanted advances.
A day of fast-moving developments in Alabama's special election to succeed Attorney General Jeff Session in the Senate saw reports of accusations by four more women, the prospect that a handwriting expert could be a crucial figure in the case and the mention of a befuddled MSNBC anchor by a lawyer defending Moore.
The steering committee of the state Republican Party — the only entity with the power to remove Moore from the Dec. 12 special election ballot — took no action on Moore's nomination at a meeting Wednesday.
Two members of the committee said late Wednesday that the state party is continuing to support Moore, 70, a former chief justice of the state Supreme Court who has been accused of having made sexual or romantic advances to underage women when he was a prosecutor in his 30s.
Related: Alabama GOP threatens retaliation for disloyalty to Moore
The Republican National Committee, by contrast, has ended its field operations in the state, NBC News has confirmed, and numerous Republican senators have called on Moore to drop out of the race if the allegations are verified.
Moore, who is considered a leading figure by some Christian conservatives, has strongly denied all of the accusations. He has said he has never met some of his accusers, and he has threatened to sue at least two major news organizations.
AL.com, the web publishing arm of Alabama Media Group, confirmed Wednesday that it had received a letter from attorneys for Moore and his Christian legal foundation threatening to sue it for what the letter characterized as AL.com's "false reports and/or careless reporting." The letter cited the news group's reporting on the accusations against Moore personally and on questions surrounding the nonprofit foundation's travel spending.
Alabama Media Group, which publishes The Birmingham News, The Huntsville Times and the Press-Register of Mobile, said it stood by its reporting.
That reporting added two new names Wednesday to the group of women said to have accused Moore of having made inappropriate advances. AL.com reported that a woman from Gadsden, in northwest Alabama, said Moore groped her while she was in his law office on legal business in 1991.
AL.com also reported that another woman said Moore approached her at a mall restaurant in Gadsden in 1982, when she was 17 and Moore was in his early 30s, and asked her out on a date.
According to AL.com, the woman said she turned Moore down and asked, "Do you know how old I am?" AL.com reported that the woman quoted Moore as responding: "Yeah. I go out with girls your age all the time."
Related: The Moore mud splashes onto GOP candidates in other states
Moore has also threatened to sue The Washington Post, which added two new names itself to the list of Moore's accusers on Wednesday night.
According to The Post, one of the women said Moore approached her at the Gadsden mall in 1977, around the time of her 18th birthday, and asked her to tell him her phone number and where she went to school.
The Post quoted the woman as saying she declined. But a few days later, The Post quoted her as saying, Moore called her school, had her summoned to the principal's office and asked her out again over the phone. She again declined, but when Moore approached her yet again a few days later at a department store, she reluctantly agreed to go out on a date, The Post reported.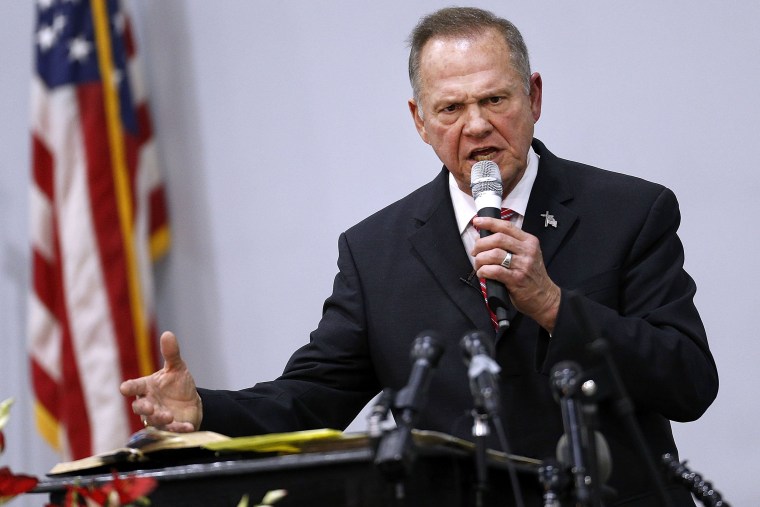 The Post quoted the woman as saying that after their date, Moore gave her an unwanted, "forceful" kiss in a dark parking lot.
The Post further reported that yet another woman said Moore repeatedly asked her out in 1977, when she was 22, despite her consistent refusals. According to The Post, the woman said Moore's persistence made her uncomfortable.
Moore's campaign told The Post: "If you are a liberal and hate Judge Moore, apparently he groped you. If you are a conservative and love Judge Moore, you know these allegations are a political farce."
The reports by AL.com and The Post, which haven't been independently confirmed by NBC News, bring the number of woman reported to have accused Moore of unwanted advances to nine so far.
One of them, Beverly Young Nelson, said this week that Moore groped her breasts and attempted to force her head toward his genitals in 1977, when she was 16. As substantiation of her claim, she read a romantic inscription that she said Moore wrote in her high school yearbook.
Moore again denied all claims of sexual misconduct in a statement Tuesday. At a news conference Wednesday, an attorney for Moore's campaign said that Moore flatly denied that the handwriting in the yearbook was his and that the campaign intended to hire a handwriting expert to prove it.
The lawyer, Phillip Jauregui, said Moore told him that the notation "D.A." in the signature of the inscription would have stood for "district attorney." But he said Moore was only an assistant district attorney at the time of the alleged assault and wouldn't have misrepresented himself as the district attorney.
And he implied that part or all of the inscription might have been fabricated, using Moore's signature on paperwork in a 1999 case presided over by Moore, who by then was an Etowah County circuit judge. Jauregui said "D.A." could have been lifted from Moore's court assistant at the time, who often stamped paperwork with his initials — which are "D.A.," Jauregui said.
Jauregui demanded that Nelson and her attorney, Gloria Allred, hand over the yearbook "so that we can determine is it genuine or is it a fraud."
Meanwhile, another attorney for Moore dragged MSNBC anchor Ali Velshi into the story on Wednesday, adding another twist to the extraordinary tale.
In an interview on "MSNBC Live with Velshi & Ruhle," the lawyer, Trenton Garmon, brought up Velshi's background while defending his client.
"I looked up Ali's background there, and, wow, that is awesome that you have got such a diverse background," Garmon said.
That prompted co-anchor Stephanie Ruhle to ask, "What does Ali's background have to do with dating a 14-year-old?" When Garmon tried to continue with his original point, Ruhle interjected: "Please answer: What does Ali Velshi's background have to do with dating children, 14-year-old girls?"
Garmon replied: "In other countries, there is an arrangement through parents for what we would refer to as consensual marriage."
Velshi was raised in Canada, which has no such cultural history. He told Garmon: "I don't know where you are going with this, Trenton."
Vaughn Hillyard reported from Montgomery, Alabama, and Alex Johnson reported from Los Angeles.