MONTGOMERY, Ala. — A Democratic super PAC is already digging up the past of Roy Moore, the newly minted Republican nominee in the Alabama Senate race, in one of the first signs that Democrats plan to compete in the deeply conservative state.
American Bridge will release a 21-page opposition research report on Moore on Wednesday, the day after he trounced President Donald Trump's candidate in a divisive GOP primary. Moore will face off against Democrat Doug Jones in the Dec. 12 general election.
"Judge Roy Moore is unfit for office and his primary victory means huge problems for Republicans across the country," said American Bridge spokesman Joshua Karp. "Every Republican should have to answer for Moore's extreme views and disgusting statements."
Moore is a conservative renegade with a decades-long trail of controversial remarks, from promoting the "birther" conspiracy theory about former President Barack Obama, to saying 9/11 was divine punishment, to calling homosexuality "abominable."
Democrats think they've found a strong candidate in Jones, 63, a former U.S. attorney best known for prosecuting two Ku Klux Klan members in the 1963 bombing of Birmingham's 16th Street Baptist Church that killed four African-American girls.
Jones sailed through a crowded Democratic primary in August and enjoys deep roots in Alabama and strong ties to national Democrats like former Vice President Joe Biden, who will campaign for him here next week.
"I think we're going to win this race," Jones told reporters at his campaign headquarters Tuesday night. "We have the wind at our back."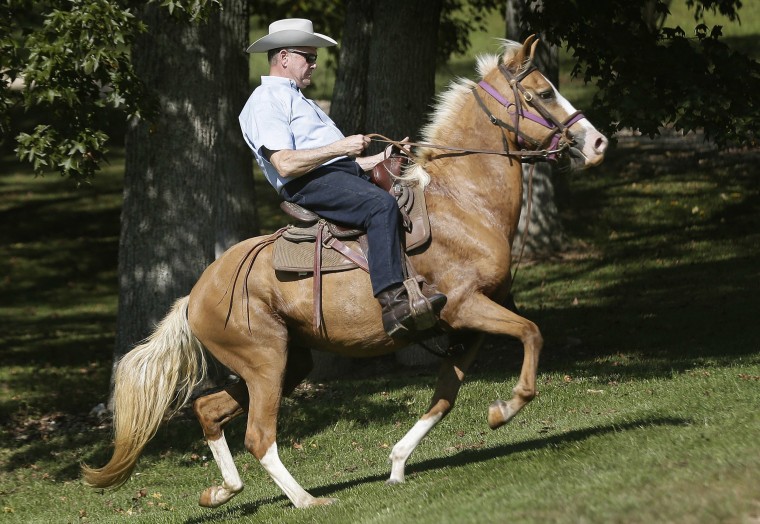 That's bullish talk in Alabama, which hasn't voted for a Democratic senator since 1990 and went for Donald Trump over Hillary Clinton by nearly 30 percentage points last year.
Moore alone got almost as many votes in the first round of the Senate primary (164,524) as did the entire Democratic field combined (165,006).
To win, Jones needs to woo a significant portion of white Republicans turned off by Moore, in addition to mobilizing the state's sizable African-American population, analysts say.
He'll need to double the portion of the white vote that other Democrats have received, which helps explains why he's emphasized bipartisanship and focused on Alabama issues, rather than national concerns, like taking on Trump.
Still, Jones hasn't shied away from progressive polices and suggested Moore would "embarrass the people of Alabama."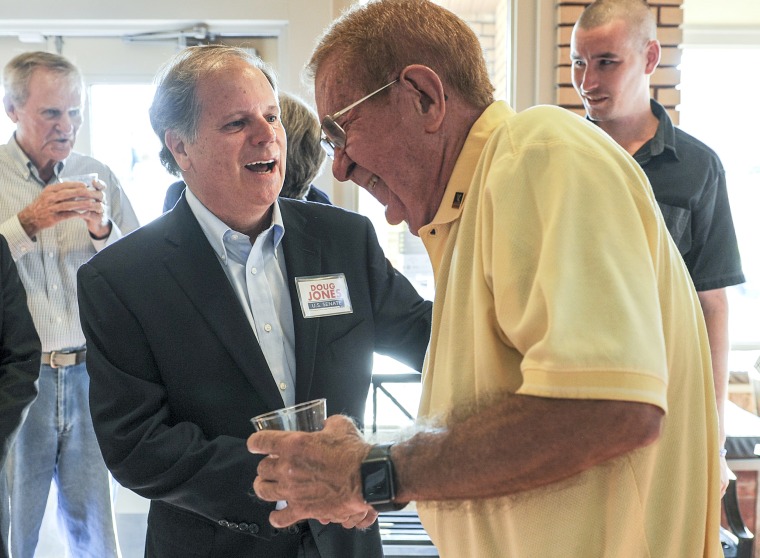 Most national Democratic groups are taking a wait-and-see approach to the race, balancing their eagerness to make Moore an anchor around the neck of the GOP with their concern about turning the Democratic Party into an anchor around Jones.
"I don't think you're going to see millions and millions of dollars on both sides flowing into this race," Jaime Harrison, the associate chairman of the Democratic National Committee, told NBC News. "The national party should make sure that Doug Jones has all of the tools that he needs to get his own message out."
The Democratic Senatorial Campaign Committee is monitoring the race before deciding how to proceed, as its top priority remains defending incumbents facing an usually rough set of races in next year's midterms.
They are, however, excited about the prospect of using Moore as a cudgel against other Republicans.
"The Republican runoff has already cast a long shadow on GOP Senate prospects across the map," Sen. Chris Van Hollen, D-Md., who leads the Democratic Senatorial Campaign Committee, said in a statement.
Jones will need money and help to build a field program and voter-targeting operation in a state with a weak Democratic Party.
But Democrats are keenly aware that nationalization seems to have backfired in the highest profile special election of the year, in Georgia's 6th Congressional District.
"A quandary is that national attention would help with fundraising and would help build his campaign infrastructure," said Leah Askarinam, an analyst with Inside Politics. "But if the Jones campaign wants to make this race all about Alabama, then how much could that national attention actually hurt?"