APOPKA, Florida — This state has never elected a woman as governor. Gwen Graham wants to change that.
The former one-term Democratic congresswoman sees 2018 as the "year of the woman" — it is an election cycle with a record-breaking number of female candidates — and Graham stands alone as the only woman in either party running in this crowded, costly and wide-open governor's race.
"Gwen and the men" as Graham quipped at a recent Democratic debate, referring to her primary challengers.
"I think the 2016 election was an incredible civics lesson," Graham told NBC News in a recent wide-ranging interview. "Connecting the dots that it really does matter who you vote for, who you support."
Florida is one of more than 20 states that have never elected a woman as governor.
Graham, who has repeatedly called out President Donald Trump, both for his policies and his demeanor, has found that plenty of voters are on board with her effort to shatter the state's glass ceiling.
Asked what it would mean to see a woman elected governor, voter Laura Hernandez laughed: "After 2016? Everything."
Hernandez was among hundreds of women gathered for the progressive Ruth's List conference in Orlando in May, focused on putting more women into elective office in Florida — especially after watching Hillary Clinton fall short, in the state and nationally.
"We didn't get a president" but electing a female governor would bring greater gender representation in government, said Maribel Balbin, who was also attending the conference. "It's an equalizer."
Graham said, "Women know that other women have the ability to be a voice that ends the chaos, ends the negativity, ends the inability ... of getting anything done."
Another part of her pitch to voters is a harkening back to the politics of the state's past.
That nostalgia factor comes from Graham's family. Her father, Bob Graham, is a former Florida governor and senator who originated "work days," in which he would spend the day working alongside residents to learn their crafts — and hopefully earn their votes.
Now, his daughter is doing the same.
Graham's work days have included working at a Cuban bakery and flying jets with the Air Force. NBC News spent the day with her as she built a home with Habitat for Humanity in Apopka to highlight the need for more affordable housing. The next day in Orlando, speaking to Ruth's List, Graham spoke passionately about public education. And in the aftermath of a mass shooting at Marjory Stoneman Douglas High School in Parkland in February, she committed to signing an executive order "banning the sale of military-style assault weapons."
But while Graham campaigns on progressive issues, some of her primary opponents, like Tallahassee Mayor Andrew Gillum, are calling her Democratic credentials into question.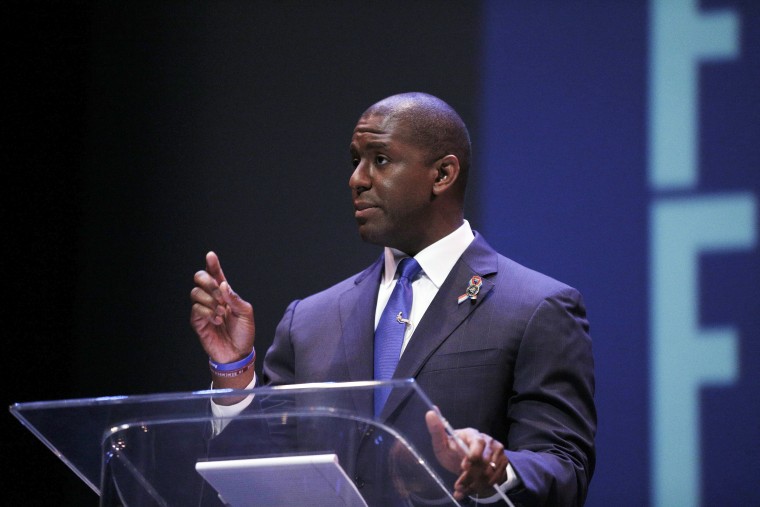 "We sent a Democrat to Congress to defend the president," Gillum said in April at a Democratic debate, referring to Barack Obama in attacking Graham for breaking with Obama on key votes during her time in Congress.
Graham voted in favor of the Keystone Pipeline while in Congress in 2015, and voted for the SAFE Act — a bill that would have significantly slowed down the process for Syrian refugees to apply to come to the U.S., although it did not ban them outright. Both of her votes broke with Obama.
A super PAC boosting Gillum had a similar message, running an ad attacking Graham as "not the progressive she claims to be."
Asked about her progressive credentials, Graham pivoted, saying "labels" aren't what voters should be looking at.
"Labels are just limiting," she said. "For me what this election is about, it's about getting good people. I think women bring a different leadership approach."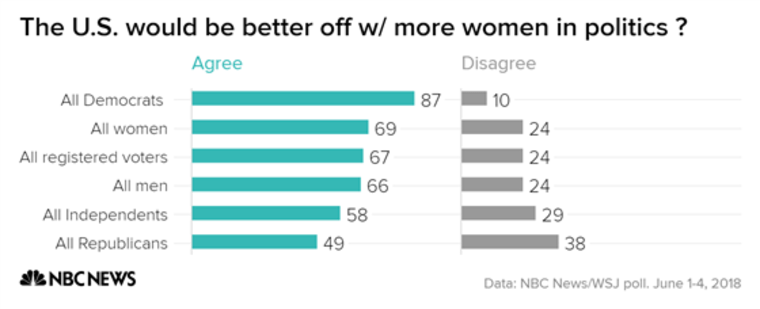 In Florida, many voters remain undecided about what the best leadership approach is — and who the best leader is out of the five-person Democratic gubernatorial primary pack.
A recent NBC News/Marist poll showed Graham trailing former Miami Beach Mayor Philip Levine by 2 points — 19 percent to 17 percent. But 47 percent of voters polled said they were undecided, with seven weeks to the Aug. 28 primary.
While Democrats are locked in a close battle for their nomination, a recent NBC/Marist poll showed Republican Adam Putnam, the state's agriculture commissioner, opening up a wide lead over Rep. Ron DeSantis, 38 percent to 21 percent. DeSantis won an early endorsement from Trump.
"Everywhere I go, we all feel it, right?" Graham asked the room at Ruth's List, earning cheers. "We all know it. This election is about women."